The Albanian Alps
---
Albania is bordered by Montenegro, Kosovo, North Macedonia and Greece and is 210 miles long and 95 miles long. About three quarters of the country is covered by mountains and hills, including the Albanian Alps, making it a very beautiful country to travel through. There is also a coastline and beautiful beaches on both the Ionian and Adriatic Seas. It is known as Shqipëria which means 'land of eagles'.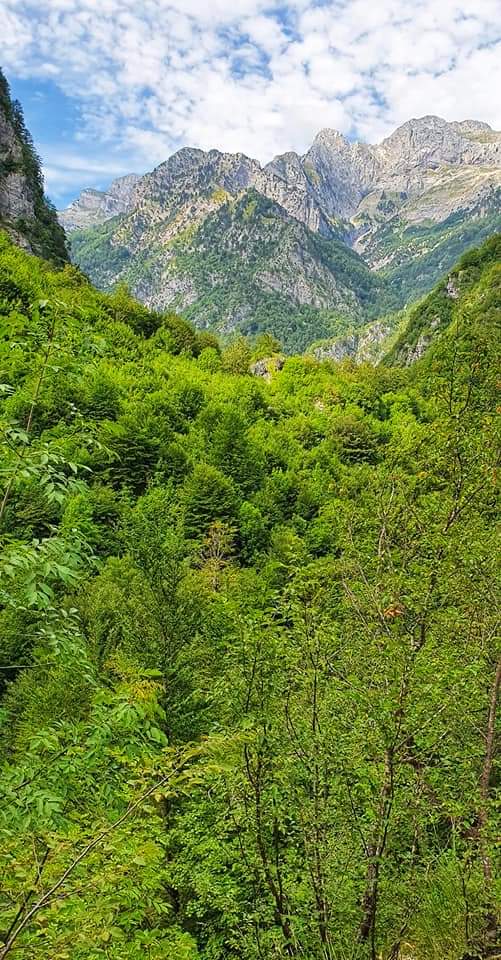 It is also a country which spent more than 50 years of the 20th Century completely isolated from the rest of the world. There has been a lot of change and investment over the last 10 years. New roads have been built, along with rubbish dumps. Previously locals just dumped or buried their rubbish anywhere. One night there was a huge storm and thousands of tons of rubbish washed into the sea where it eventually washed up on the beautiful beaches of Croatia. Croatia cleaned it up and sent a huge bill to Albania. There is also a wish by Albania to join the E.U. and some of the investment has been towards entry requirements.
Albania's Recent History
King Zog – Ahmed Bey Zogu served as president of Albania from 1925 – 1928 and was king from 1928 – 1939. He formed an ill-advised alliance with Benito Mussolini who then invaded Albania and ousted him. King Zog went into exile and flew to Britain with his wife and young son.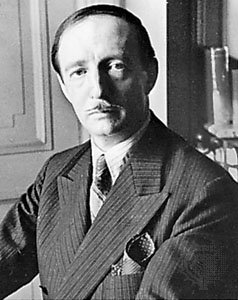 Enver Hoxha established a communist republic in Albania after World War 2 and ruled for 40 years. He was a great admirer of Stalin, with whom he formed an alliance. He confiscated land from wealthy landowners and created collective farms, which made Albania almost self-sufficient for food. With aid from Russia and China he invested in industry such as manufacturing, coal mines and food production. Hydro-electric plants were built and electricity was brought to rural areas. Literacy levels increased massively, railways were built and malaria swamps were drained.
All this though came at a great cost. Thousands were imprisoned or executed. Private property was confiscated by the state. Albania declared itself the 1st atheist state, religion was banned and all mosques and churches were closed. Almost all aspects of life were controlled by the Communist Party.
When Stalin died Hexha had a falling out with Khruschev and cut links. He turned his attention to China and Mao Zedong. With the death of Chairman Mao he declared that Albania would become a model Socialist republic on its own. In 1978 China ended economic and military aid to Albania. Albania's economy began to collapse and food shortages were common. Hoxha died in 1985 and his protege Ramiz Ali took over.
In June 1990 some 4,500 Albanians sought refuge in Western embassies. They were eventually granted asylum and allowed to travel to Brindisi in Italy. Protests and student demonstrations followed as did floods of refugess desperate to leave the country.
Communist rule was finally ended by elections in 1992 when Sali Berisha was elected as president and a free market system was introduced. However, there were still problems. This coincided with a rise in organised crime. Some collective farms were used to grow marijuana, smuggling of cars, people and drugs increased. Landowners tried to reclaim their land and displaced people from the countryside tripled Tirana's population.
In 1997 almost 70% of the population lost all their savings when illegal pyramid schemes collapsed. Many believed that these were encouraged by the government. Riots followed, armed mobs took to the streets and much damage was done.
Since 2002 there has been a lot of investment in Albania and the 1st steps have been made to join the E.U. Albania is now a very safe, friendly and beautiful country in which to travel.
Shkodër
This is one of the oldest cities and was founded in the 4th century. It is close to the border with Montenegro. I had arranged transport from the border to Shkodër and it was only a 20 minute drive. It has been occupied by the Romans, Serbians, Venetians and the Ottoman Turks. It is a great mix of old and new, guarded by the impressive Rozafa fortress. There co-exist Mosques, Catholic Cathedrals, Orthodox Churches and roof-top cocktail bars.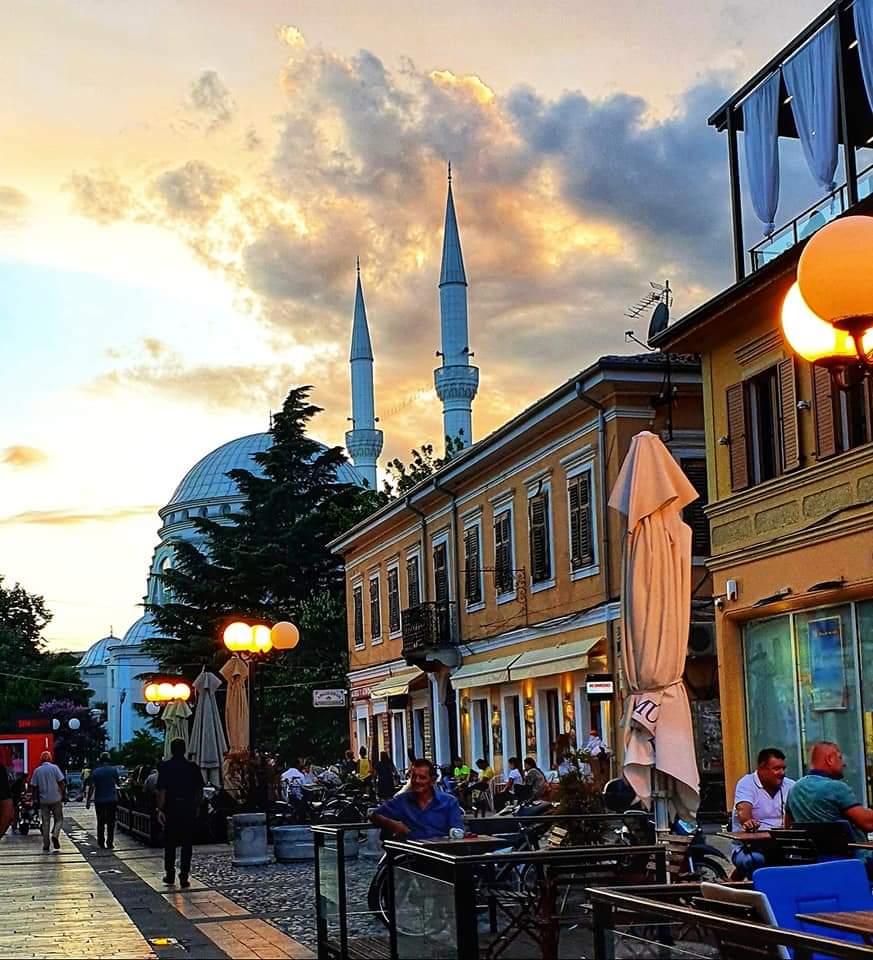 Rozafa Fortress
With spectacular views on all sides of the city, lake and rivers the fortress is extremely impressive. I loved that it was the original ruins and they hadn't try to re-build and reconstruct them. There is also no health and safety rules, no barriers, no handrails. I walked the walls with steep drops below and climbed the old towers.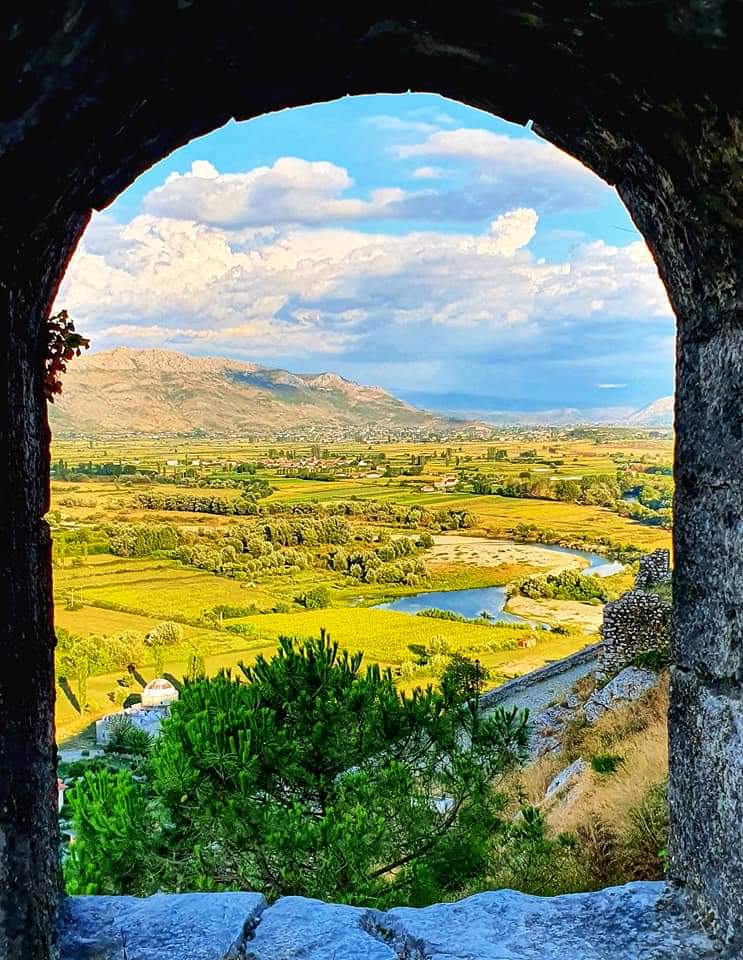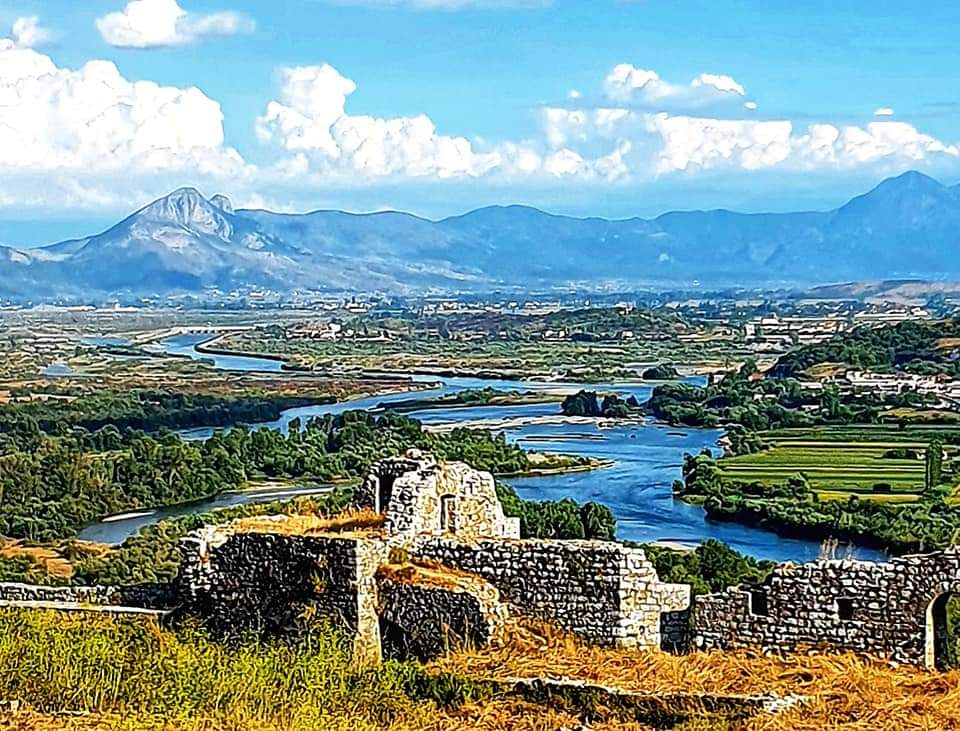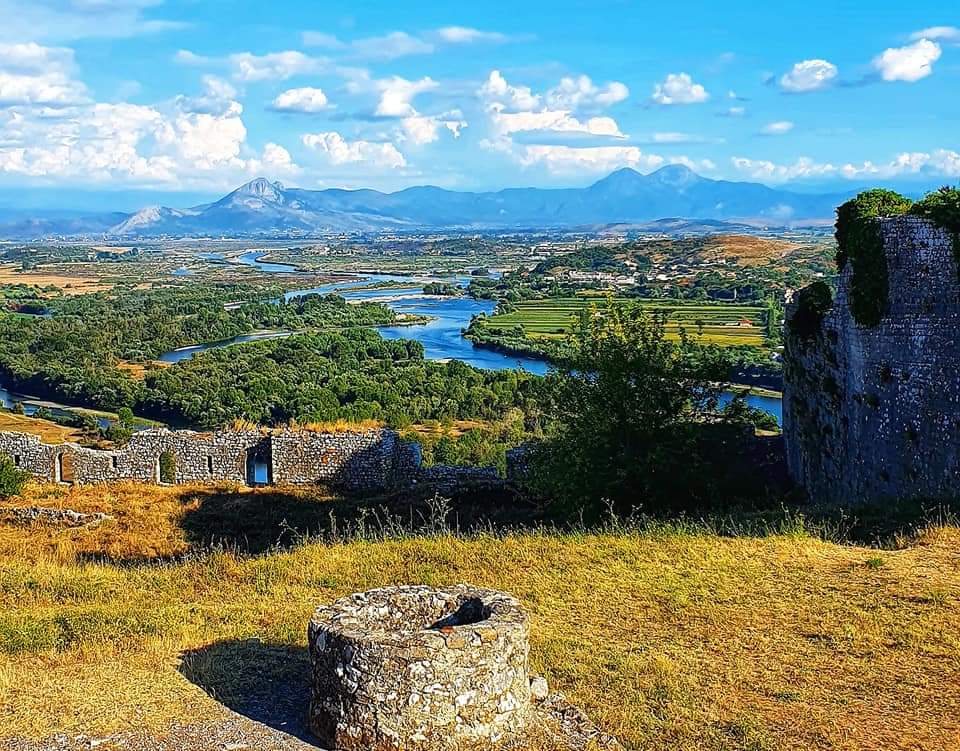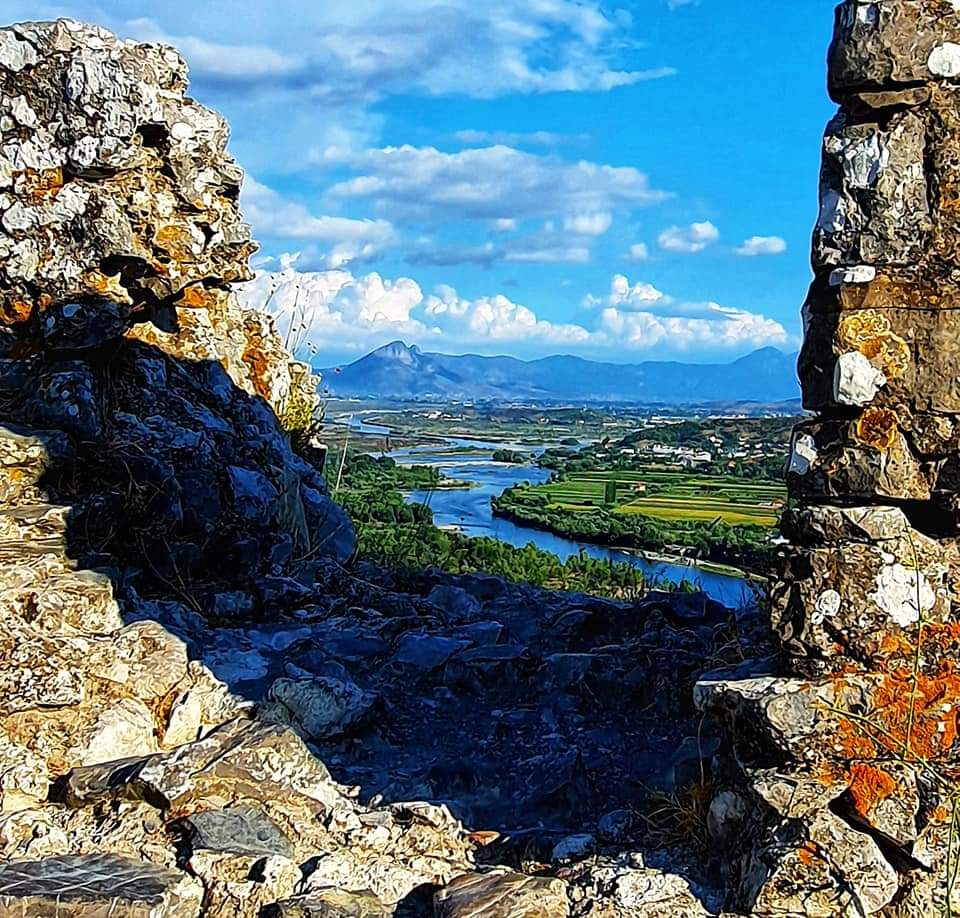 The castle is about three and a half kilometres outside the centre of Shkodër. It is possible to get there by car, bus bicycle or taxi. I decided to walk. On my hike to the castle there was a little rain. It stopped just as I got to the fortress and a rainbow appeared.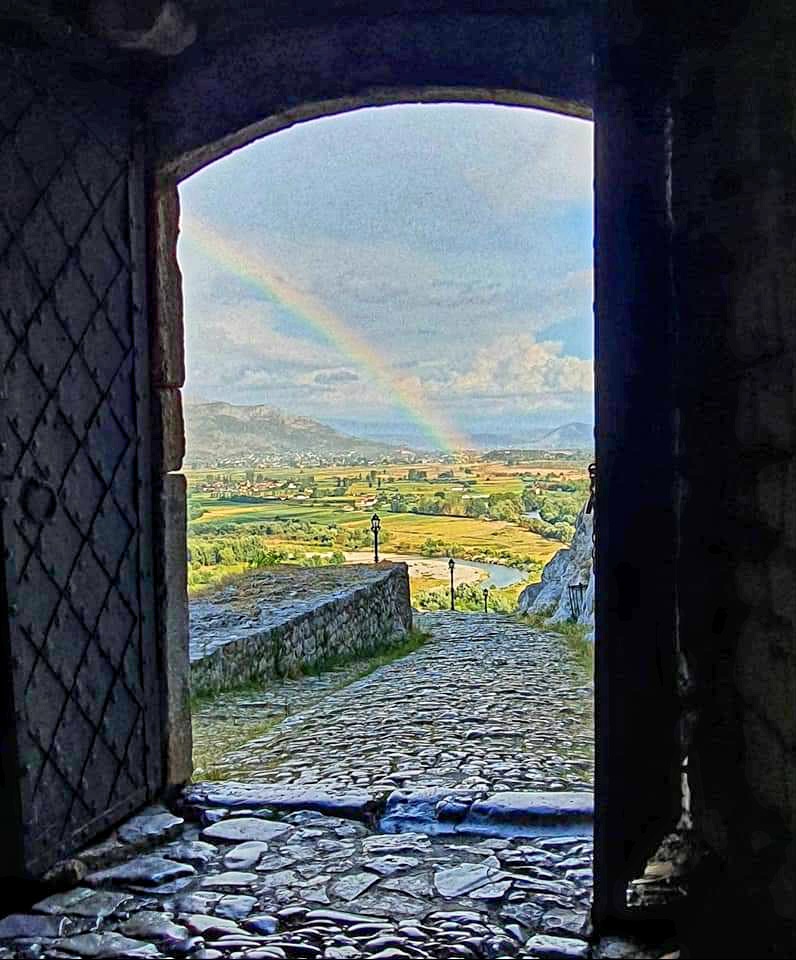 The Legend of the Castle
There is a legend surrounding the building of the castle. There were 3 brothers who were married to 3 beautiful women. The brothers worked really hard building a castle to protect the town and everyone in it. Every time the fortress was finished the walls would collapse.
They met an old man who told them that the only way to stop the castle falling down was for a sacrifice to be made. The sacrifice was for one of the wives to be buried alive in the fortress walls. It was decided that this would be the wife who was the first one to bring lunch to her husband the following day. The brothers promised not to tell their wives about the sacrifice so it would be fair.
The eldest 2 brothers broke their word and warned their wives. The next day only the wife of the youngest brother brought lunch to her husband. Her husband explained about the sacrifice in order for the castle to be built. She agreed to be entombed in the walls on the condition that 3 holes were left. The 1st hole was for her right breast so she could feed her newborn son. The 2nd was for her right hand, so she caress him and the final hole was for her foot, so she could rock his cradle. This was done and the castle remained standing.
The legend represents the strength of women who sacrifice their lives for the good of others.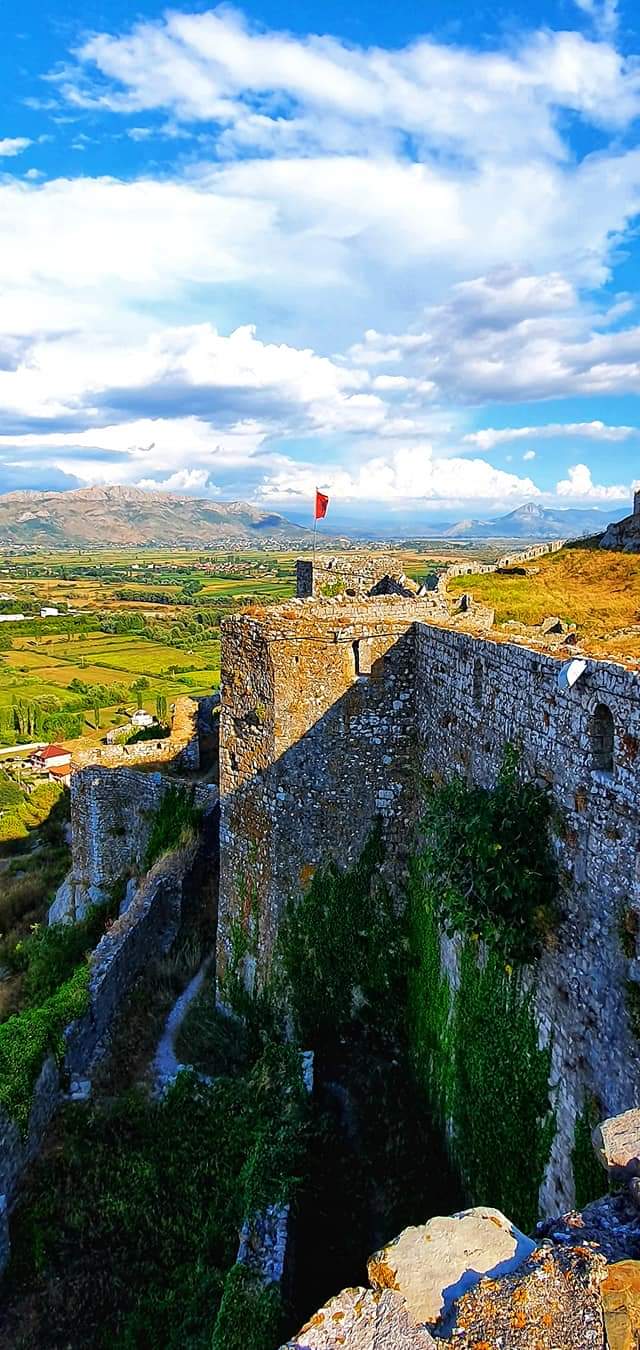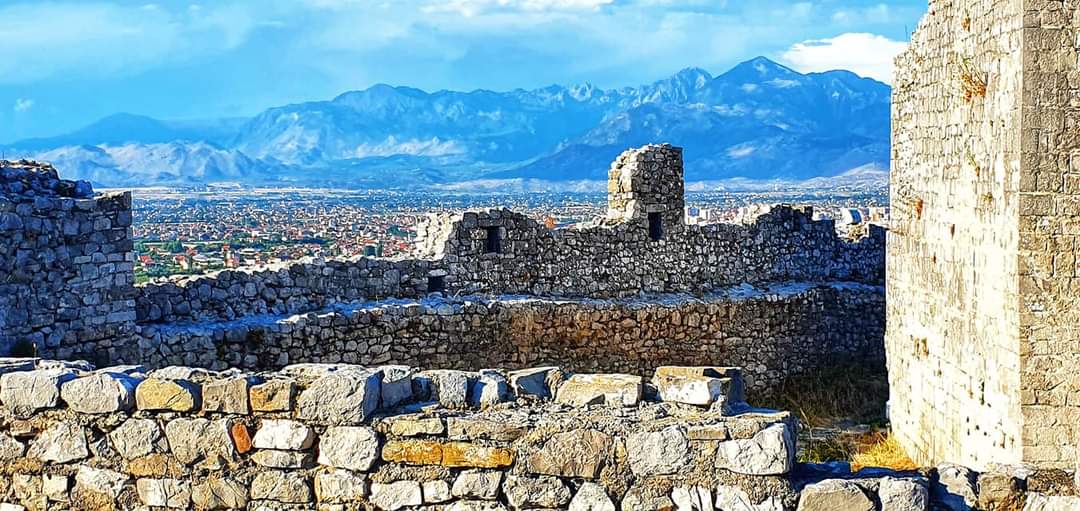 Look out for the tortoises who have made their home at the fortress and the accordion player on the wall outside.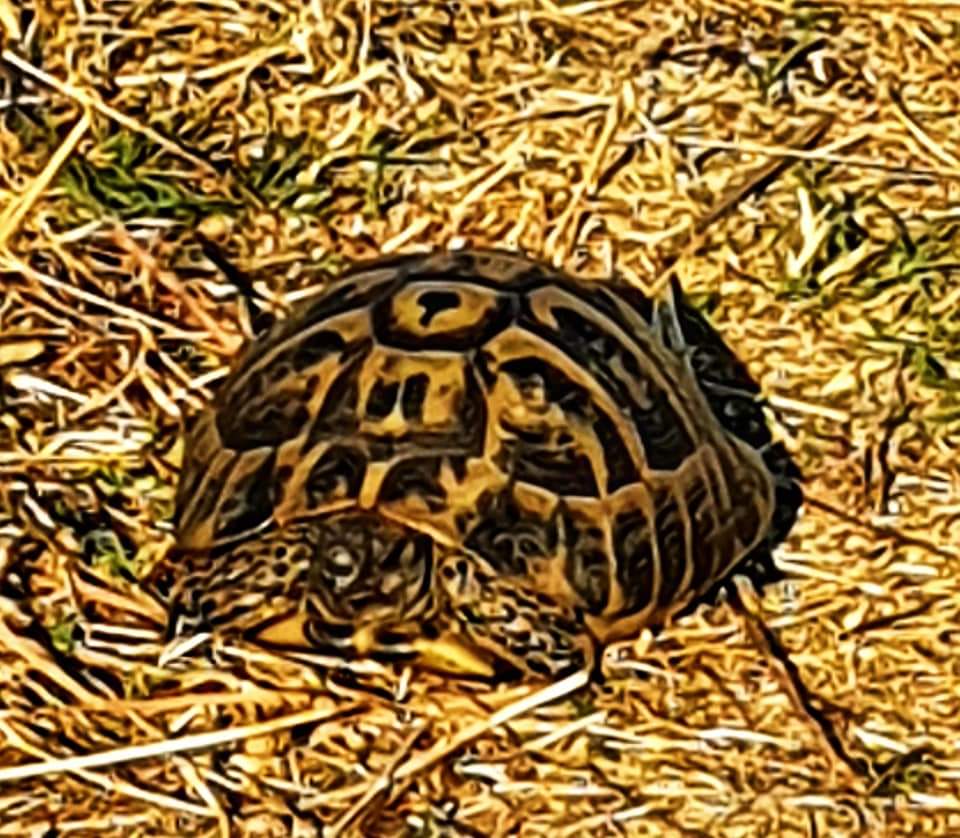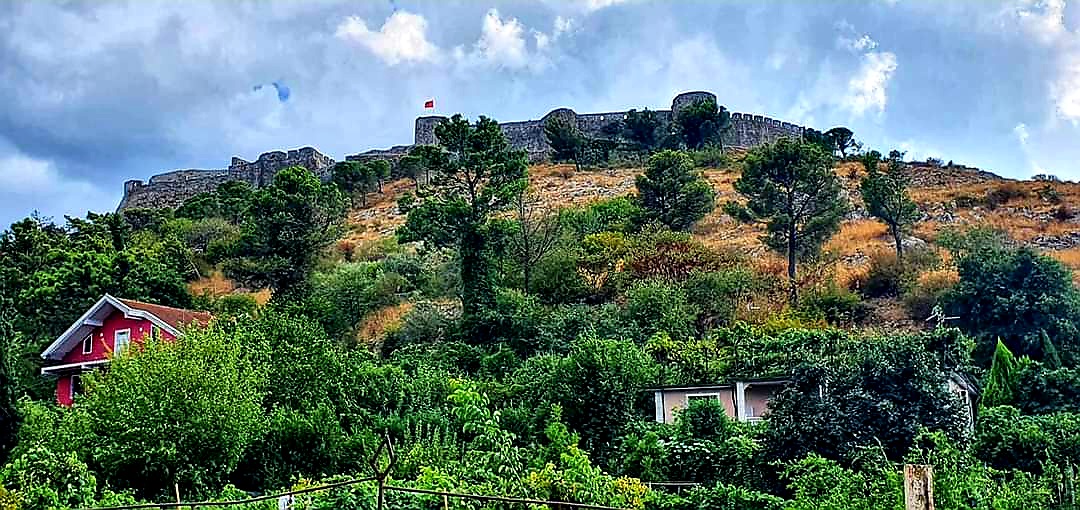 The 3 main religions in Albania all have their places of worship in close proximity, a sign of religious tolerance.
Ebu Bekr Mosque
In the heart of the city centre and a focal point day or night. It was built in 1995 on a site of an old Ottoman Mosque with funds from Saudi Arabia and Egypt.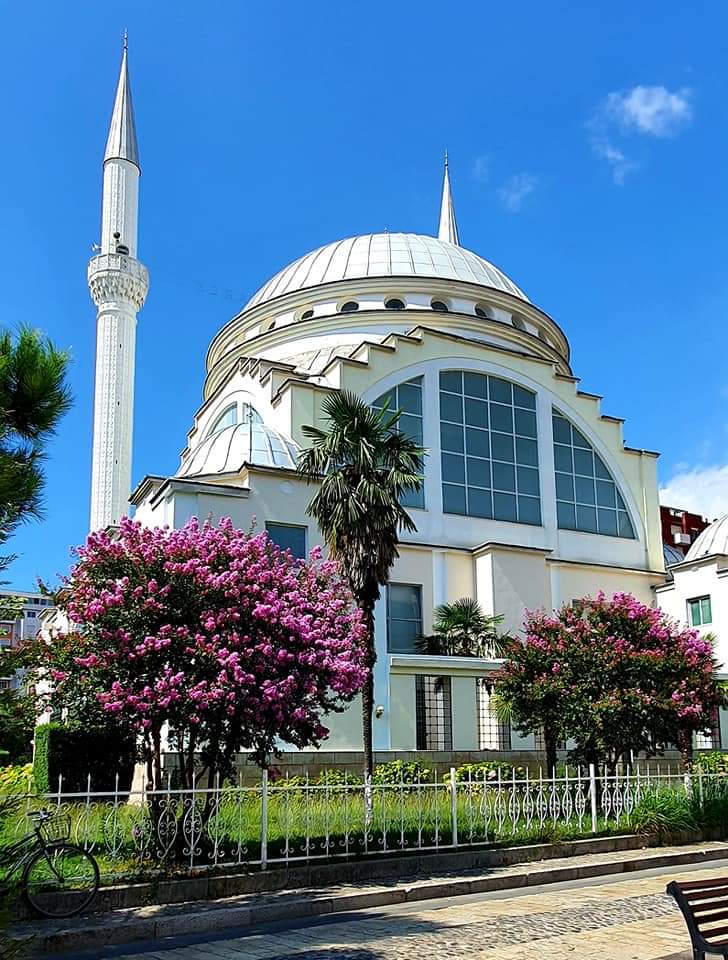 St Stephen's Catholic Cathedral
Mother Teresa once payed a visit to this cathedral, her parents were Albanian. During the Communist era it was turned into a sports hall.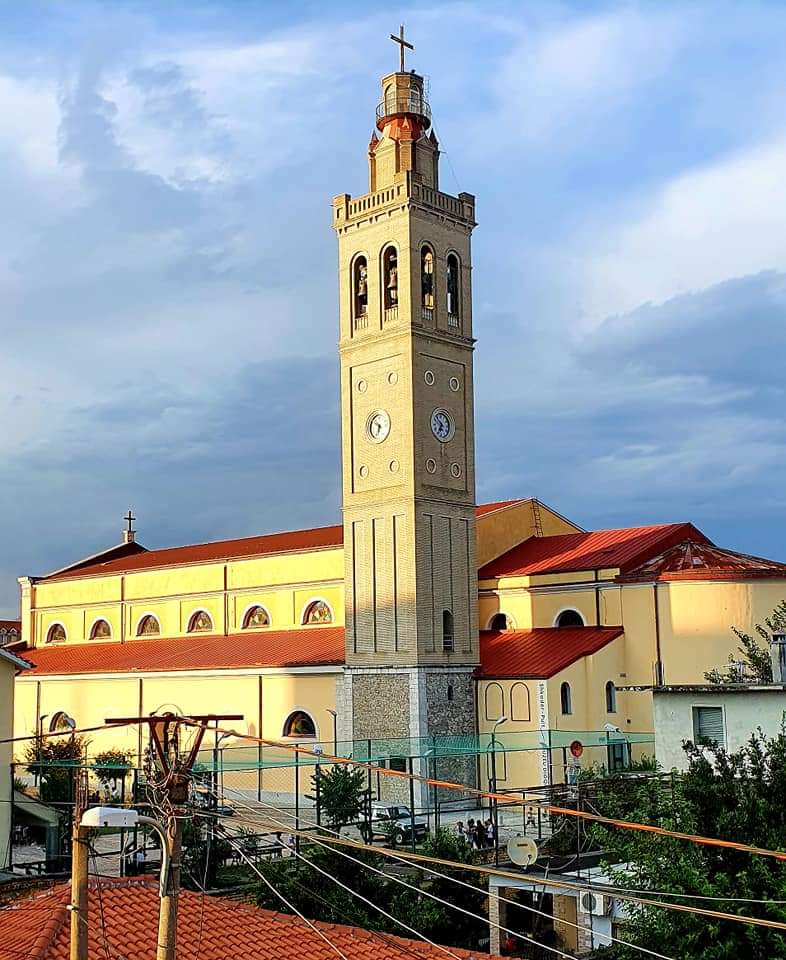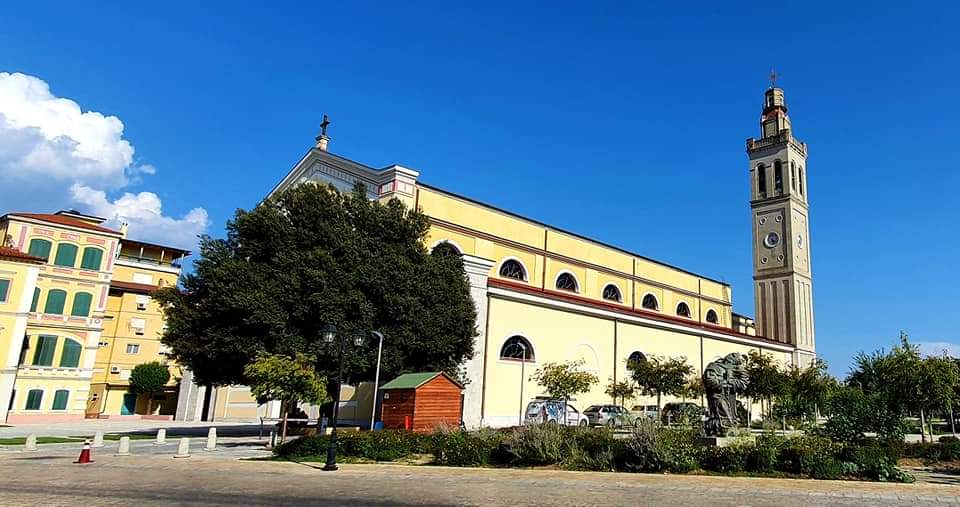 Orthodox Cathedral of the Nativity
A beautiful orange church in the main shopping area built in the 20th century.
Where to Stay
It was in the perfect spot, in a quiet area near St Stephen's Cathedral but only a few minutes walk from the main street. It has lovely, clean rooms and a beautiful garden, seating area and rose garden.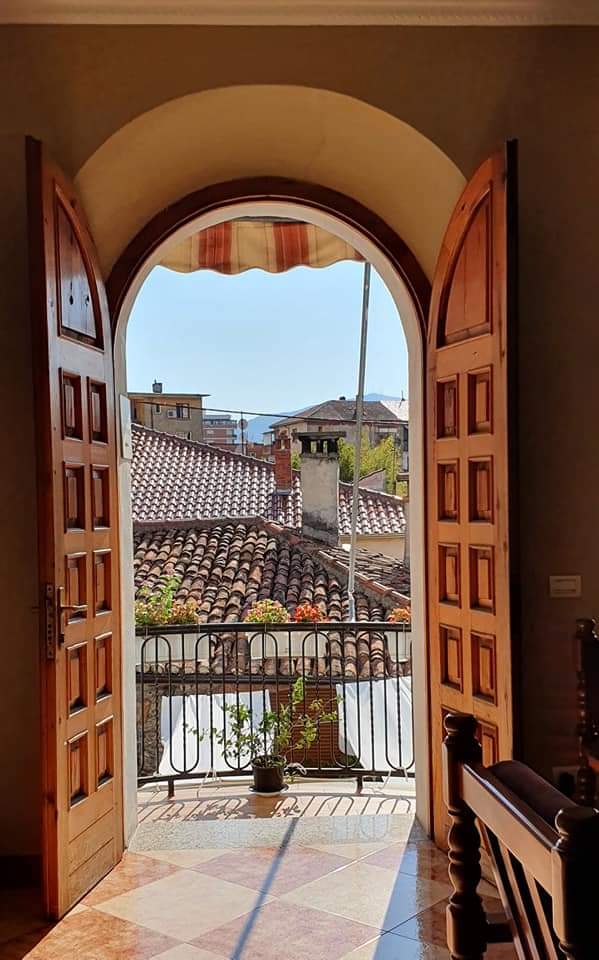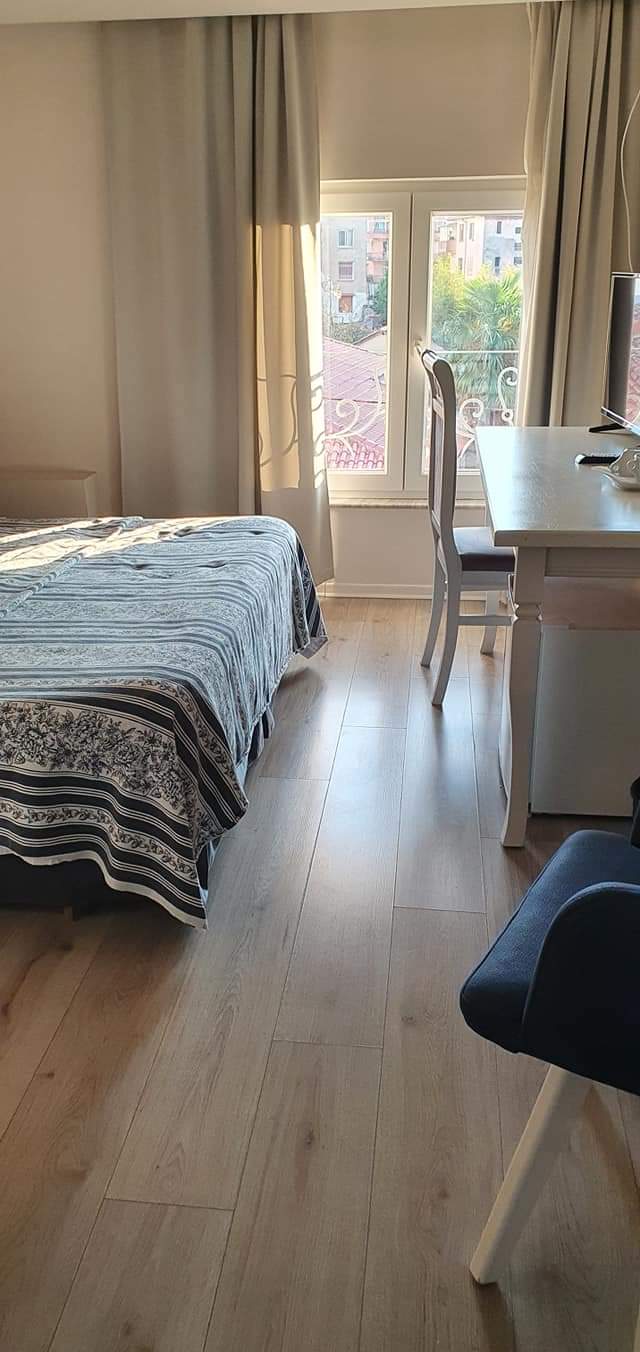 Food and Drink
There is a wonderful cafe, bar and restaurant scene in Shkodër. There are many funky bars and restaurants. The road that leads to the Ebu Behr Mosque has many bars and restaurants running down its centre. There are also many rooftop cocktail bars. When I visited Albania I didn't expect to be sitting in a rooftop cocktail bar drinking Pornstar Martinis.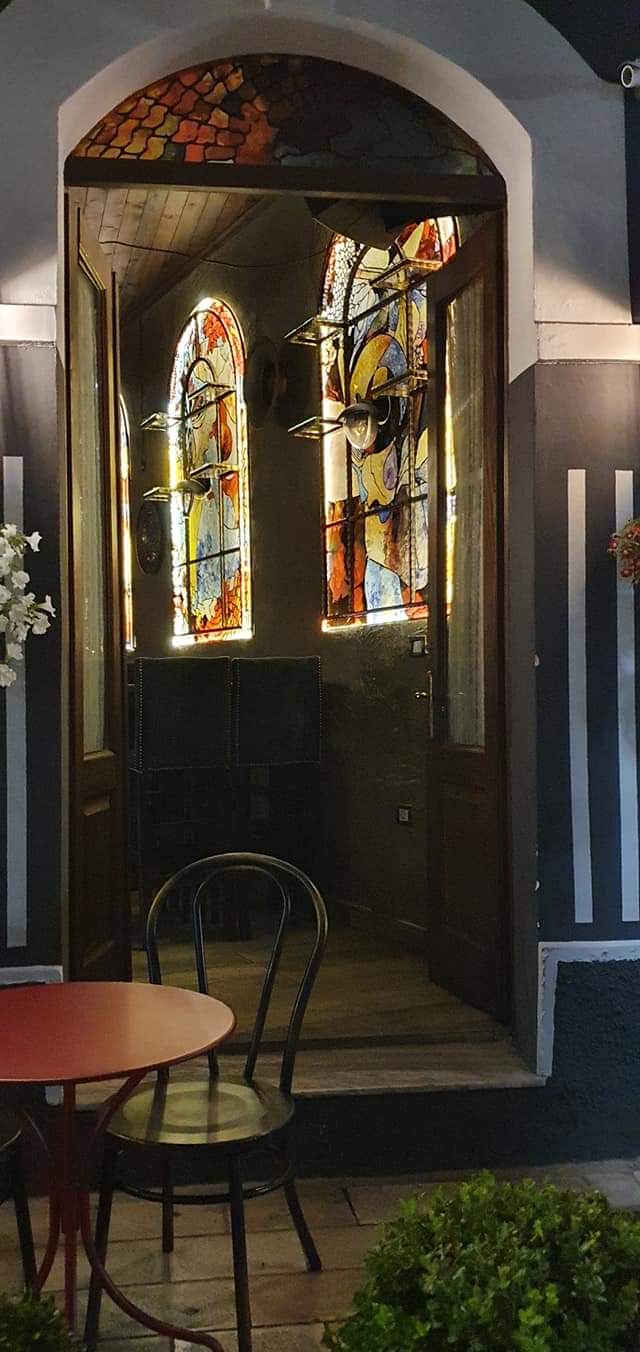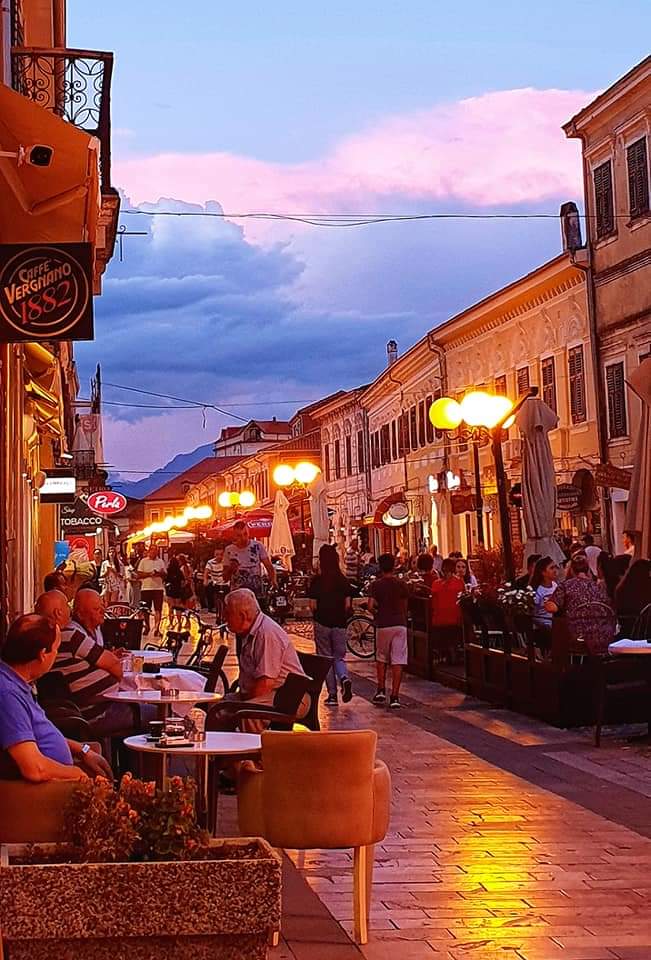 Theth
Theth is a small village in the Albanian Alps in a dramatic and spectacular setting. It is surrounded by the the Theth National Park, an area of outstanding beauty. It is a wonderful with peace, silence and fresh air. Accommodation is in chalets with simple but cosy rooms and lots of traditional, organic food.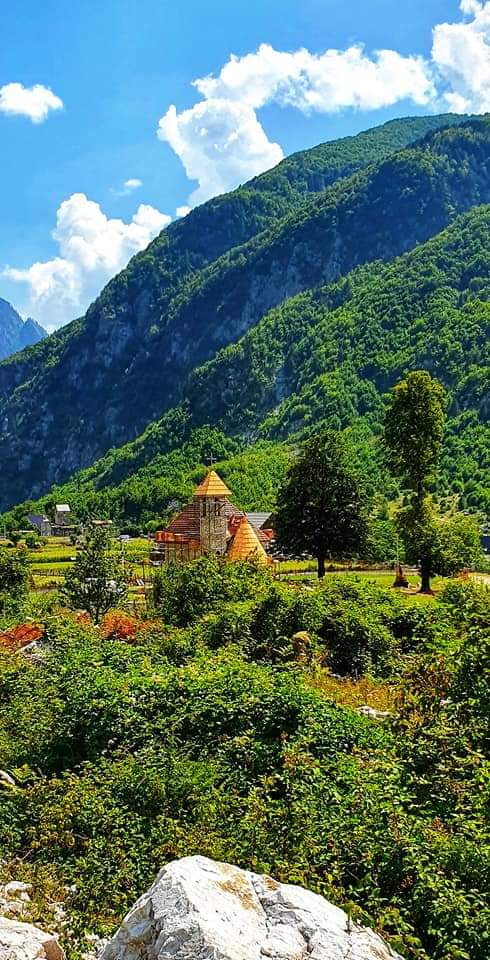 Albanian Alps Hikes
Grunas Waterfall
A 30 – 40 minute hike will bring you to Theth waterfall, also called Grunas. There are wonderful views en-route, little rock pools and beautiful butterflies.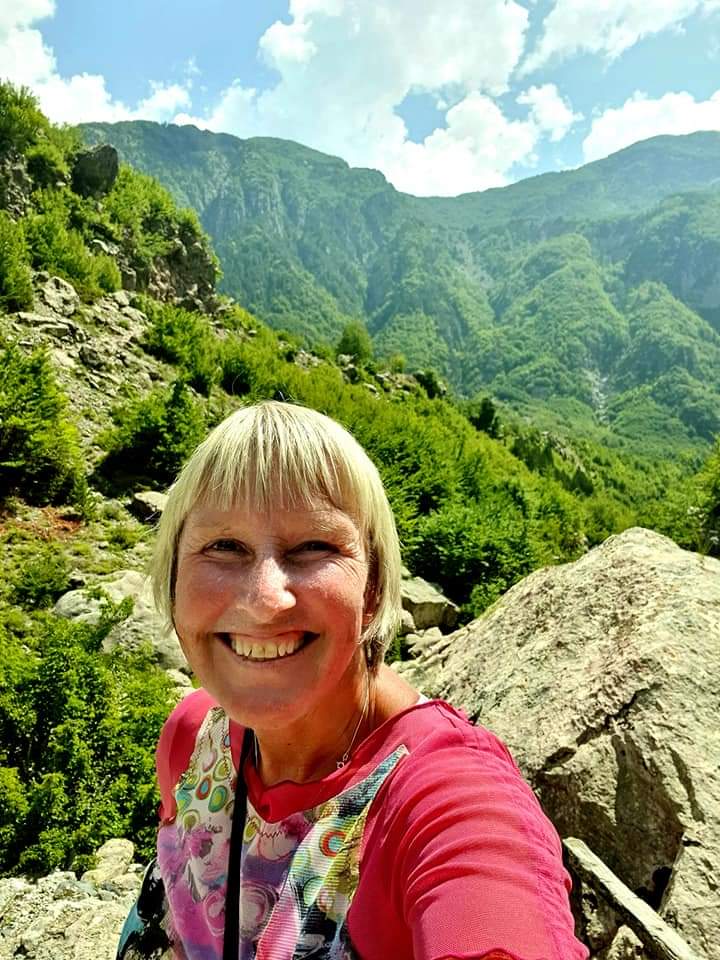 Albanian Alps – The Blue Eye Hike
If you continue on the path past the waterfall the trail continues to the Blue Eye. This hike will take around 3 hours each way and is a total of 17kms. There is an option of taking transport part of the way. Small minibuses take you to the start of the upward section of the trail, where there are also a couple of restaurants.
From here it takes around an hour to get to the Blue Eye. The track is very narrow and very bumpy with huge drops down into the canyon. You are thrown around a little from side to side.
At one point our driver was driving with 1 hand on the wheel and holding his mobile to his ear with the other, having a conversation, as we were being bounced around and the minibus got closer to the edge.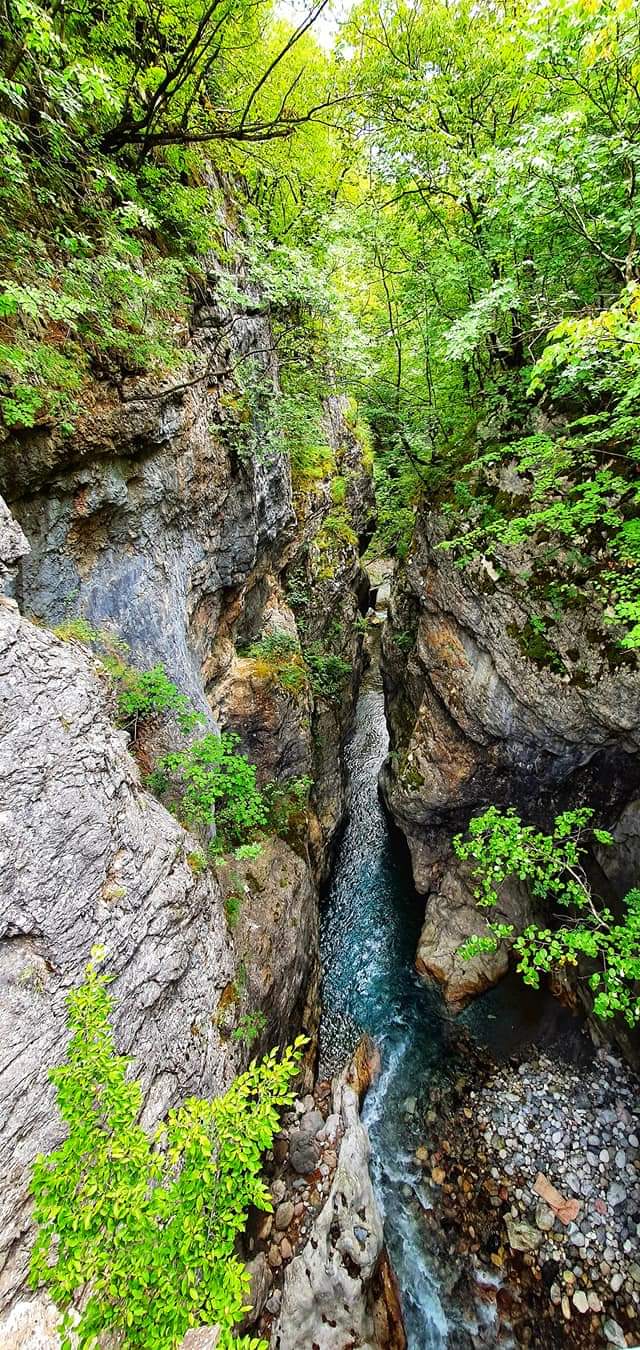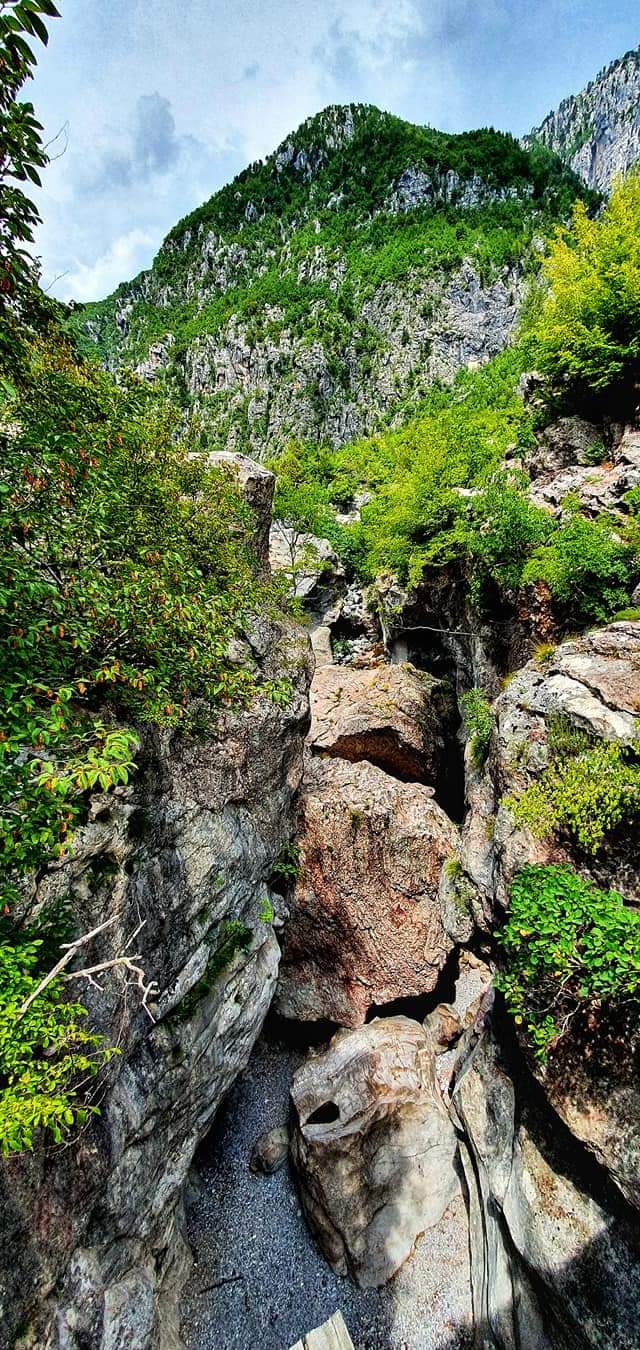 It is a beautiful hike through the Grunas canyon and the Accursed Mountains and the end result is breathtaking. The Blue Eye is formed by the Black River and is ice cold. The resourceful nearby restaurant keeps beers and cold drinks in the cold glacial waters to sell to weary, sweaty trekkers. The brave can also have a swim in the pool, if only for a few seconds.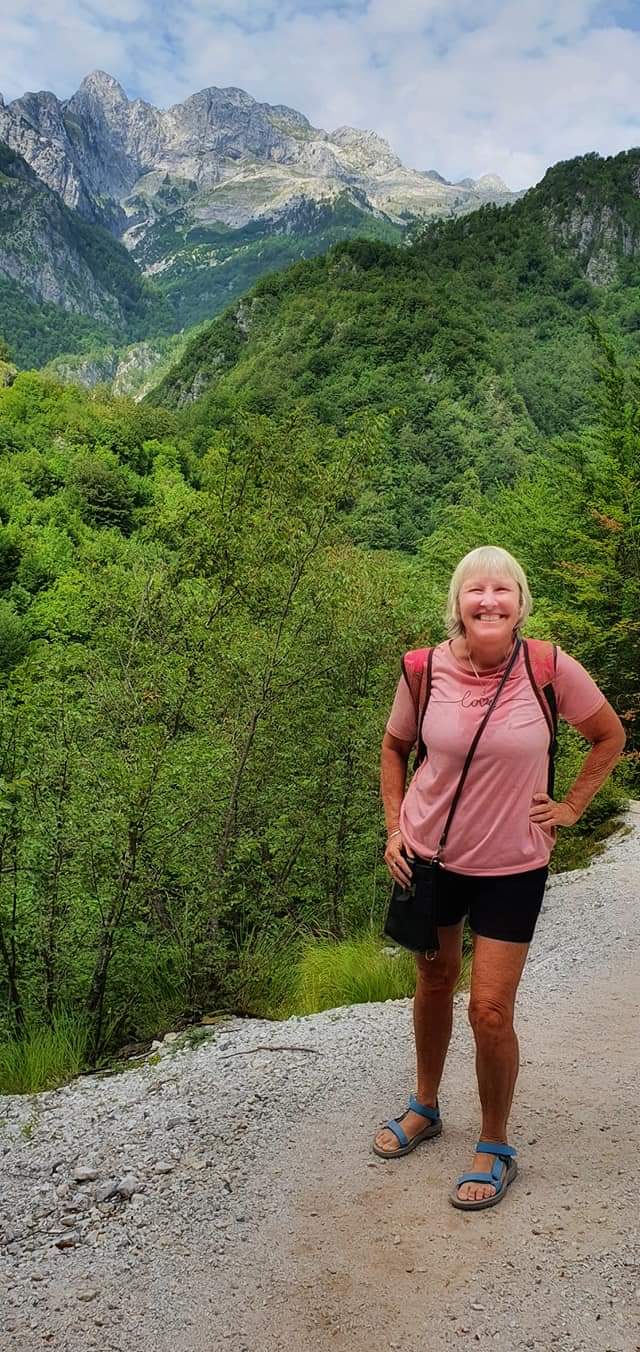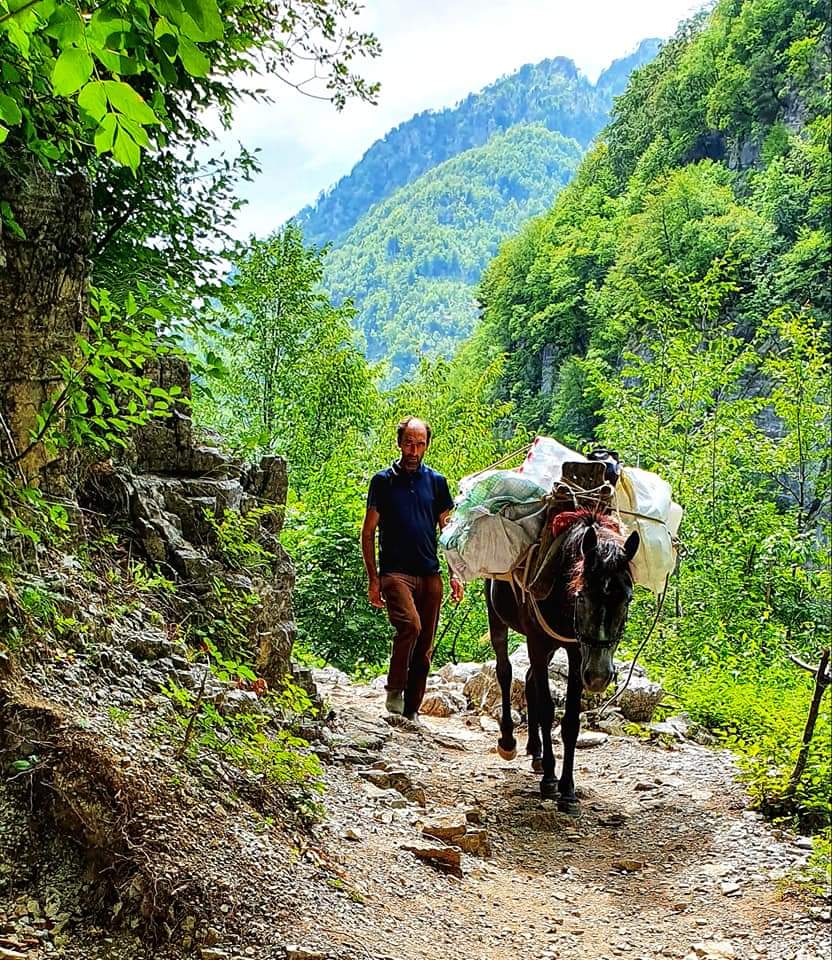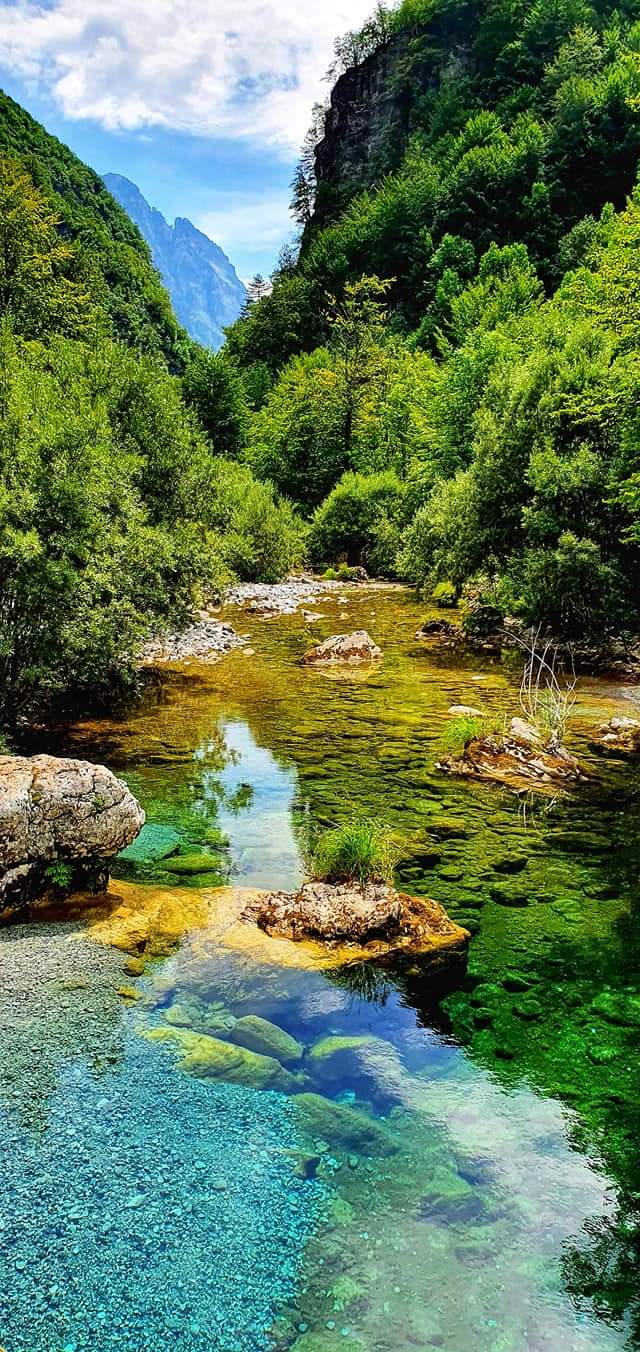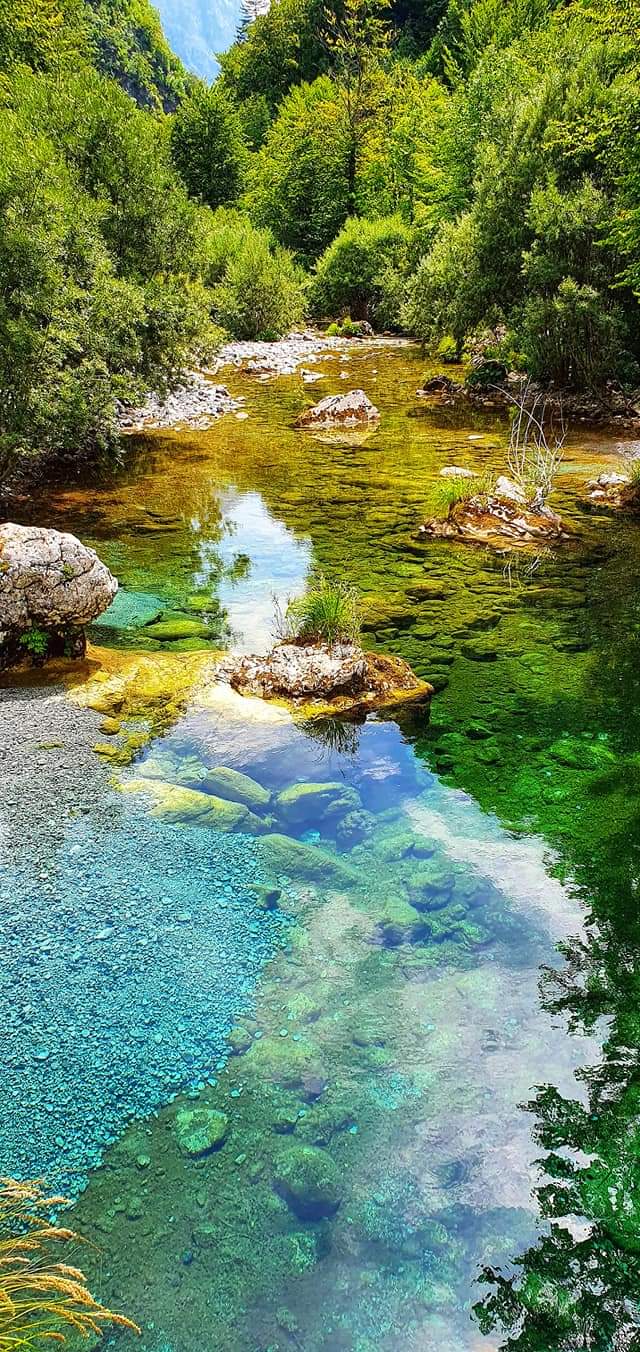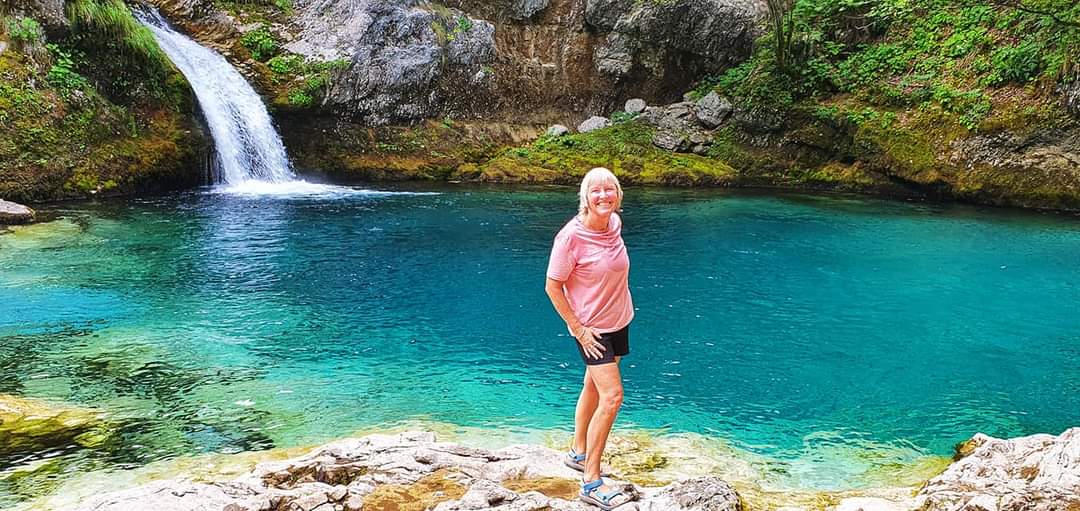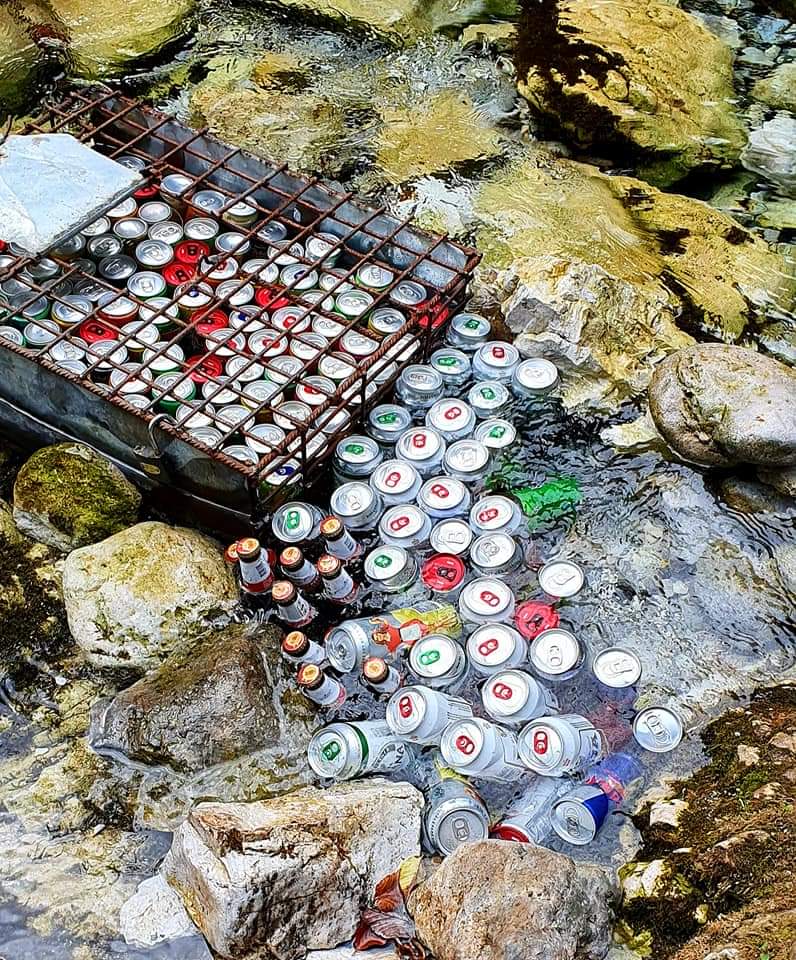 There were more friendly butterflies who took a liking to me. I was covered in butterflies, on my shoes, feet, hands bag and my phone whilst I was trying to photograph them. There were people either side of me but there were no butterflies on them.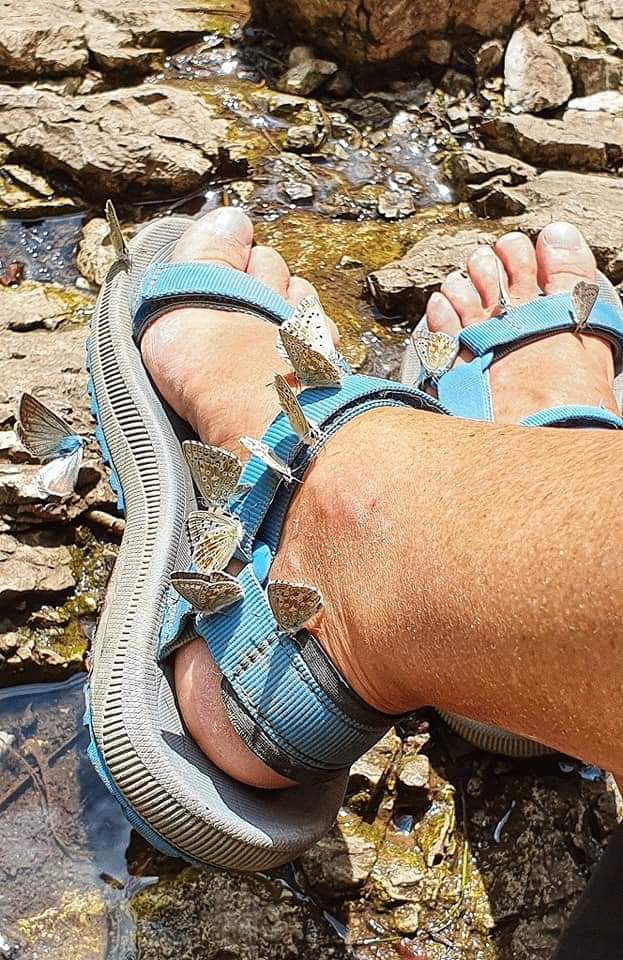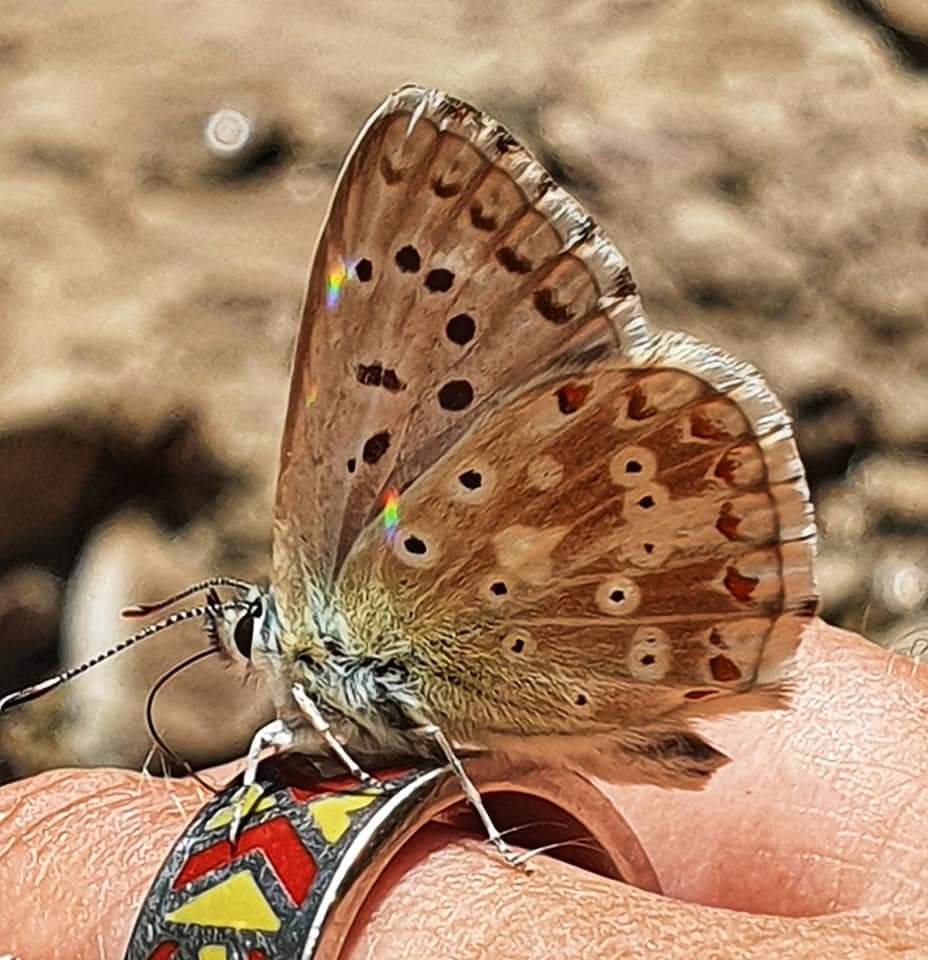 Theth – Valbona Hike
This is a very popular hike and takes an average of 7 – 8 hours with time to take photos and admire the spectacular views. Whichever direction you do it in there is a steep ascent at the beginning and a steep descent at the end. There are also a lot of small loose stones in places, you definitely need good hiking boots or suitable footwear.
There are 4 small cafes en-route with springs where you can fill up your water bottle. I had planned to do this trek but was defeated by the weather. I managed to do part of the trek.
Thunderstorms were forecast. I met some people who were in Valbona during the storms, they were very severe, lashing rain, thunder and lightening and they lasted for several hours. I was very glad I wasn't stuck up a mountain.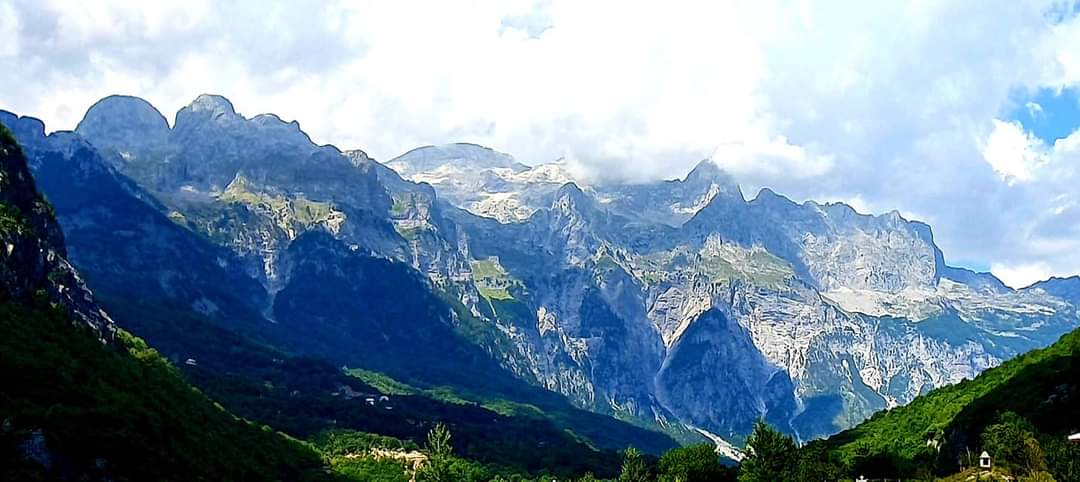 From Valbona you can return to Shkodër by minibus and ferry. For 15 Euros a minibus takes you from Valbona to the ferry port at Fierze. The ferry to Koman takes 3 hours and is an incredibly beautiful journey. From Koman another minibus will take you back to Shkodër, a journey of an hour and a half. The minibus will pick up and drop off at your accommodation.
Of course the journey and hike can also be done in reverse.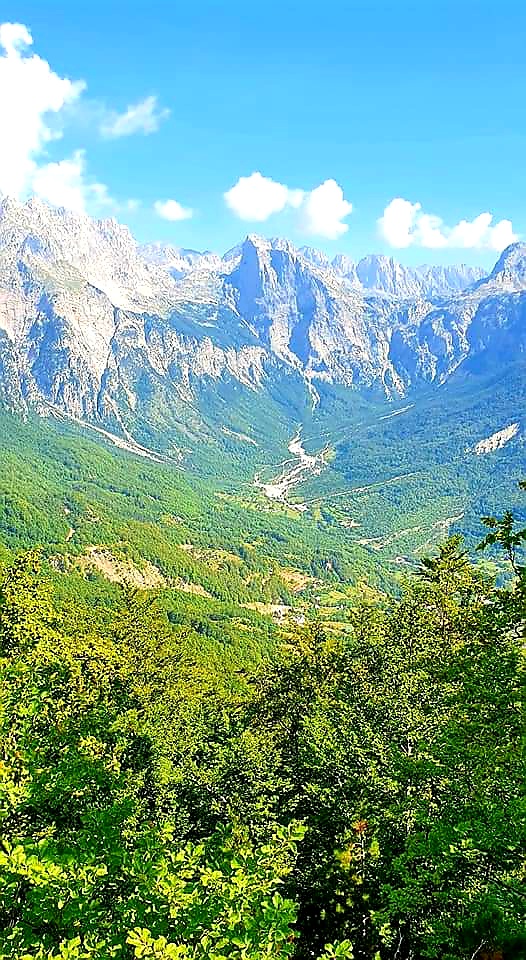 Getting to Theth
Accommodations in Shkodër can arrange transport to Theth by 4 wheel drive for 10 Euros per person. They leave at 7.30am and the journey is around 3 hours. It is a fabulous drive through the mountains and forest.
The first part is on a really good road. After 2 hours the road runs out and the last hour is a climb on dirt and gravel paths with lots of bends and is not for the fainthearted.
We also passed a prison, in a lovely setting with beautiful views of the mountains. On the outside wall are written slogans in English:
'Just because a person makes bad choices, it doesn't make them a bad person'.

'Education is the key to unlock the golden door of freedom'.

'Stay strong, you are one day closer'
The prison is new with state of the art facilities, including air conditioning and single cells. We could see into the exercise yard which was huge. My driver told me it was part of the efforts to join the E.U. to show how good they are now with human rights. On the way back our driver stopped at the prison so we could have a closer look.
I was shouted at by one of the guards for taking photos of them. Fortunately, the driver went to school with him and it was fine. The driver knew every person we passed on the 3 hour journey.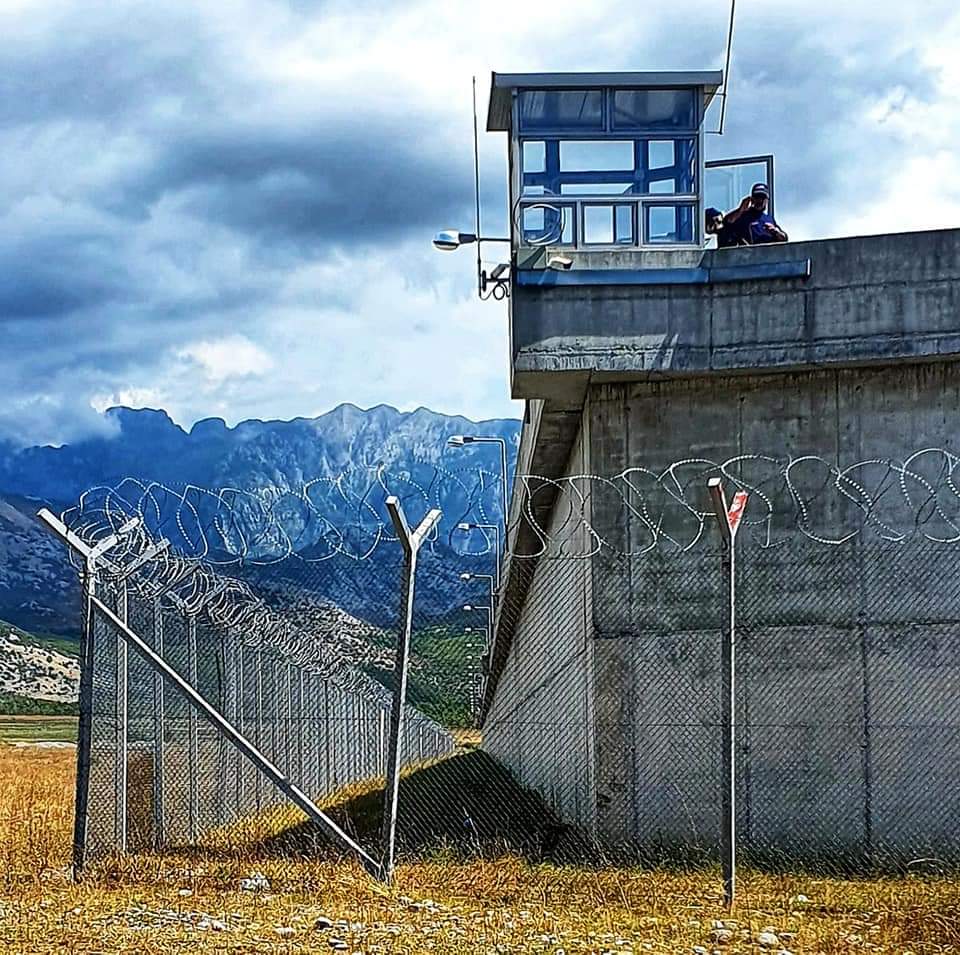 My transport up to Theth was in a 4 wheel drive. Coming back it was in a very old and dilapidated Mercedes which the driver had owned for 25 years. There was a huge crack in the windscreen on my side.
I was hoping it was going to remain in one piece for the journey. In this the driver hurtled along the dirt tracks and round the sharp bends, it was very bumpy and quite exhilarating.
I shared the ride back with a young Albanian guy and his Israeli girlfriend, who lives in Germany. He was able to translate what the driver said which was not to be nervous as he knew every inch of the road and had been driving this road for 8 years. Before this he used to drive huge lorries all over Europe. He also said that when he'd done the journey a couple of days ago a wolf had crossed the road.
The driver also told us that there had only been one serious accident on this road. It happened one evening during a really bad storm. There had been a landslide on the track and the car went over the side of the cliff and as the driver put it 'flew'. Amazingly it didn't go to far and no-one died. We were shown where it happened.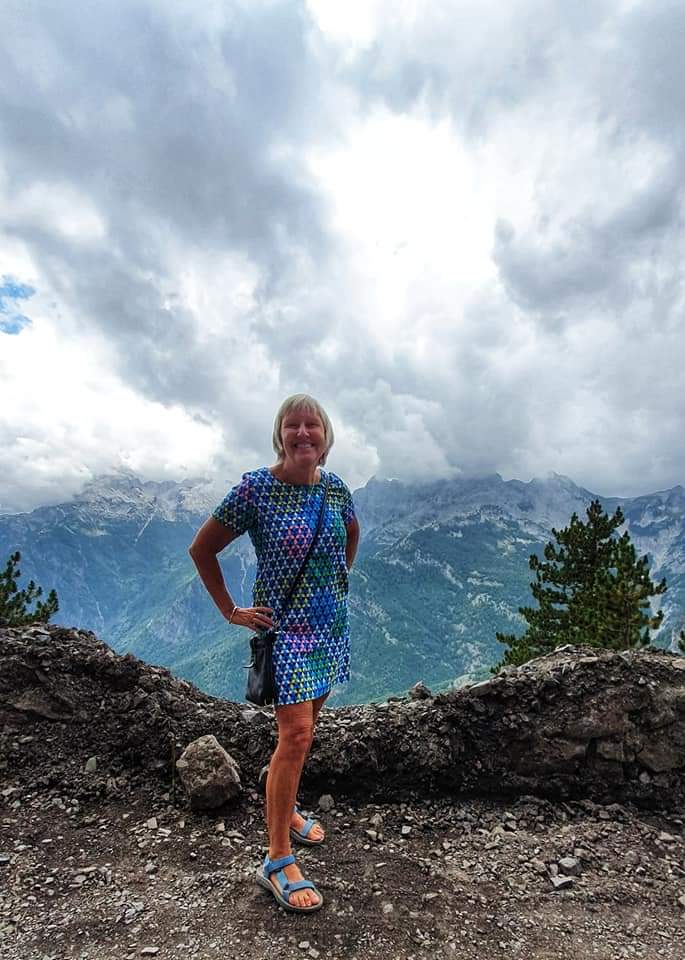 They are frantically trying to build a new road to reach Theth. It is a huge job but there is so much construction going on. We had a couple of hold ups whilst we had to wait for diggers and other machinery. They estimate it will be finished within a year. That will open Theth up and there will be lots of development. I'm glad I got to see it now, a sleepy little village with just a few family run chalets.
Where to stay
I stayed at Bujtina Polia Guesthouse which was recommended to me. Accommodation is cheap and  good value. My stay included a buffet breakfast, an enormous evening meal of simple, organic food and free beer. The views are spectacular. It was waking up and seeing the morning light hit the mountains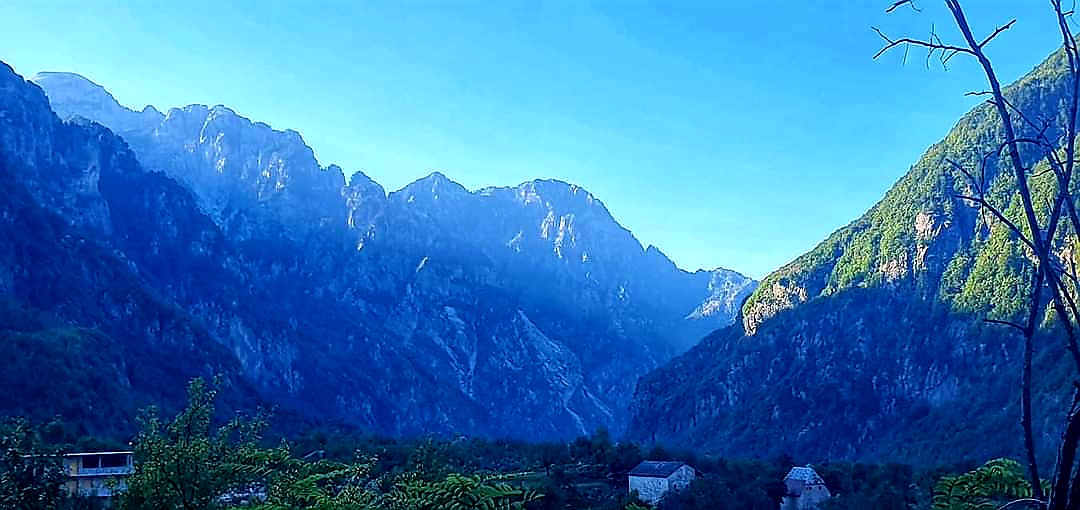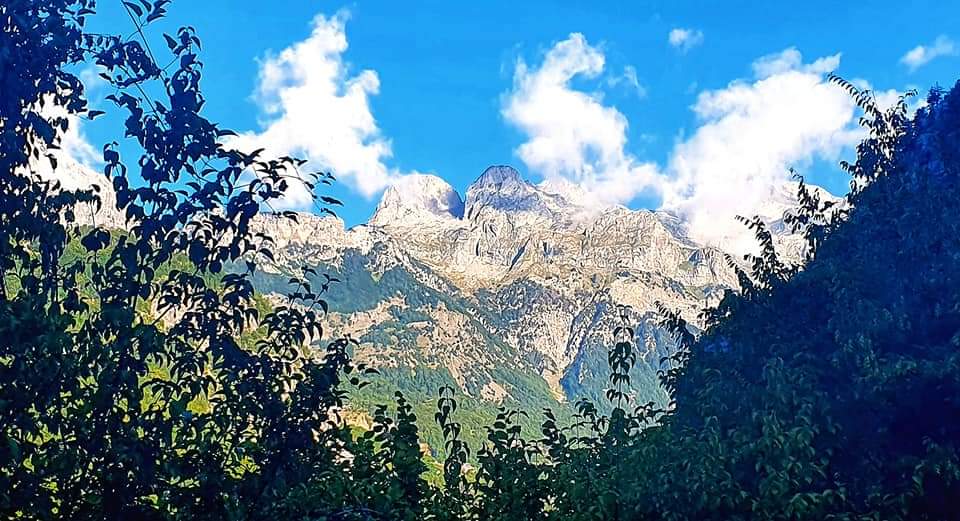 A Day on Lake Komani
The ferry journey from Koman to Fierze is reputed to be one of the most picturesque in the world and I wouldn't disagree with this. It is also possible to spend a day on the lake. As it hadn't been possible for me to get to Valbone and catch the ferry back I decided on this option. I really wanted to see some if the lake scenery.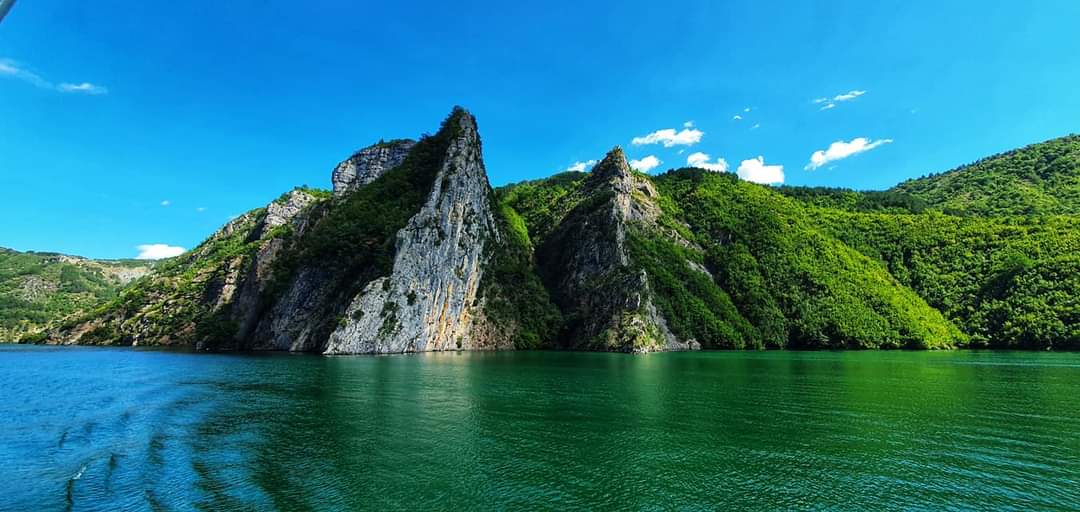 The first part of the trip is by local boat for 45 minutes to arrive at Berishe. Here is a guesthouse with beautiful views of Peace Island, the lake and the surrounding mountains. It is a lovely spot, breathtakingly beautiful and so peaceful and tranquil. For a long time I just sat on a bench with a beer and soaked up the view.
There are other things to do there. It is possible to swim in the lake, kayak around Peace island or do a hike. I went for the kayak option and loved every minute.
My only disappointment was the rubbish in the water, plastic in various forms and at least 2 different flip flops floated past me. The amount of rubbish left in areas of such beauty has been my only issue in my travels around the Balkans.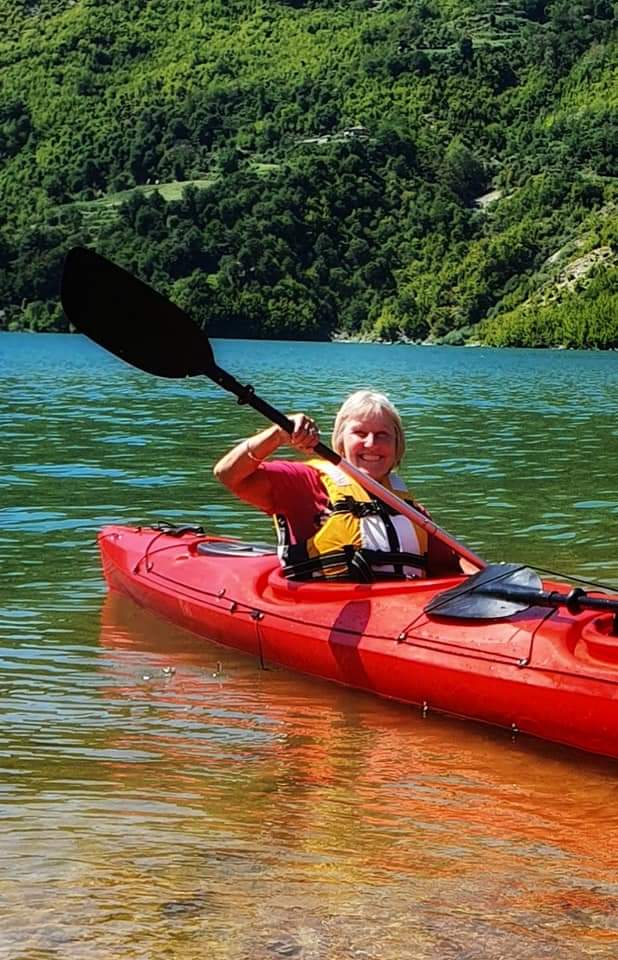 Next came a delicious lunch with a beautiful backdrop. To get back to Koman the ferry makes a special drop to pick you up. It is also possible to stay overnight in wooden cabins with spectacular views.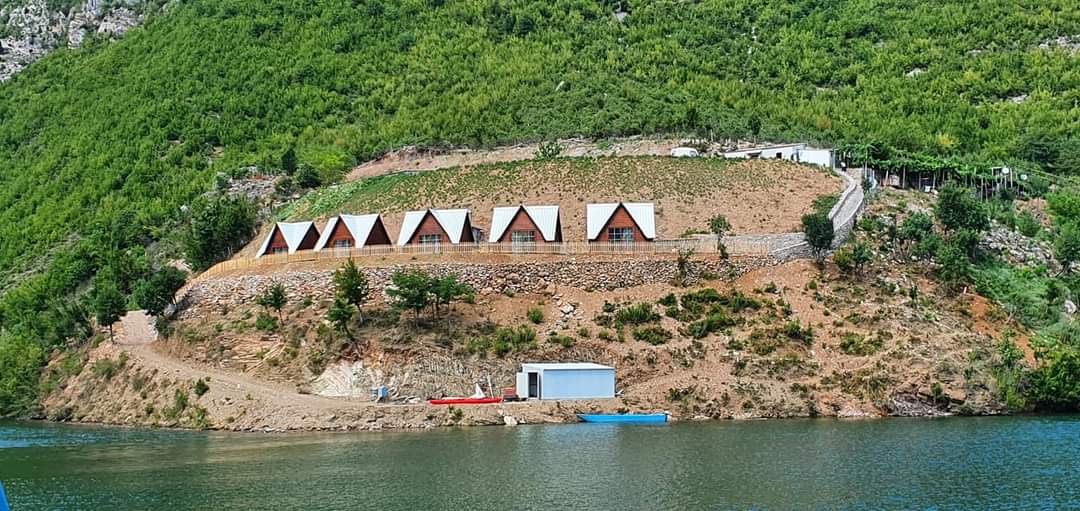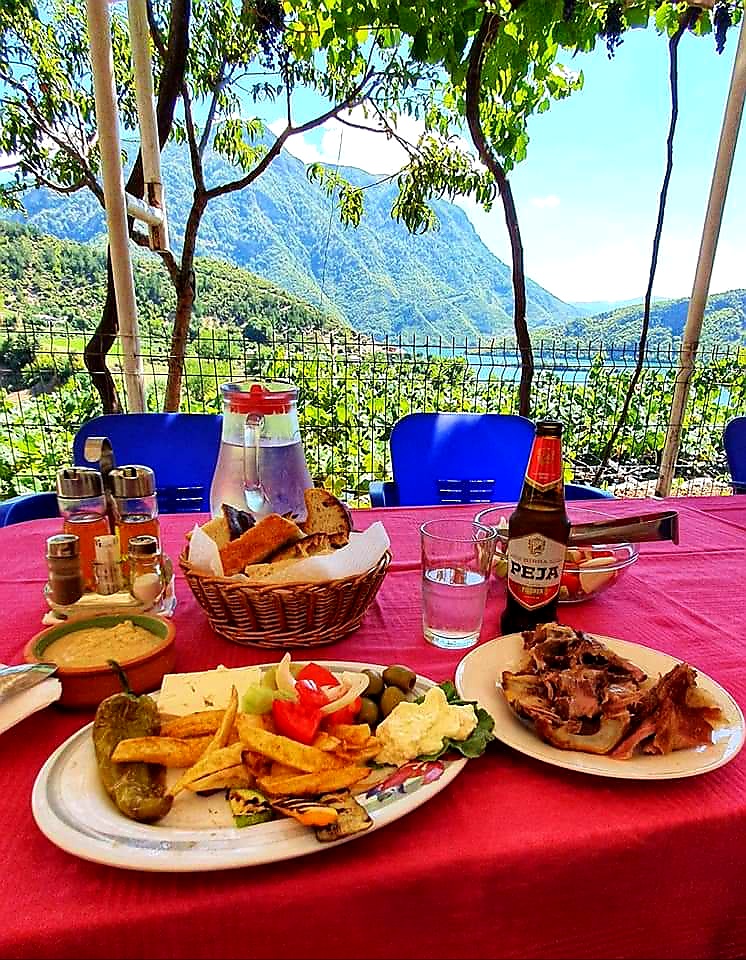 On the ferry I met a lovely Albanian family. They were travelling with their daughter who is studying in Holland to become an architect and is home for the holidays. I've met many young people studying abroad.
The father runs a travel agency and was able to give me some good advice on Tirana and the Macedonian border. At one point today I saw a police patrol boat, I was told they were looking for drugs.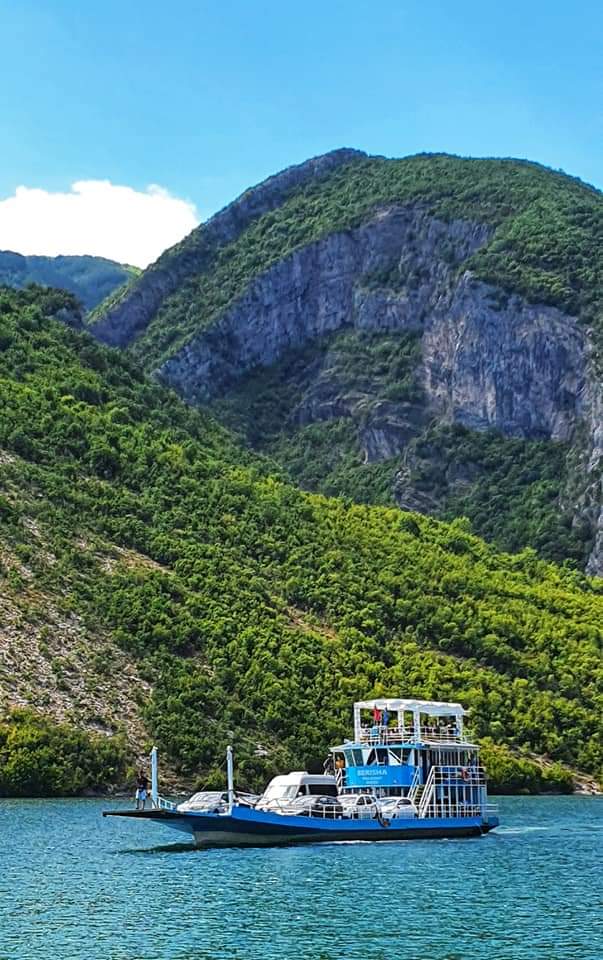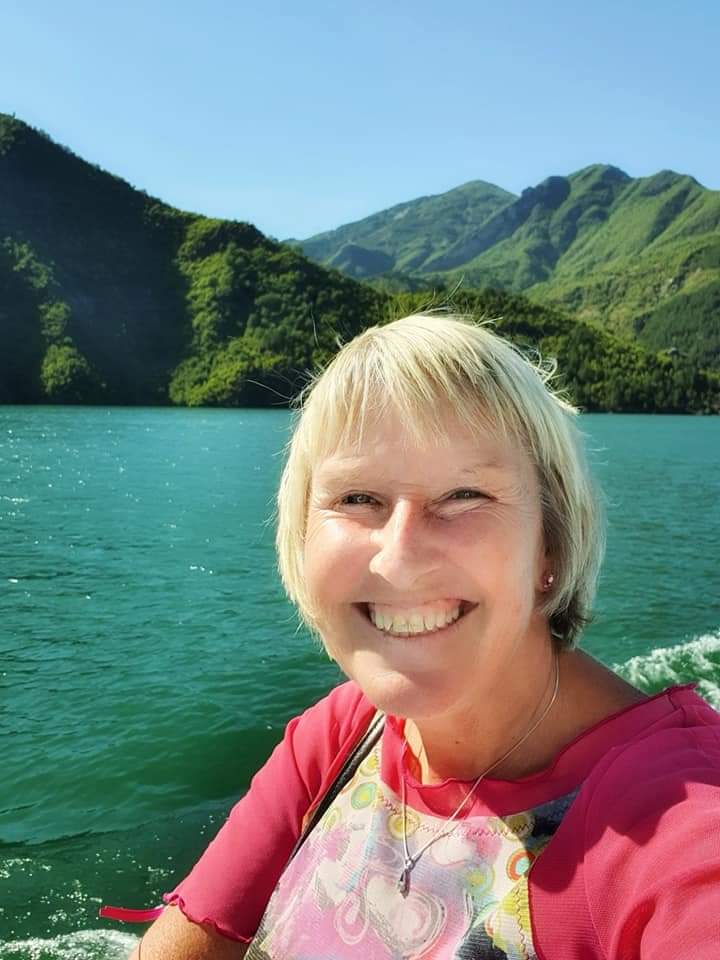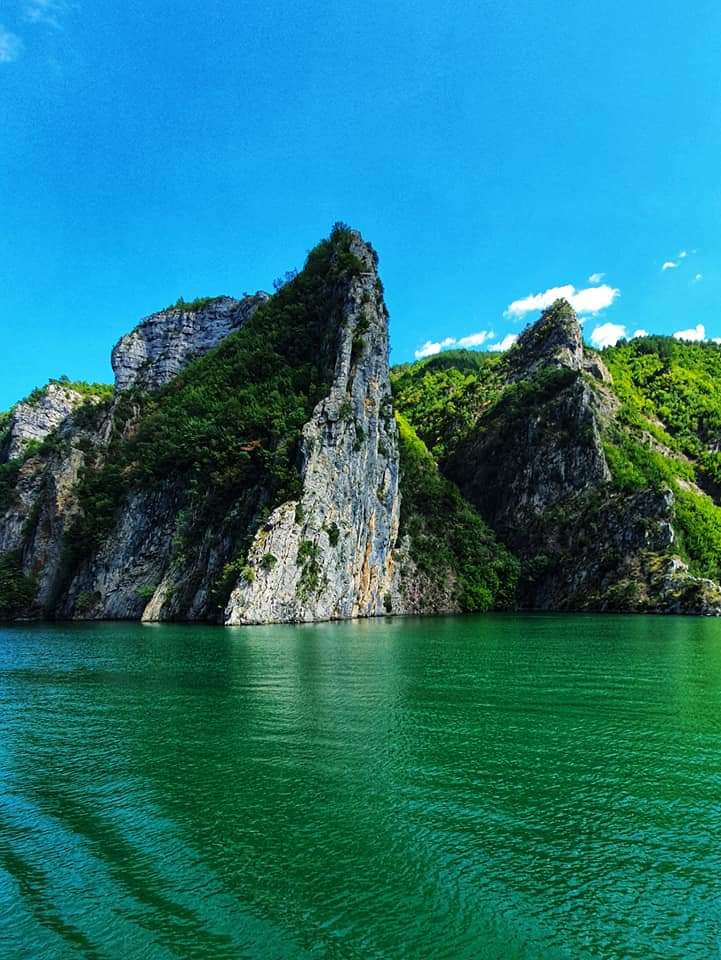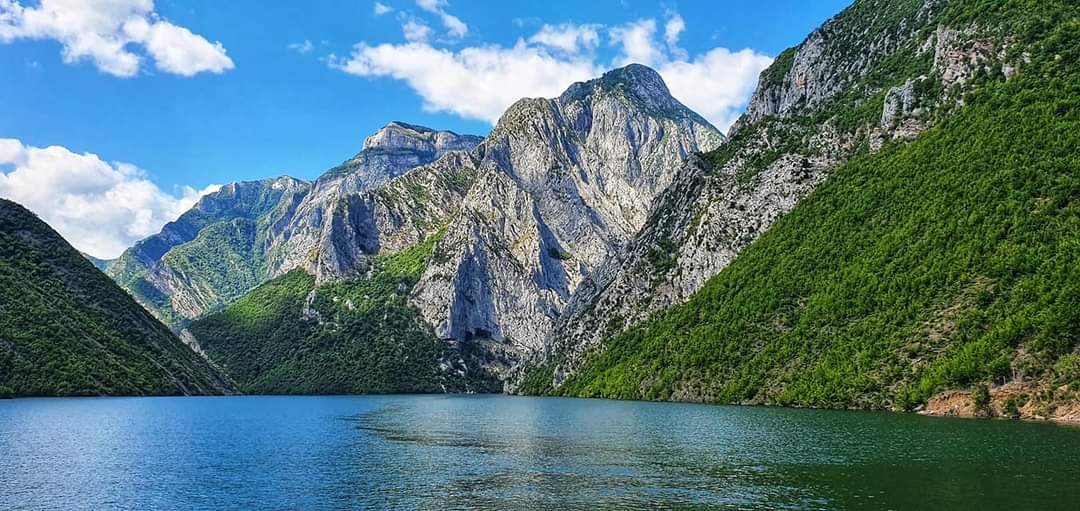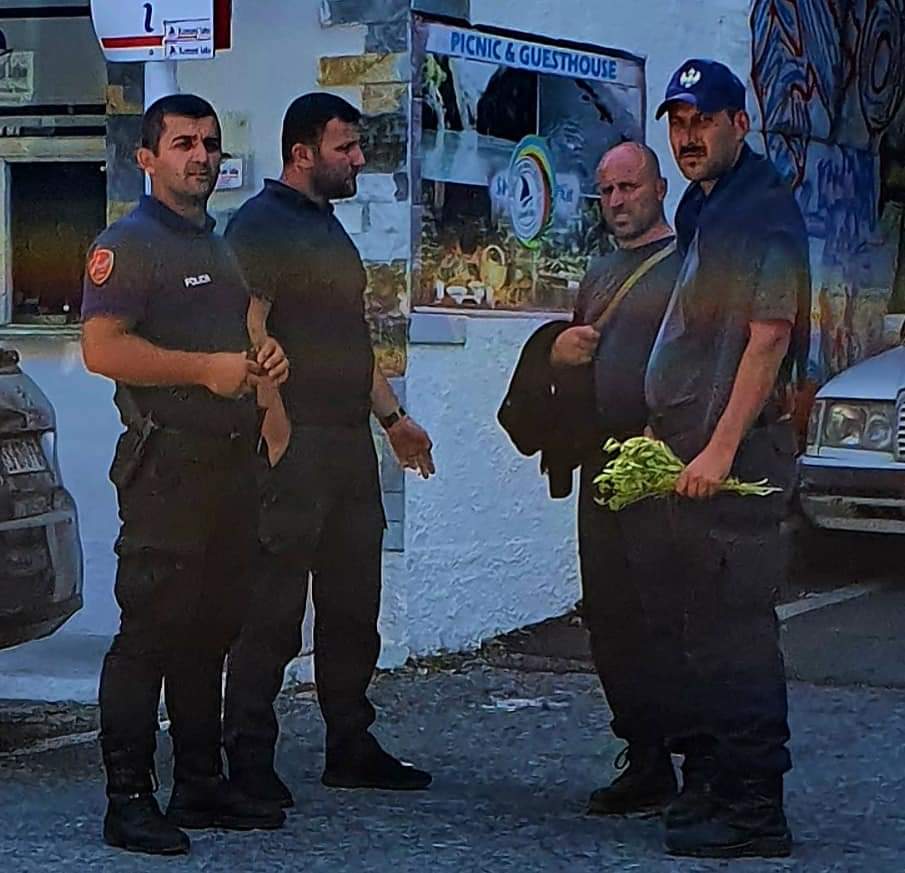 Tirana
From Shkodër to Tirana there are comfortable coaches and smaller minibuses making the 3 hour journey. The road is extremely good and it is very scenic.
Albania's capital Tirana is home to 1 million of the country's 3 million population. It has been Albania's capitol since 1920. It has changed so much since the Communist times.
It is no longer the grey, oppressive city it once was; now it is a colourful, vibrant city with a cafe culture.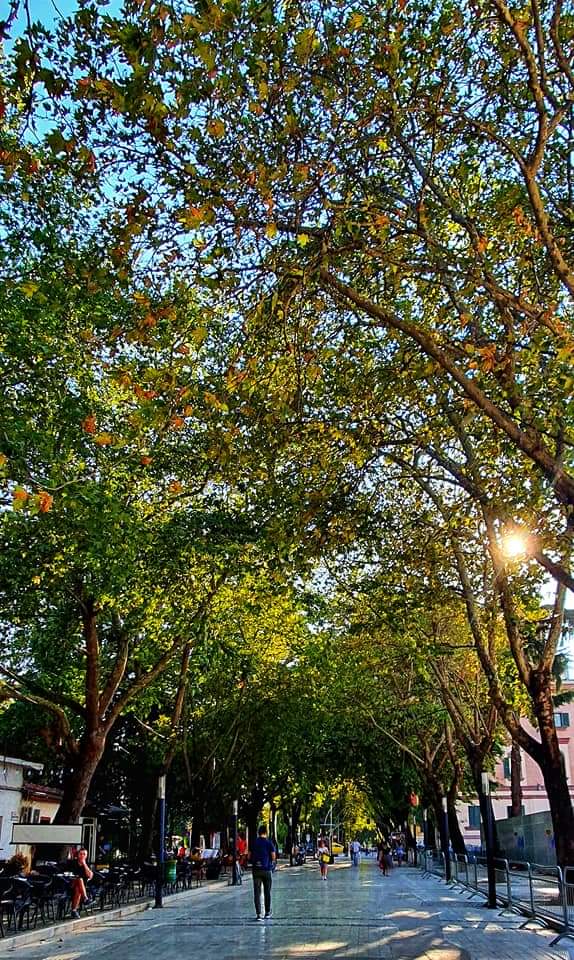 Skanderberg Square
Tirana's heart is Skanderberg Square, named after the national hero who fought for independence from the Ottoman Empire and whose statue on horseback sits majestically in the middle of the square.
The square is enormous and if home to buildings old and new joined together by 12 gardens. Fountains and a small river of running water keep visitors and the local children cool in the heat of summer.
Sights of the Square
The Skanderberg Statue
It is 11 metres high and was placed in the centre of the square in 1968 to commemorate the 500 year anniversary of his death.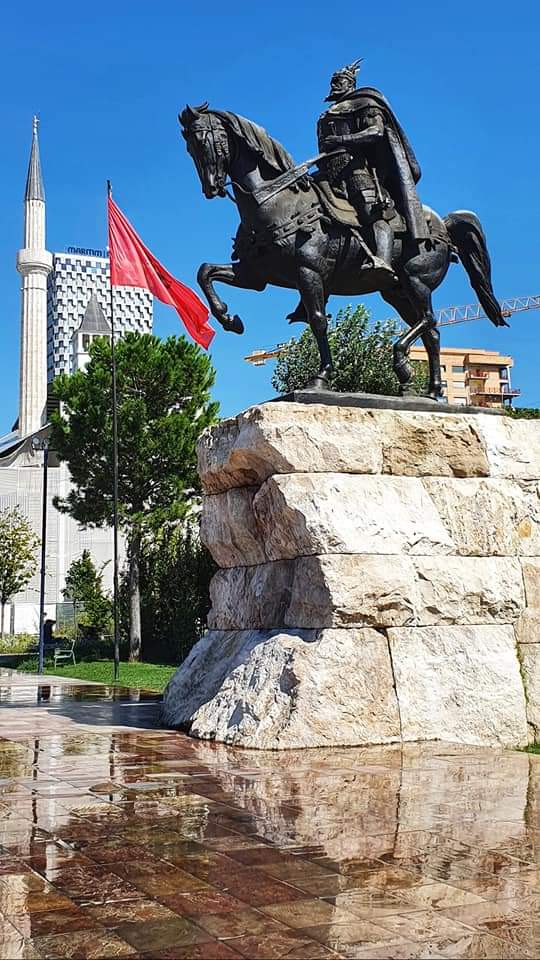 The Clock Tower
One of the most striking sights in the square is the old clock tower. Built in 1822 it originally housed a bell from Venice which chimed on the hour. It is 35 metres high and 90 steps bring you to the top. It was finally opened to the public in 1996.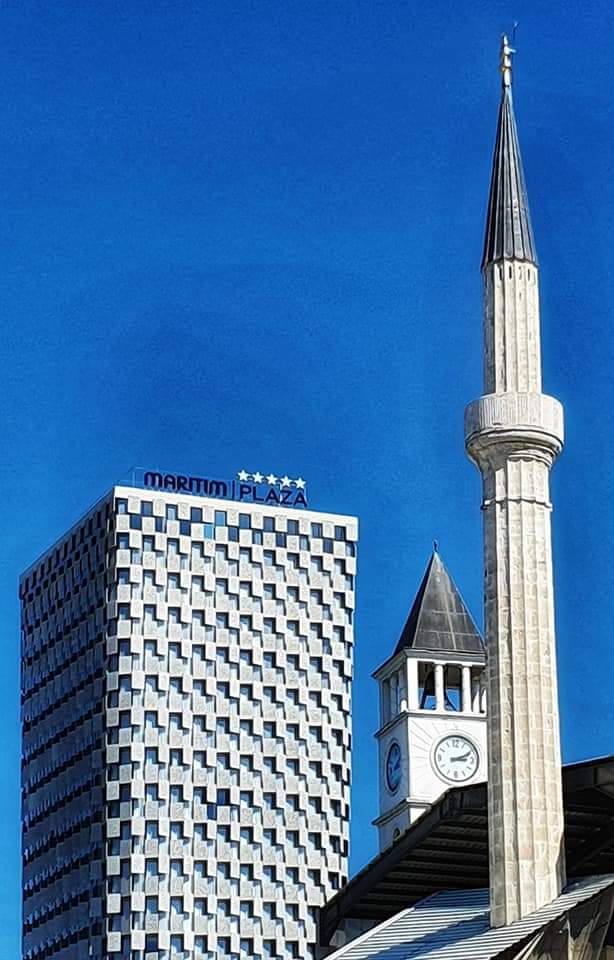 El'hem Bet Mosque
This is the only surviving mosque of 8 built in Tirana in the 18th and 19th centuries. It is currently under renovation.
The National History Museum
This is the largest museum in Albania. The colourful mosaic on its exterior represents the people of Albania through the ages.

The Palace of Culture
Started in 1959 as a gift from the Soviet Union, the 1st brick was laid by Nikita Khrushchev. It is now home to a theatre, shops and art galleries.
Other things to visit in Tirana
The New Bazaar
A few minutes walk from the square, it is located in one of the oldest areas of the city. It was opened 3 years ago and is home to 308 businesses. Vendors sell meat, vegetables, fish, fruit, spices and local products.
It is very colourful both inside and out. The outside is decorated with Albanian motifs. It if bordered by many bars and restaurants, one of which I stopped at for a well deserved beer.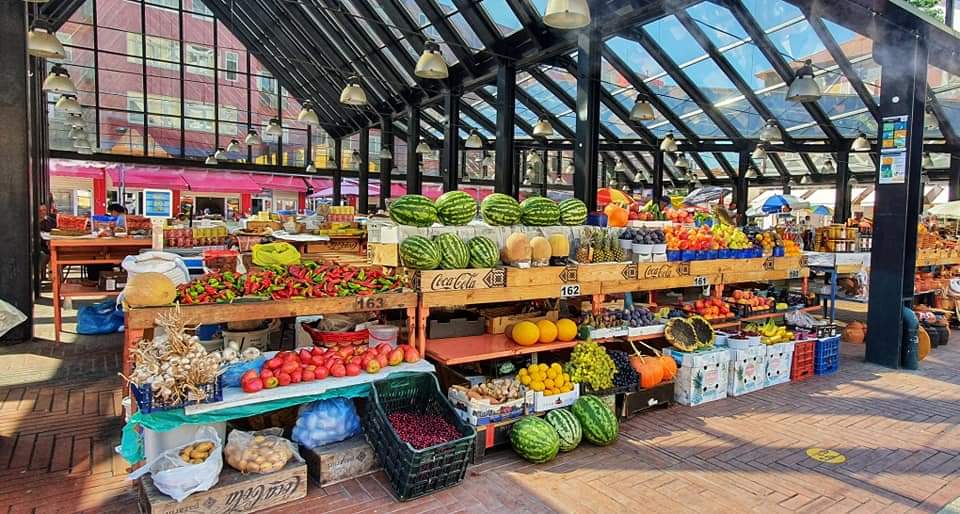 Bunk'art 2
After the Soviet invasion of Czechoslovakia in 1968 the Albanians left the Warsaw pact. Hoxha determined to be independent, set about strengthening Albania's defences. Part of this involved building concrete bunkers, 700,000 of which still remain. Two of these have been turned into museums.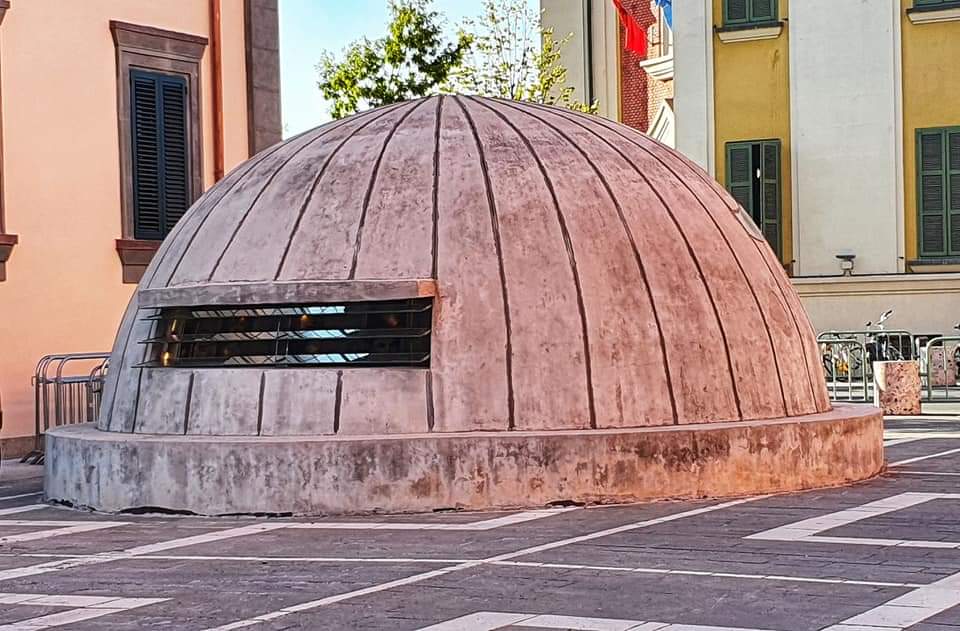 Bunk'art 2 is situated just off the square. It tells the story of Albania during Communist times and it does not pull any punches. It reconstructs the history of the Albanian Ministry of Internal Affairs and the brutality and secrets of the police force who enforced the rules.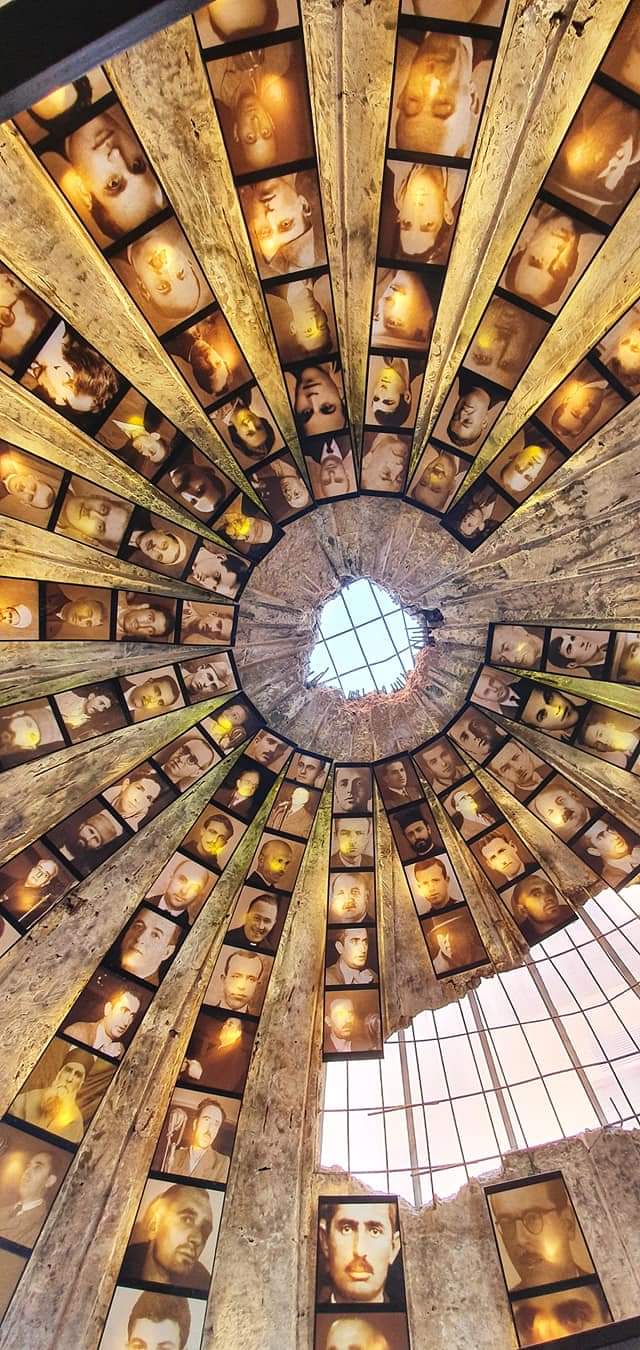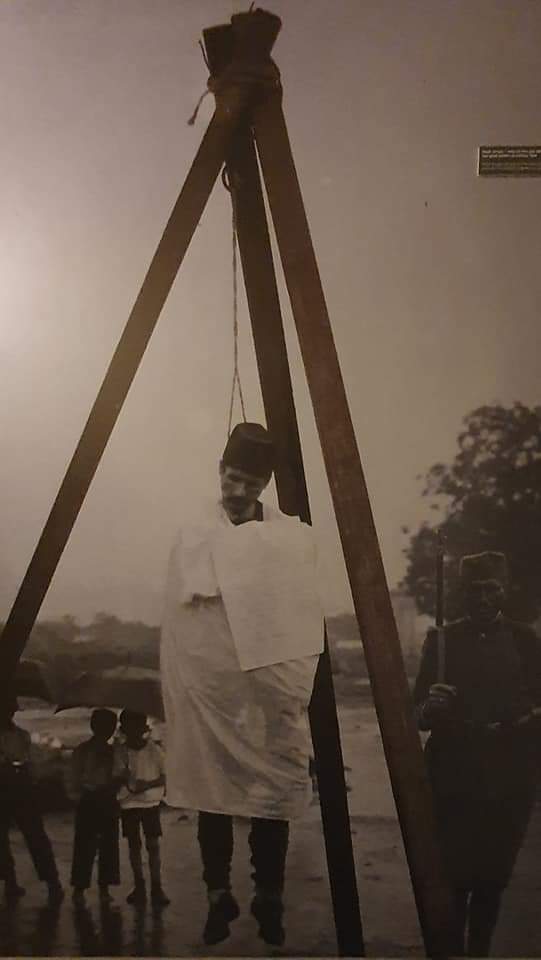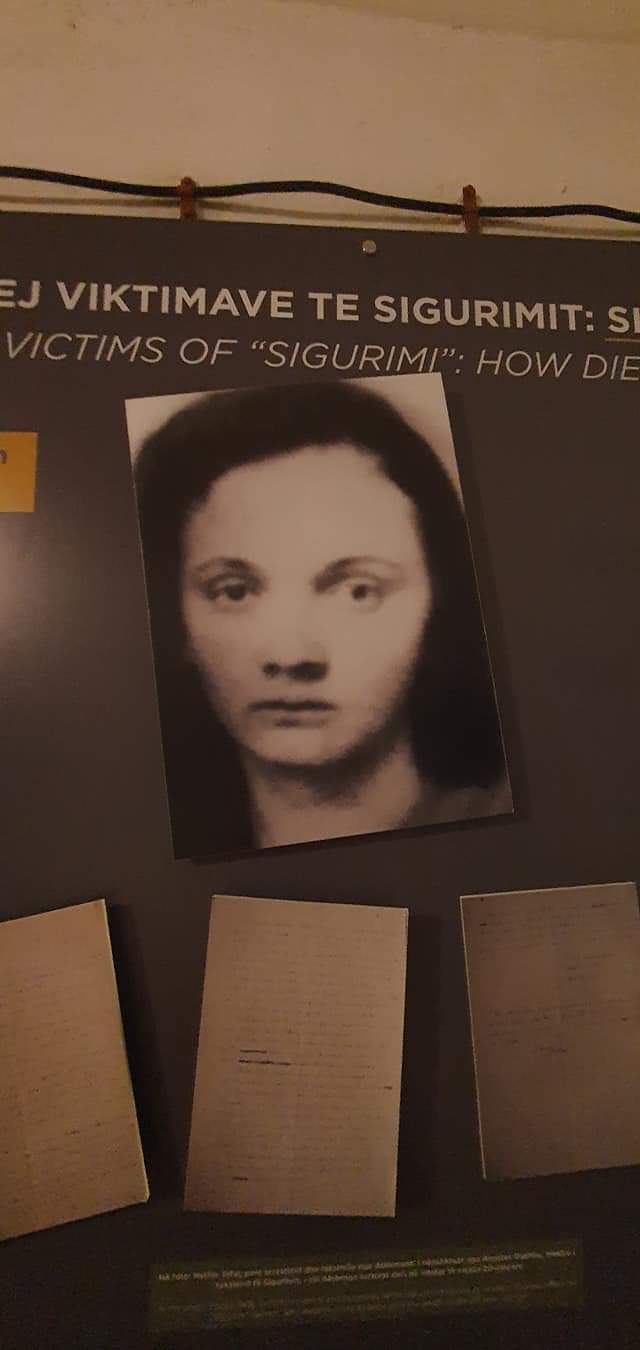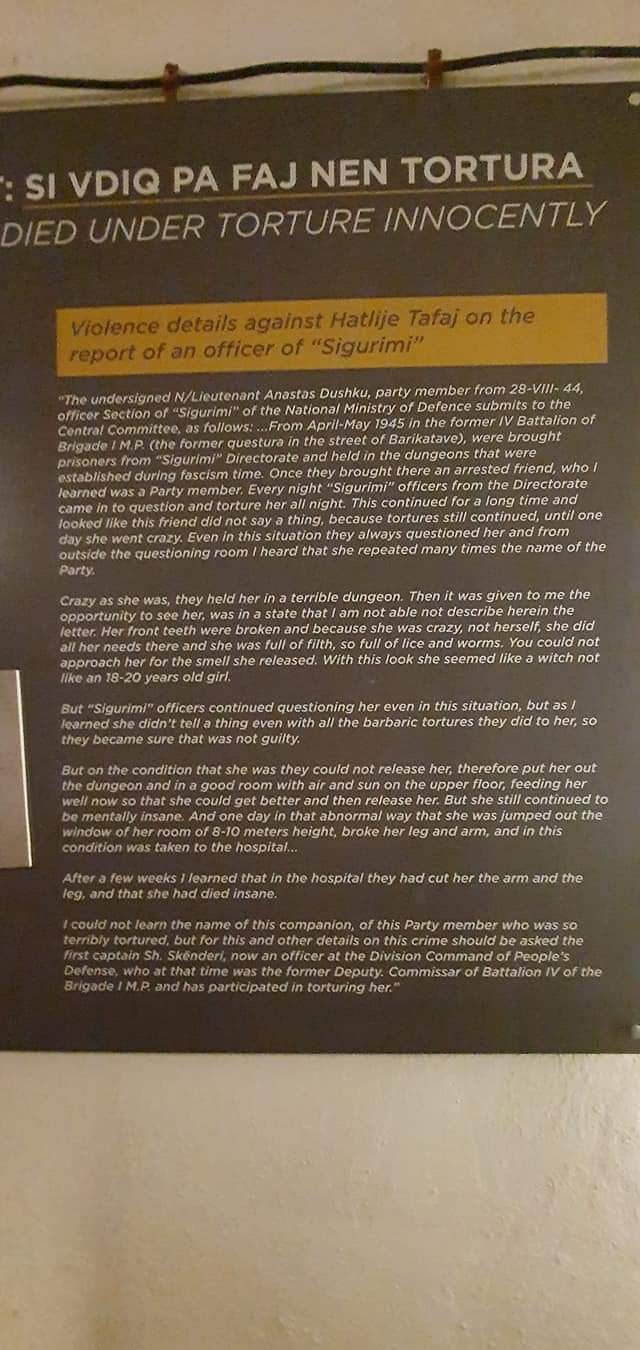 It is dedicated to the victims of Communist terror. It is very graphic and very moving and there were times when it brought me to tears. I can't imagine how the people who lived through these times feel when they visit. It is a fitting memorial and more so being in one of the bunkers. It was very eerie and very atmospheric.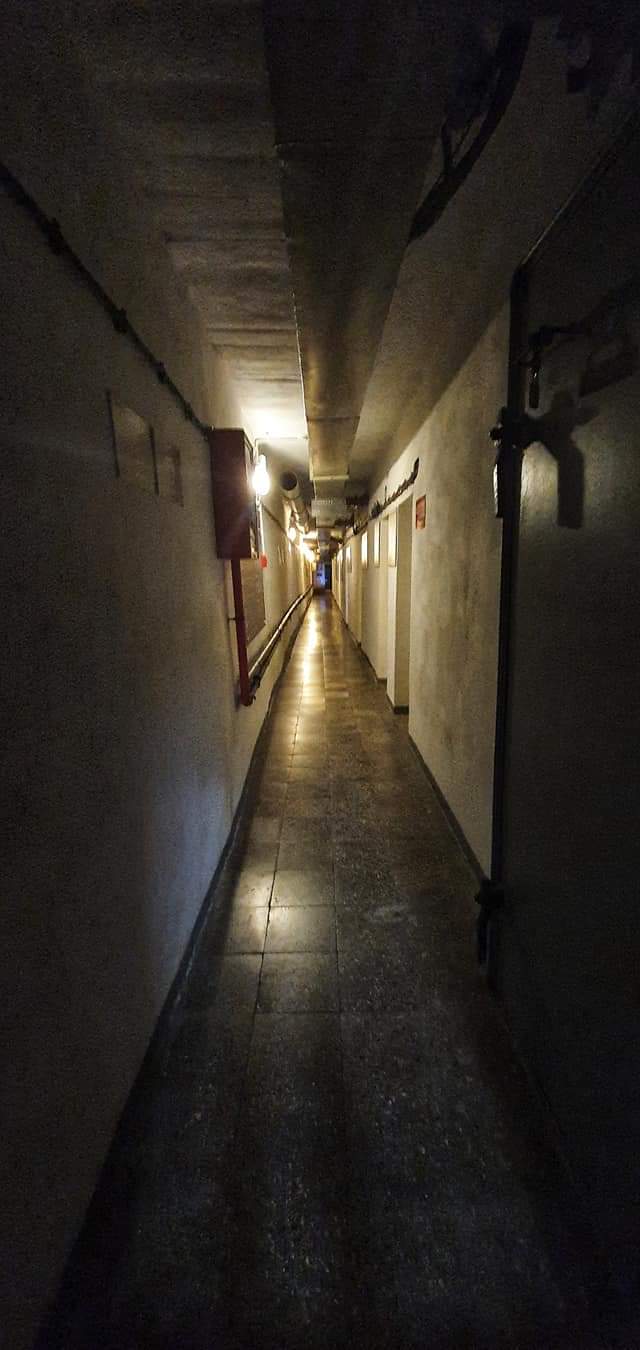 Pyramid
This pyramid was built by the daughter of Enva Hoxha as a museum in memory of her father. It is now derelict, forlorn and covered in graffiti. Some believe it should be demolished, others believe it should remain as a reminder of the brutality of Stalinism.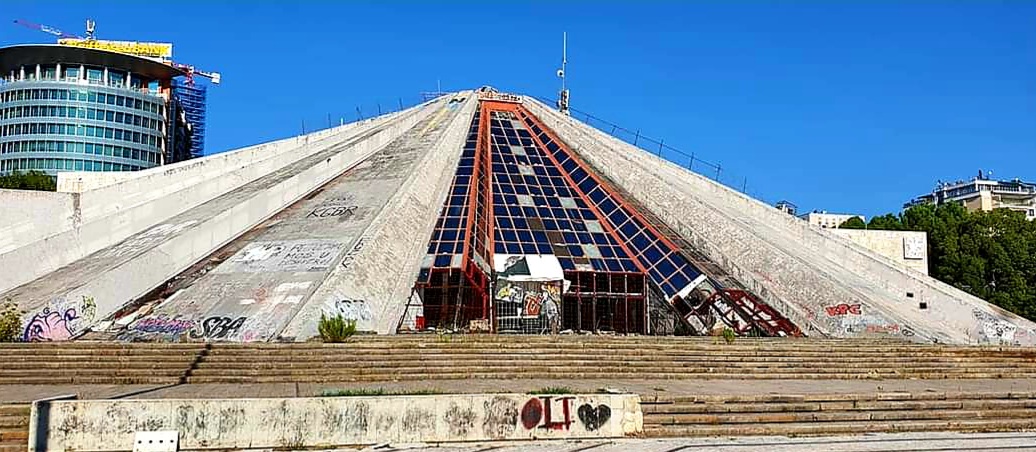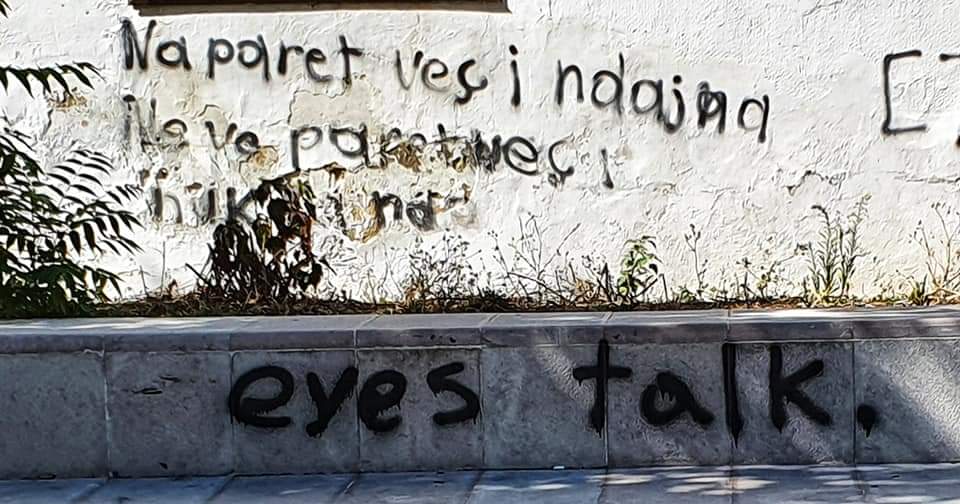 Where to Stay
I stayed at the Hotel Vila e Arte. It was in the perfect position, between Skanderberg Square and the New Bazaar but only a few minutes walk to each. It was in a quiet spot with a bar, with fabulous gin and tonics and a lovely outdoor space.
It also has the friendliest staff possible. The receptionist gave me so much help and advice and even rang round all the travel agencies to find me a minibus to take me to Macedonia. Included in the very reasonable price was a wonderful breakfast with lots of tasty treats.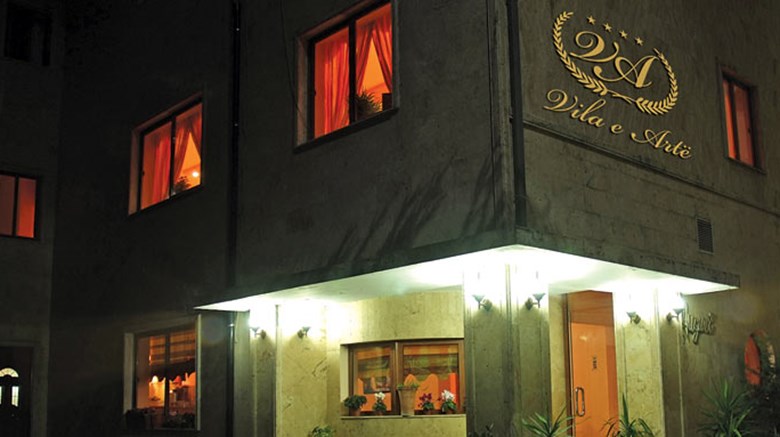 Albania is a wonderful mix of old and new. In Shkodër on one corner of the street was a lady in traditional clothes selling what looked like milk in plastic bottles. On the opposite corner was a trendy cocktail bar.
Albania is a very scenic country full of forests, lakes and natural beauty. Locals are so friendly and helpful and for me as a solo woman traveller, it was incredibly safe. I wish I had had time to see more but I will return.