Volunteering for the Orangutan Foundation in Borneo
---

All Orangutans are critically endangered. There are only 55 – 65,000 left in the wild. Unfortunately, 80% of these live outside protected areas. Without the work of the Orangutan foundation things would be so much worse. They have protected areas of the rainforest and created release sites from where almost 300 Organgutans have been able to go back to the wild. These released Orangutans have also given birth to over 100 babies.

I volunteered for the Orangutan Foundation International (OFI) in Kalimantan in Indonesian Borneo. It was one of my most incredible experiences. I arrived at Jakarta airport and there was a minor panic when there was no-one there to meet me and I couldn't remember the name of my hotel. I then realised there were 2 exits out of the airport, problem solved. I met my fellow volunteers and we bonded over Bintang beer 🍺.
My Fellow Orangutan Foundation Volunteers
Next day the alarm went off and I jumped up to go for a shower until my roommate informed me it was only 5.45am, I'd forgotten to change my alarm clock from Singapore time. We flew to Pangkalen Bun from where it would be several hours by boat to camp. It was larger than I expected and full of contrasts, old and new, rich and poor and no tourists. We attracted quite a lot of attention but nothing serious and no touching, apart from an old lady who stroked my arm in fascination – blonde and hairy 😄We had lots of shouts of 'hello missus', 'hello mister' and even 'hello sir' to the women. We soon became minor celebrities.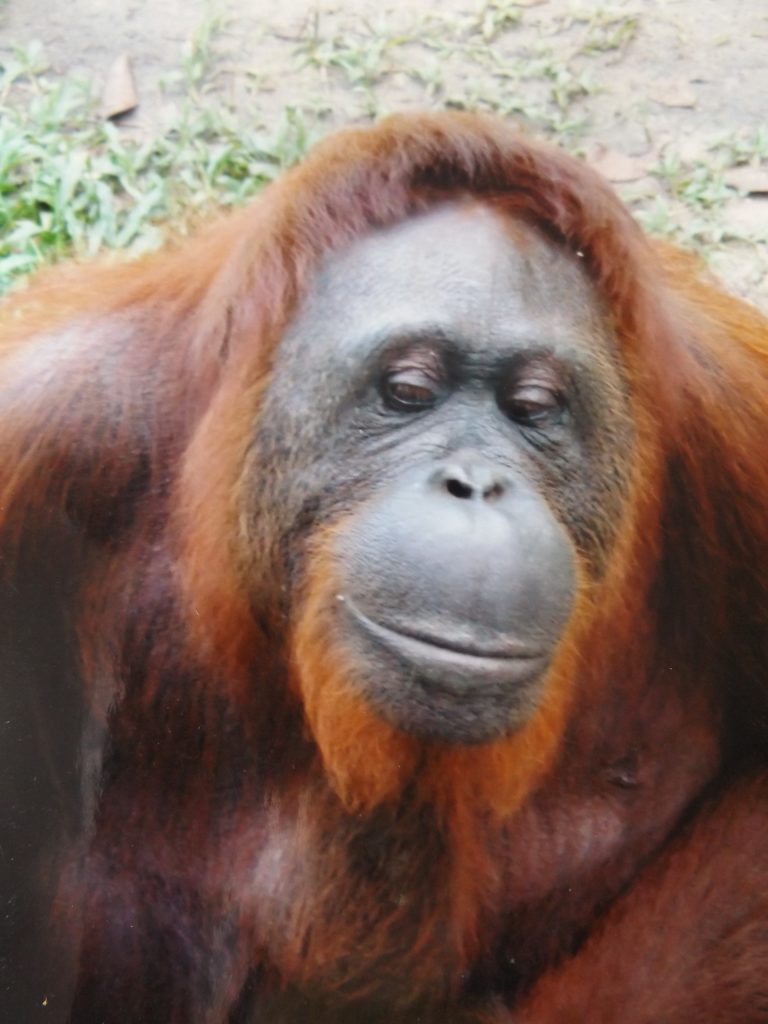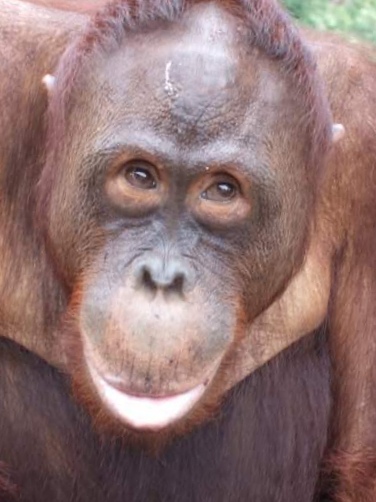 4 Weeks in a Swamp…
We found out what we were going to be doing. Basically we were going to be spending 4 weeks in a leech and mosquito invested swamp. There had been a lot of illegal logging in a particular part of the National Park. This was also where the new release site was going to be built. The OFI staff and police went to the area and cleared out the loggers but they were starting to return. A guard post needed to be built straight away. Unfortunately, it was still the rainy season, the water was still high and swarming with mosquitoes. So we would spend most of our day in water working with wood and concrete. We would be sleeping on a wooden platform over the swamp covered by a tarp.
We were a little apprehensive about wearing wet clothes, fungal infections, mosquitoes, leeches, jumping spiders, fire ants and the other 1,000 species of biting insect. We weren't allowed to swim in the river because of the crocodiles but we were allowed to work in it.
Camp Leakey
But before this we were off to Camp Leakey for 2 days and I would get to see my first Orangutan. We had a 3 and a half hour journey by local boat down the main Kumai river. It was dark, murky and polluted. We saw our 1st wild Orangutans unfortunately, they weren't in the National Park. When we turned into the Secondary river everything changed. The river was narrow and clearer and the vegetation much denser. The sun reflected clouds and trees onto the water below like a mirror. We saw Macaques and fantastic Proboscis monkeys with huge, bulbous noses, then another wild Orangutan, the perfect boat journey.
We arrived at Camp Leakey. Camp Leakey was set up by Birute Galdikas, one of the trio of women appointed by Louis Leakey to study the great apes. The others were Jane Goodall – chimpanzees and Dian Fossey- gorillas. She arrived in Indonesia in 1971 aged 25 and set up Camp Leakey. She's still there as is the Camp. It is now larger and employs about 30 staff. There is also a visitor's centre where local schoolchildren and other groups can learn about conservation.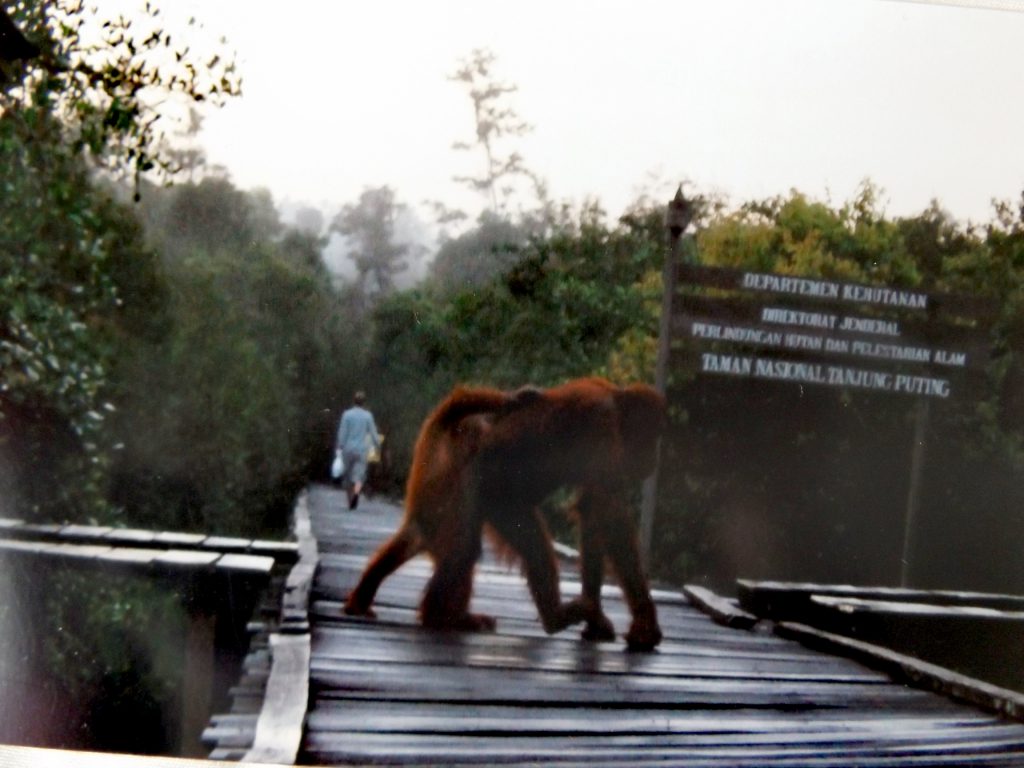 Mandi – Bathing Twice a Day
We stayed in a spider infested bunk house, slinging up hammocks from the rafters. The toilet was even worse, there were huge, huge webs and huge, huge spiders. The custom here is to 'Mandi' or bathe twice a day. Women must wear a bathing costume covered by a sarong. You put your hand up under the sarong to wash and then throw small buckets of water over you to wash off the soap. The 1st time I went to Mandi I met Siswe. Siswe couldn't be released back into the wild and became the Camp matriarch. One of the Camp workers had left a cup of the tea as he washed. Siswe drank this and then proceeded to steal someone's soap, cover herself in lather and jumped into the water. Quite a character.
Siswe was very intelligent but also very sweet natured. She could mimic anything, watch a workman sawing wood and if he left the saw unattended she would soon be sawing away. Nothing could be left unattended at camp.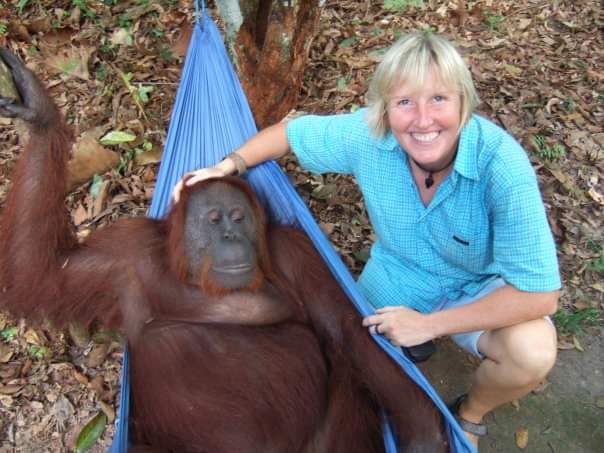 Kusasi, The Alpha Male Orangutan
We went to a feeding station for recently released Orangutans which was extremely entertaining. On the way back we saw Kusasi, the alpha male of Orangutans. He was magnificent. Then from the trees emerged a female Orangutan holding a small baby. Orangutan babies stay with their mothers until around the age of 8. They are solitary creatures who spend 60% of their time foraging for food and eating and the other 40% sleeping. They sleep in nests they build in trees and build a new one each evening.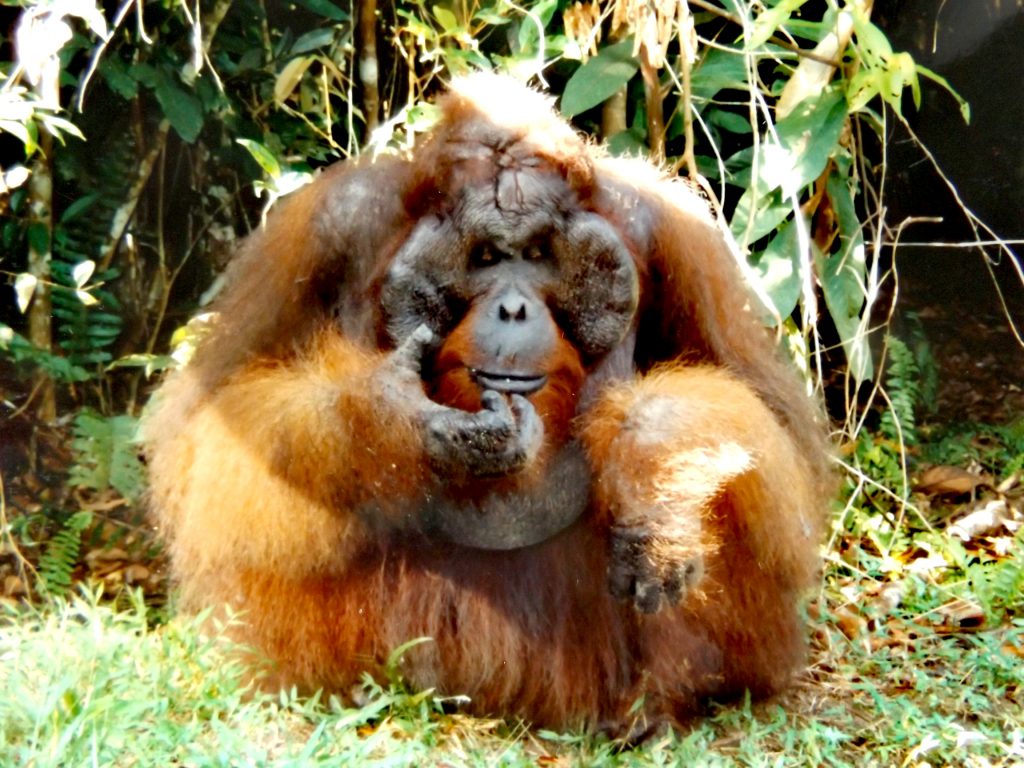 At breakfast it was like a zoo with us being the animals and the Orangutans and a family of Gibbons looking through the windows.
I had another close encounter with an Orangutan. I went back to the bunk house and up the wooden stairs. There on one of the beds was an Orangutan eating a packet of biscuits, he'd broken in through the window. I don't know who was more surprised! I shot down the stairs, closely followed by the Orangutan, I went out of the door and he went out of the window.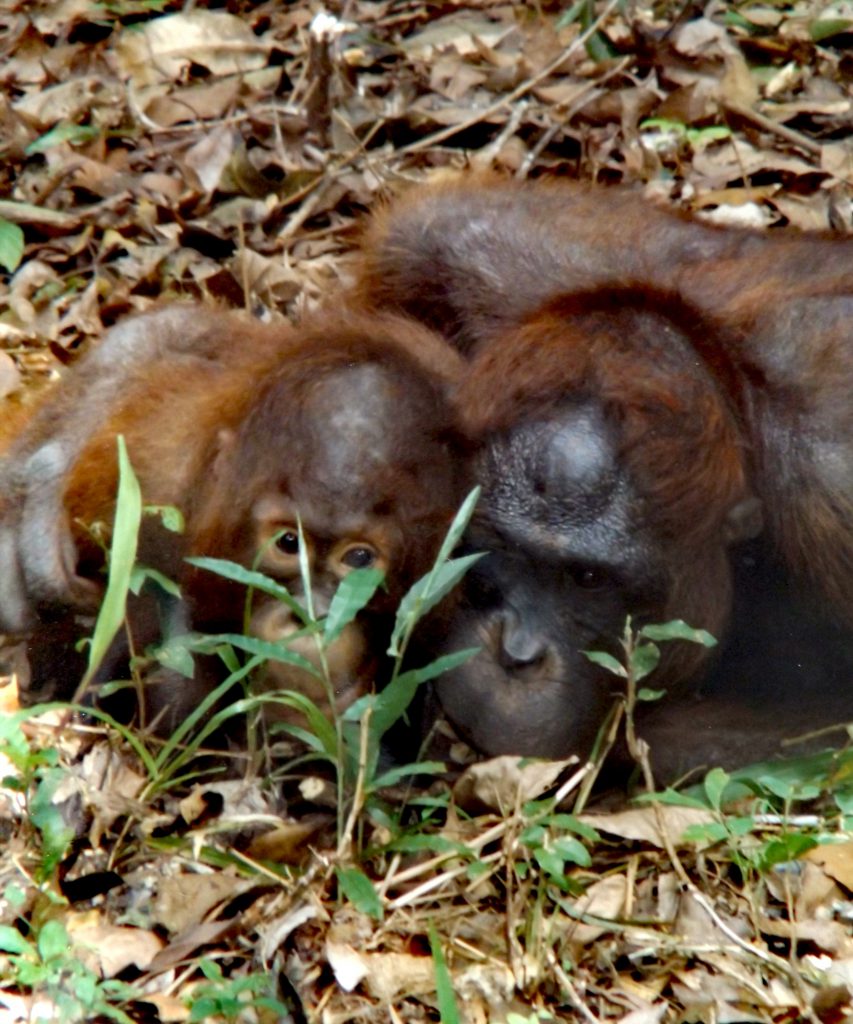 Kusasi as alpha male faced many challenges to his leadership. He was now getting old. Although he won the last encounter he was injured. In the photo below he wasn't happy as an antibiotic had to be applied to the wound on his forehead. It was squirted from a large syringe. As you tell he wasn't best pleased about this.
After I had left the camp, I still kept up to date with the happenings. Kusasi finally lost his leadership battle to a younger, stronger Orangutan. He disappeared and despite many searches he was never seen again.
It made me sad, he was quite a character. I'll never forget hearing this booming noise resonating through the whole camp, it was so loud. It was 'the long call' of male Orangutans. Jus as I had found a new mate.
He also took a liking to the british actress Joanne Lumley when she visited the camp.
Also keeping us entertained at camp were the family of wild gibbons. They constantly made us laugh with their antics.  On this photo it looks like he is posing like a Calvin Klein model.
Lamandau reserve – the new release site.
We said goodbye to Camp Leakey and it was off to Lamandau reserve to begin work. Another boat, this one loaded with all our provisions, packs, mattresses and ourselves. We were soon at the swamp and straight to work piling up wood. The mud in the swamp was putrid and the water stank. The platform was bigger than I'd envisaged. The toilet was a wooden platform over the river with a hole in the floor and a tarp around it. Today we saw illegal loggers floating their logs downstream. There were so many of them and it was such a sad sight.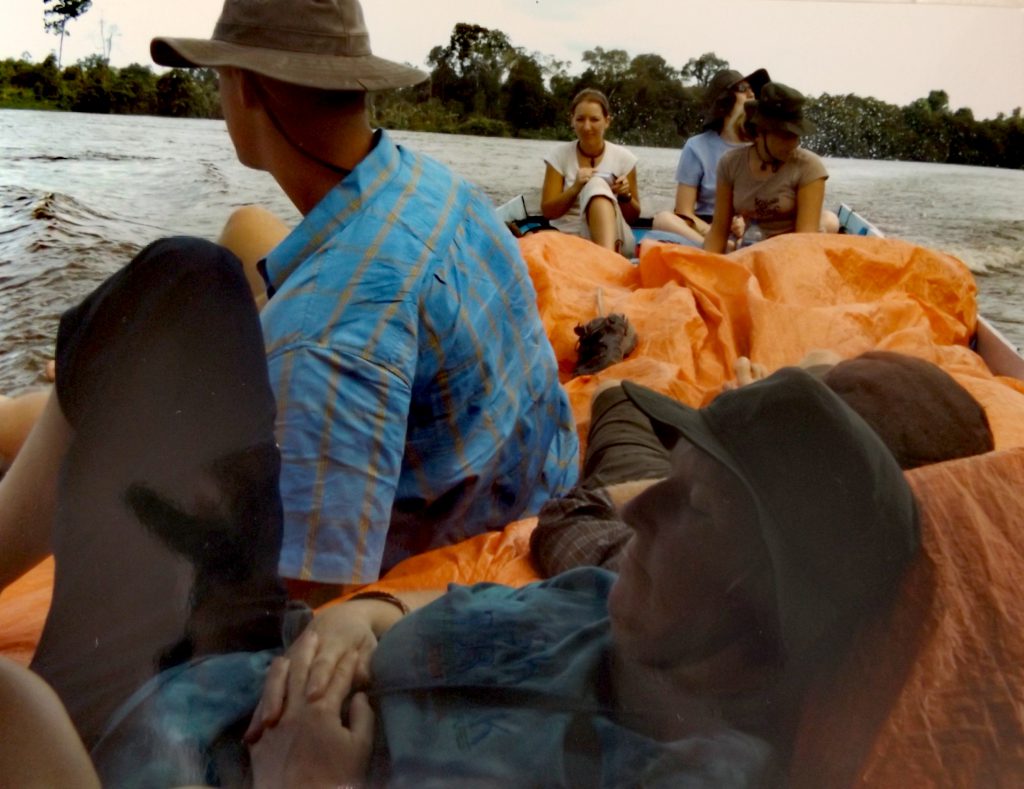 Village Elder Pak Udin
For the building of the guard post we were helping a local village elder called Pak Udin. He was a lovely, gentle man and incredibly talented. At fist we still had monsoons. The rain brought more mosquitoes. My mosquito net was treated with DEET, one morning there were 53 dead mosquitoes on the net. It wasn't much fun chiselling in the rain and lightening but it had to be done. Then the rain stopped and the swamp dried out so we were then on dry land.
I loved the building work and learnt so much. I did a lot of the sawing as I had the knack of being able to saw in a straight line. Butterflies landed on me as I worked, attracted by the moisture. I felt so proud to see the guard post taking shape. There were also other jobs like cooking, washing up, cleaning the Camp and the burning of the toilet paper. I liked being on cooking duty, getting up at 5.30am and watching the forest come to life. At night we played games, cards and dice and chatted. Sometimes someone played guitar and Elke sang which was beautiful. The camaraderie was fantastic, as was the peace.
To go to the toilet we had to walk along the side of the river. At night we called it the 'walk of death'. We imagined a crocodile coming up out of the water to drag us into the water. It didn't help that I read of an Indonesian crocodile in the 1970s who killed 55 people before it was caught. Then one night some of the villagers came over from across the river. They warned us to be careful as they'd seen many crocodiles in the river. One night Amy went to the toilet and saw a crocodile on the jetty.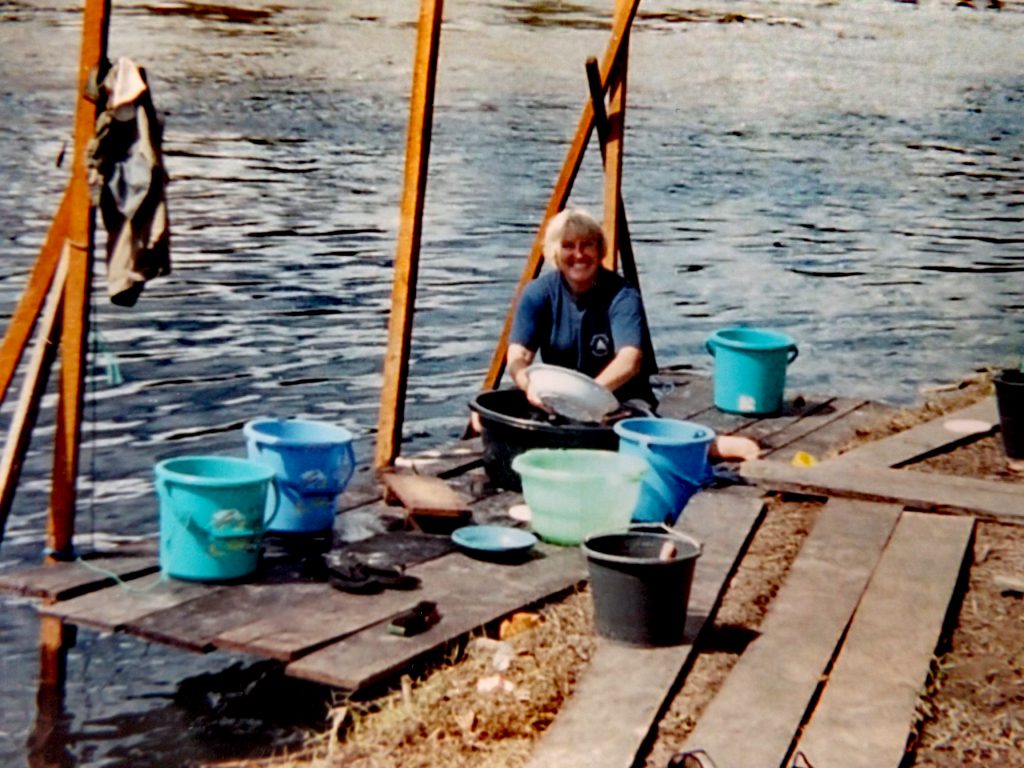 We ate rice with vegetables for breakfast, lunch and dinner. At one point we were down to just rice and onions so a boat had to be taken to town for more supplies. Our water came from the river, we kept it in storage tanks and boiled it, it looked like a urine sample. The river was also where we washed the pots and pans and ourselves. It was also our toilet – downstream!
Orangutan Foundation International's Care Centre
After 2 weeks of work we had a weekend in town. We also got to visit the Orangutan Care Centre. It was an incredible place, the doctor in charge had been there for 16 years. All the staff are from local villages and they really care about the Orangutans. There were over 200 Orangutans there, too many and it was so sad to see them in cages. The actress Joanne Lumley was so moved she donated a substantial amount of money to build new enclosures.
They are taken out into the forest every day in wheelbarrows or hanging off their carers arms and neck. They are taught to climb trees and build nests and prepare them for their release back into the wild.
The Orangutans on the road to rehabilitation live in the forest at the back of the centre. At a separate facility live the baby orangutans. They have foster mothers who are local women from the Villages. They were like furry, human babies with their nappies on and their bad hair days.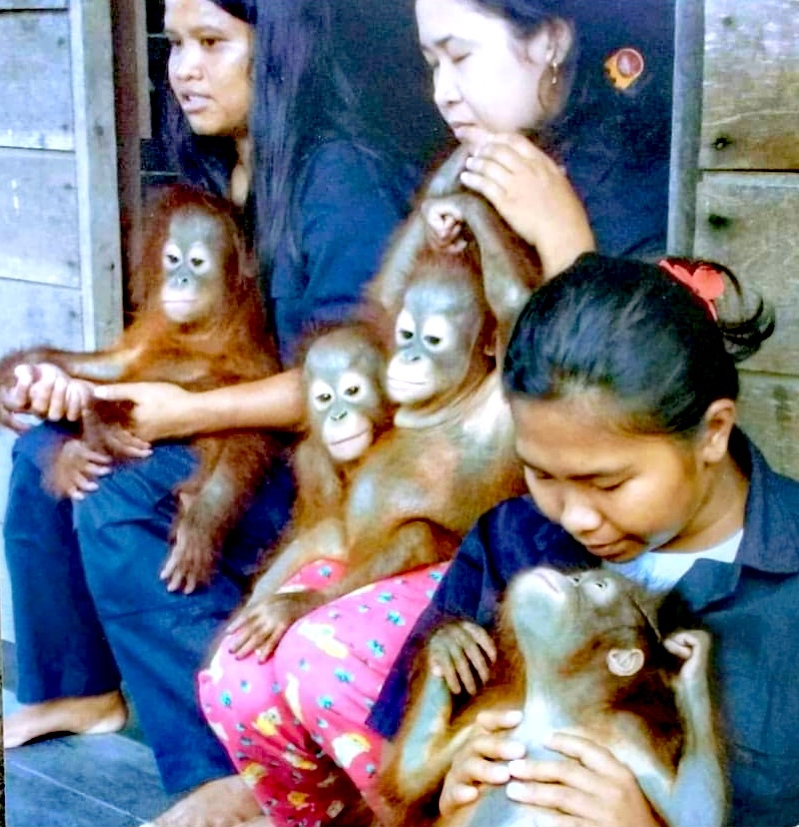 After a night in town dancing it was time to head back to the platform. We were glad, we'd missed the platform. We worked extremely hard to get the guard post finished. When it was finished we held a big party. Pak Udin's wife and son came as well as Care Centre and OFI staff and a couple of people from the local village. We'd had a collection and bought presents for everyone. PAC Udin's was a fishing rod and tackle. In return we were given presents of head hunting machetes. There was lots of food and dancing. At night we built a bonfire and lay on the jetty watching shooting stars and making wishes.
Pan, The Thief Orangutan
After further boat journies it was back to Camp Leakey. More Orangutans and my closest encounter. We had gone to the jetty to wash our clothes and were followed by Pan, an 8 year old Orangutan. He was busy soaping himself up and blowing bubbles. Katy had gone back to the hut to fetch something, leaving her carrier bag full of wet washing on the deck. Pan spotted his chance and before we could react he'd pounced. We managed to retrieve all the items except a sports bra which he had great fun pinging and then placing it on his head.
I went to retrieve it and we ended up in a little tug of war.  We got closer and eventually I was able to retrieve it. We stayed there
He was very placid and happy and let me stroke him. He then took hold of my hand. We sat holding hands and then I had my head laid on top of his. It was one of the best experiences of my life. I felt so moved I could have cried, instead I had the hugest grin on my face. I felt enormously privileged. I stayed there with him until he started to drop off to sleep.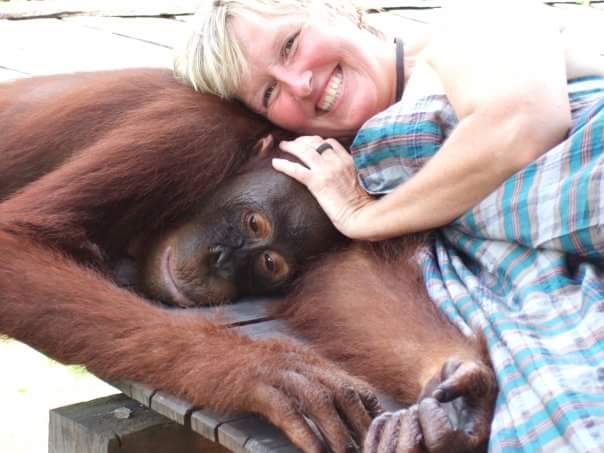 There were lots more Orangutan encounters over the week. I watched them for hours especially Thomas, a baby Orangutan who had great fun swinging through the trees. We also had a dawn boat trip seeing multi – coloured Kingfishers, playful monkeys, more Proboscis monkeys and wild Orangutans. Back at camp it was funny to see the Orangutans afraid of wild pigs. They ran up the communications tower with the pigs circling at the bottom. I watched another mother feeding her small baby, chewing up banana and letting the small one eat it from her mouth. The baby was beautiful with a tuft of orange hair sticking up like a quiff. I went to sleep to the sound of Kusasi's 'long call' bellowing out in the night and woke, to the same sound resonating through the morning. The Gibbons, macaques and cicadas were in fine voice too.
Another Camp favourite was Princess. This amazing Orangutan had learnt a few words of sign language, especially the one for food. Also very intelligent she took my hand, took me to the food storeroom and tried to get me to open it for her.
How to Volunteer for the Orangutan Foundation
I faced fire ants, leeches, mosquitoes, thorns in my feet, numerous cuts and bruises and sickness but also had some of the best experiences and happiest memories of my life xx
For more information about volunteering please go to their website:
https://www.orangutan.org.uk/volunteer
email: [email protected]
Below are the images of us building the guardpost and the finished product.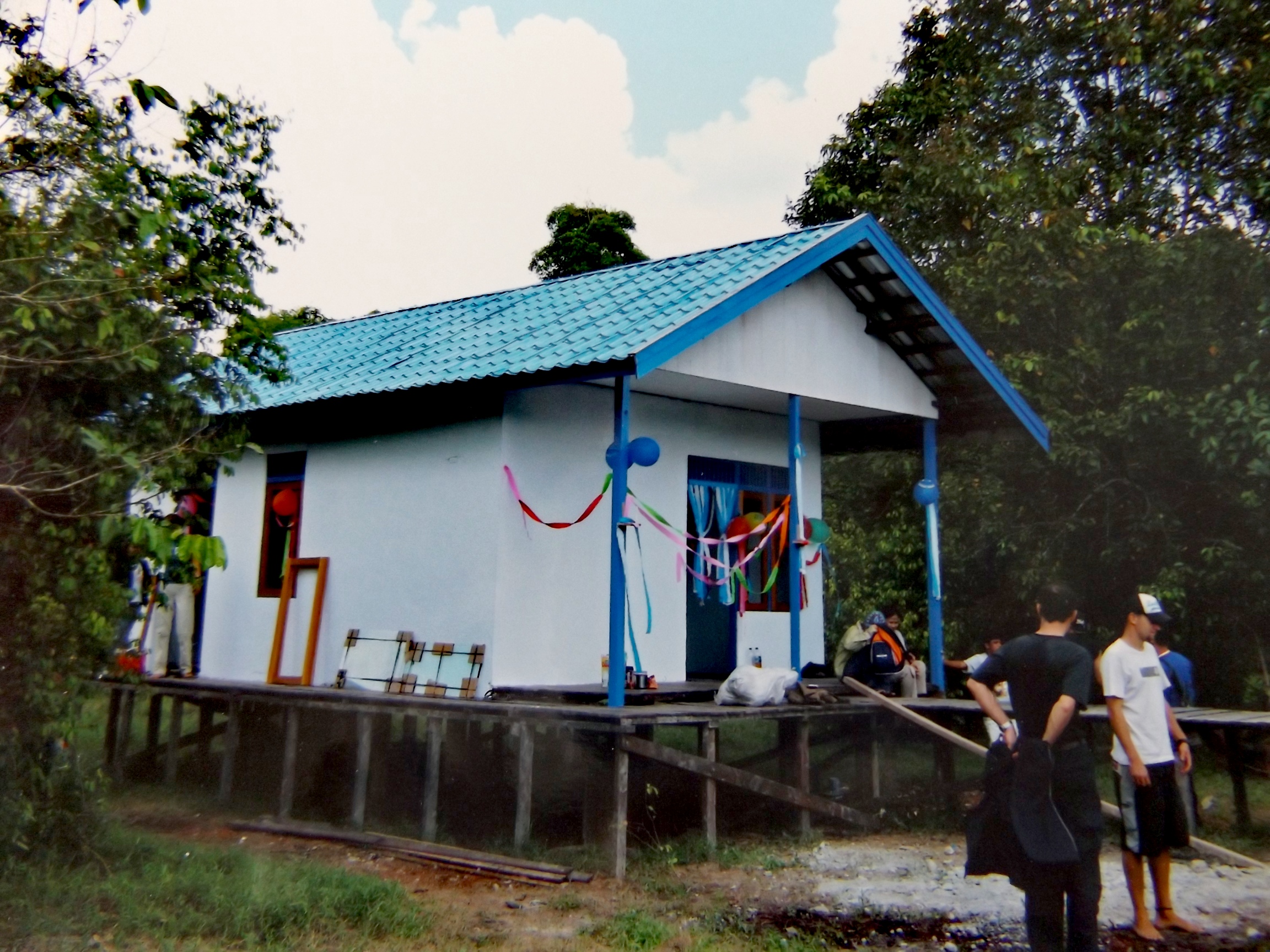 Hopefully soon there will be more sights like this, wild Orangutans enjoying the forest.