Highlights of Puglia, Italy
---
Puglia
Puglia is the region in Southern Italy which occupies the heel of the boot. It is a beautiful area with whitewashed towns, mazes of ancient streets, conical shaped Trullis, magnificent churches and beautiful beaches. It is also free from the crowds of tourists who flock to other parts of Italy. Read on for my highlights of Puglia.
Bari
Bari is a city port which is the capital of the Puglia region. It also has one of the regions 2 international airport. It is more like 2 cities, the ancient and the modern.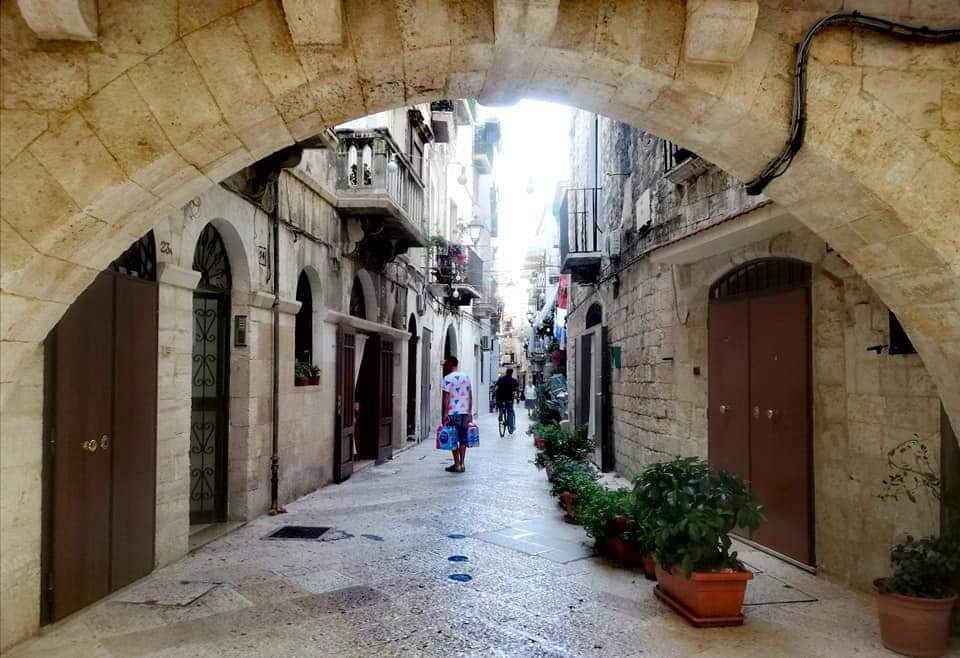 I participated in a free walking tour which was incredibly interesting. In the old town old women sit on chairs gossiping or making the local pasta called Orecchiette, the name meaning 'little ears'. Our guide knew everyone and we were even invited into someone's house.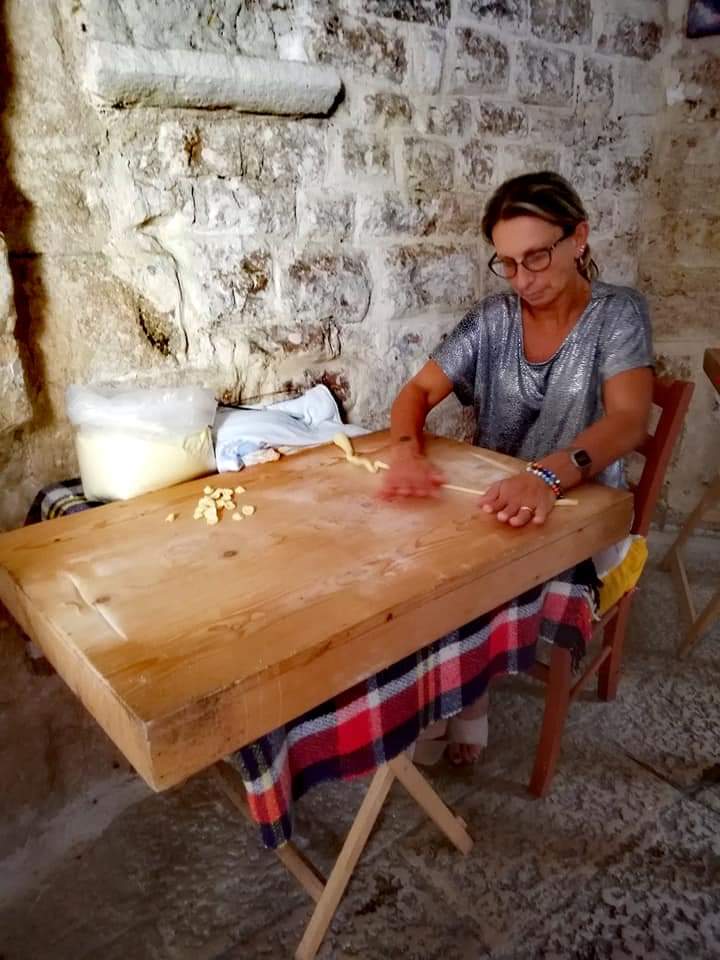 Where to Stay
A stay in the Old Town is a must to savour the real atmosphere. B & B Civico Sedici has an excellent location and extremely reasonable prices.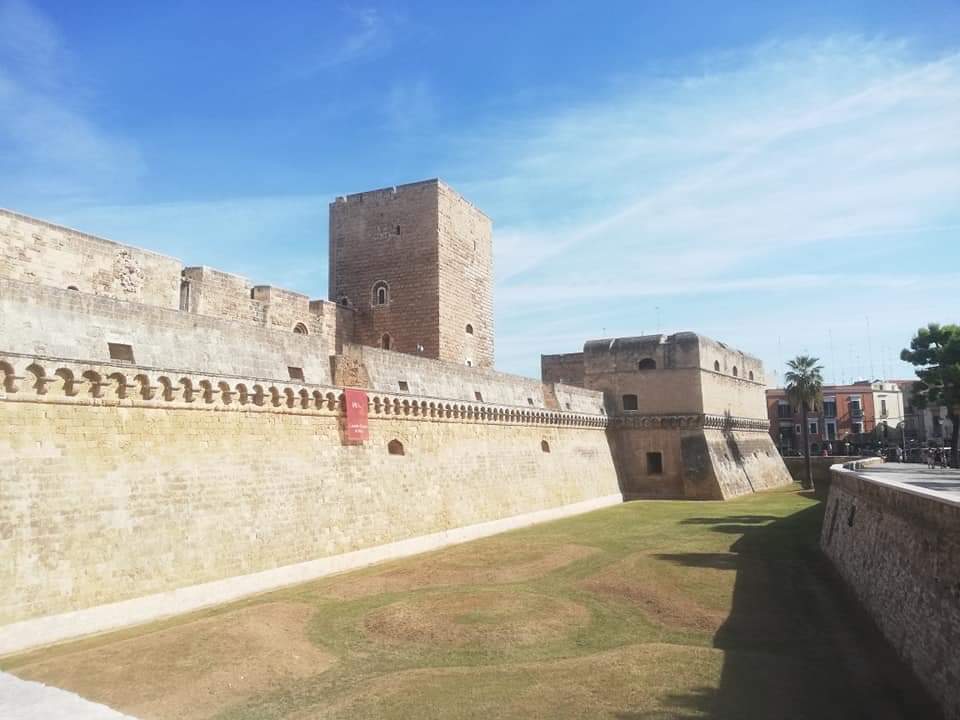 Polignano a Mare
A beautiful little seaside town set on top of a cliff. It is half an hour by train from Bari at a cost of €2.50. I used this as my base on my 1st visit to Puglia.

It has a lovely old town, lots of hidden coves and small beaches and wonderful ice-cream.
Where to Stay
Excellent value and only a short distance from the beach is the beautiful house Dimora Labbate
The rental is for the entire house at such a good price.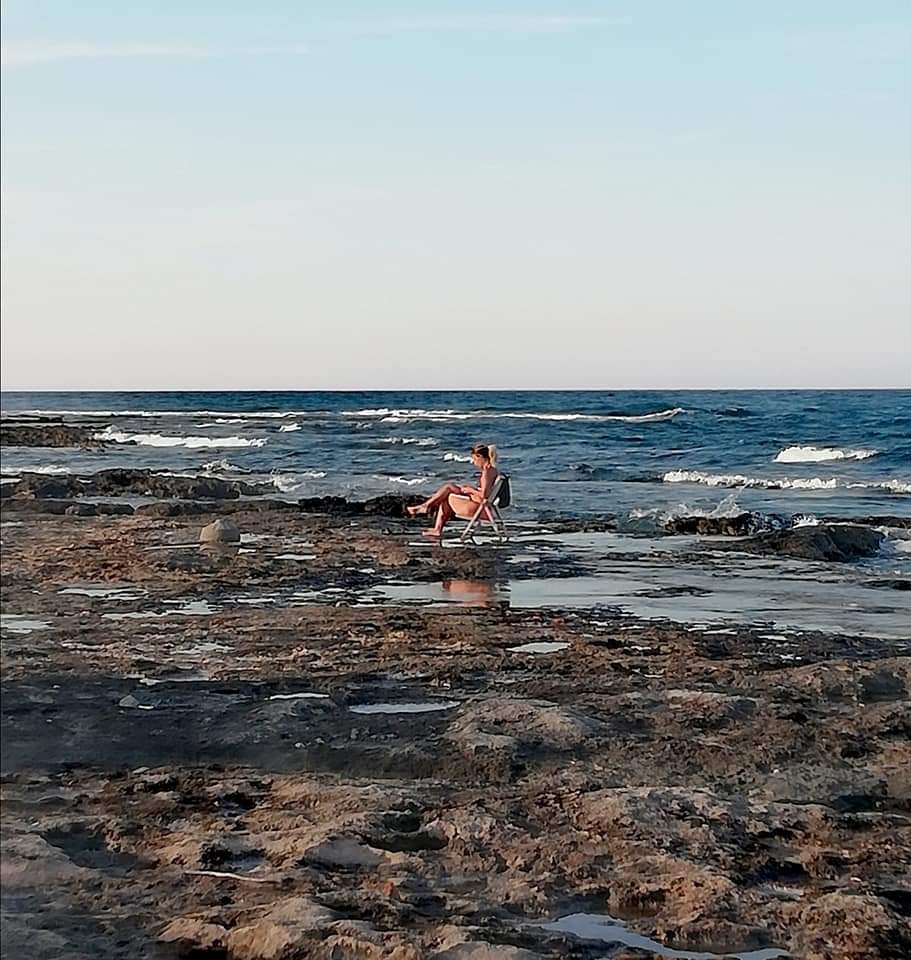 Alberobello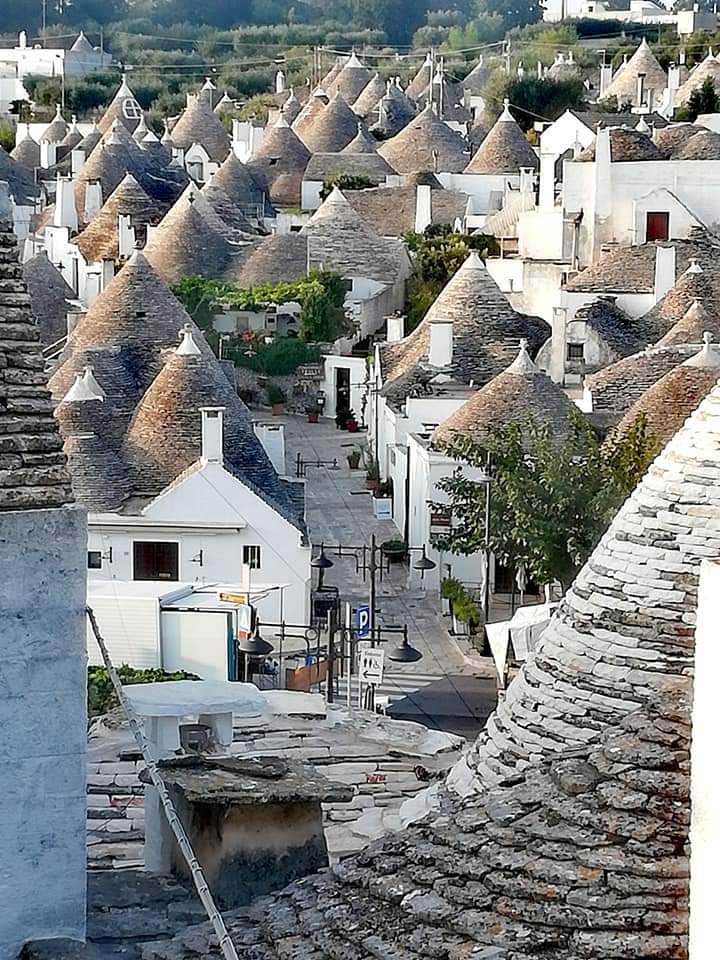 Alberobello has the highest concentration of trulli in the area and is known as the Trulli Town. They are conical structures constructed using no mortar, which made them easy to dismantle if the tax man came calling.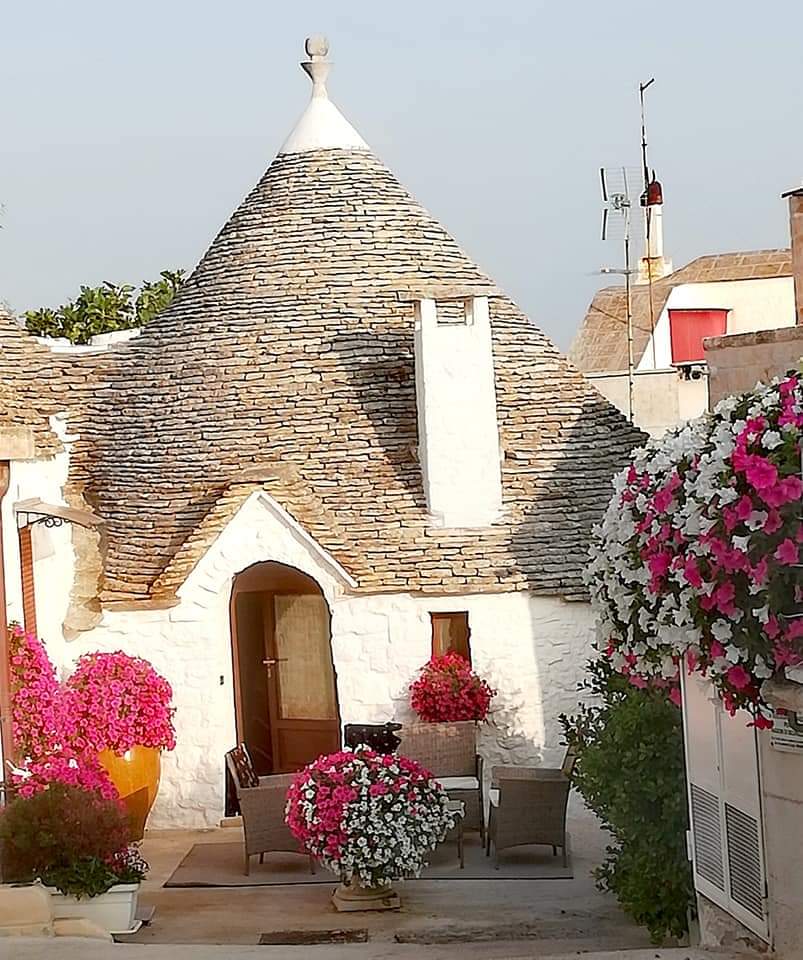 Families shared 2-3 cones and the animals would live in the next door trullo. Many are adorned with white symbols there to bring good luck and to keep the demons away.
Where to stay
Staying in a trulli house is quite magical. It also gives you a chance to appreciate Alberobello when all the day trippers have gone home.  It's definitely worth getting up before the world wakes up. The Trulli village was a different place and with no people you could imagine how it used to be.

Locotorondo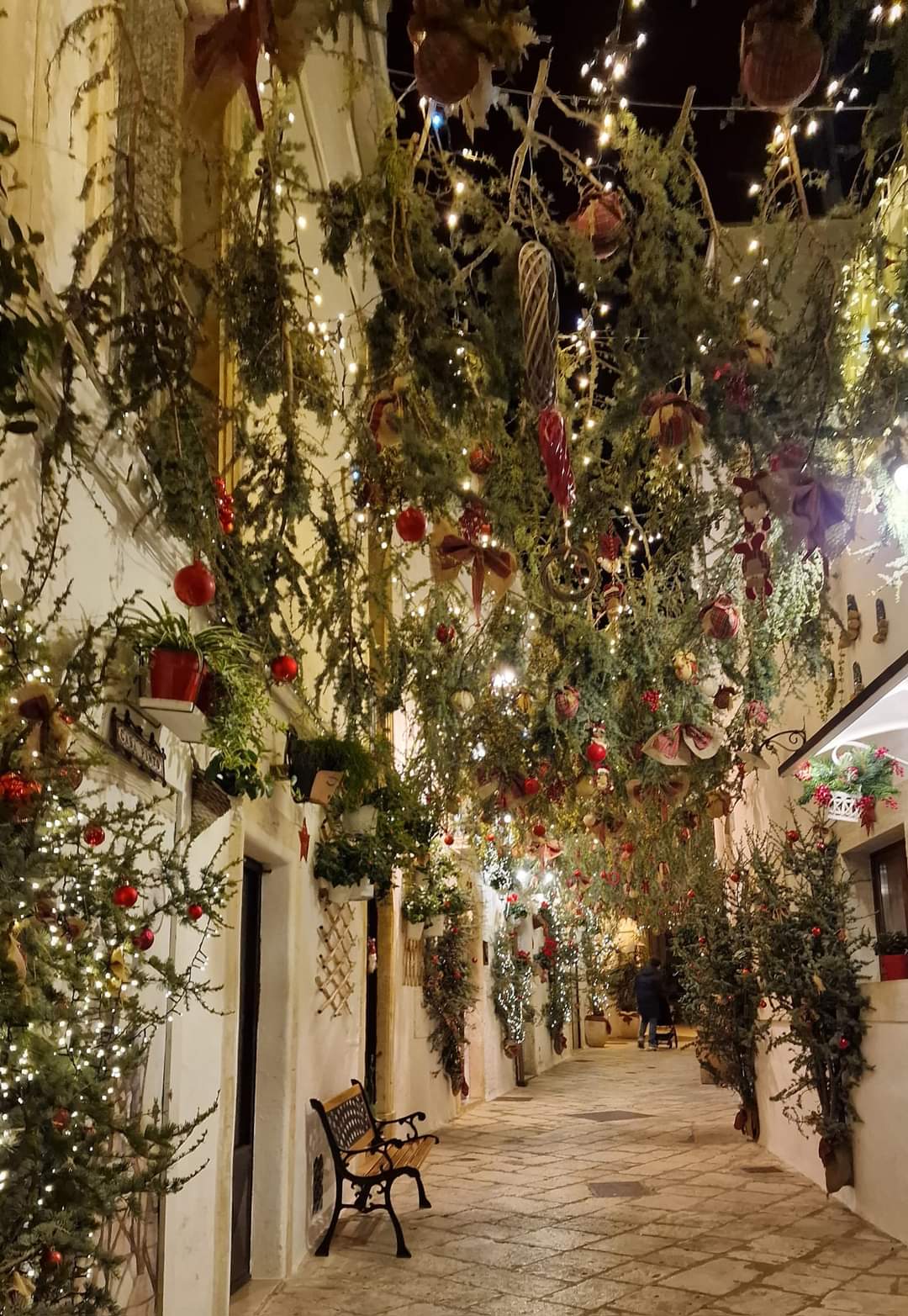 Ten minutes from Alberobello is the quaint town of Locotondo. It is still in Trulli country but makes a much quieter alternative.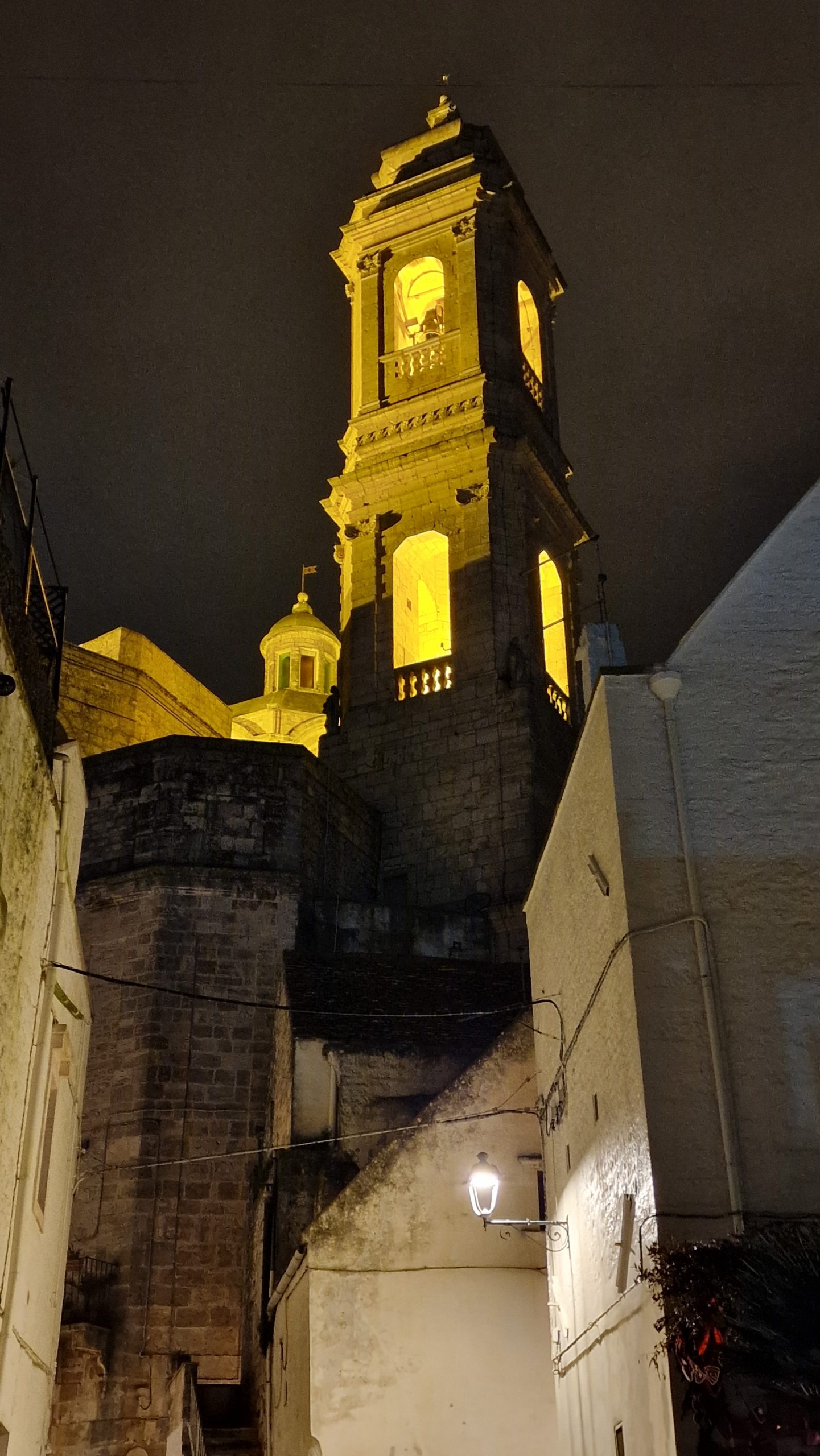 It has a beautiful old town and lovely restaurants. What also makes Locotorondo special are the wonderfulChristmas decorations which adorn the whole of the old town.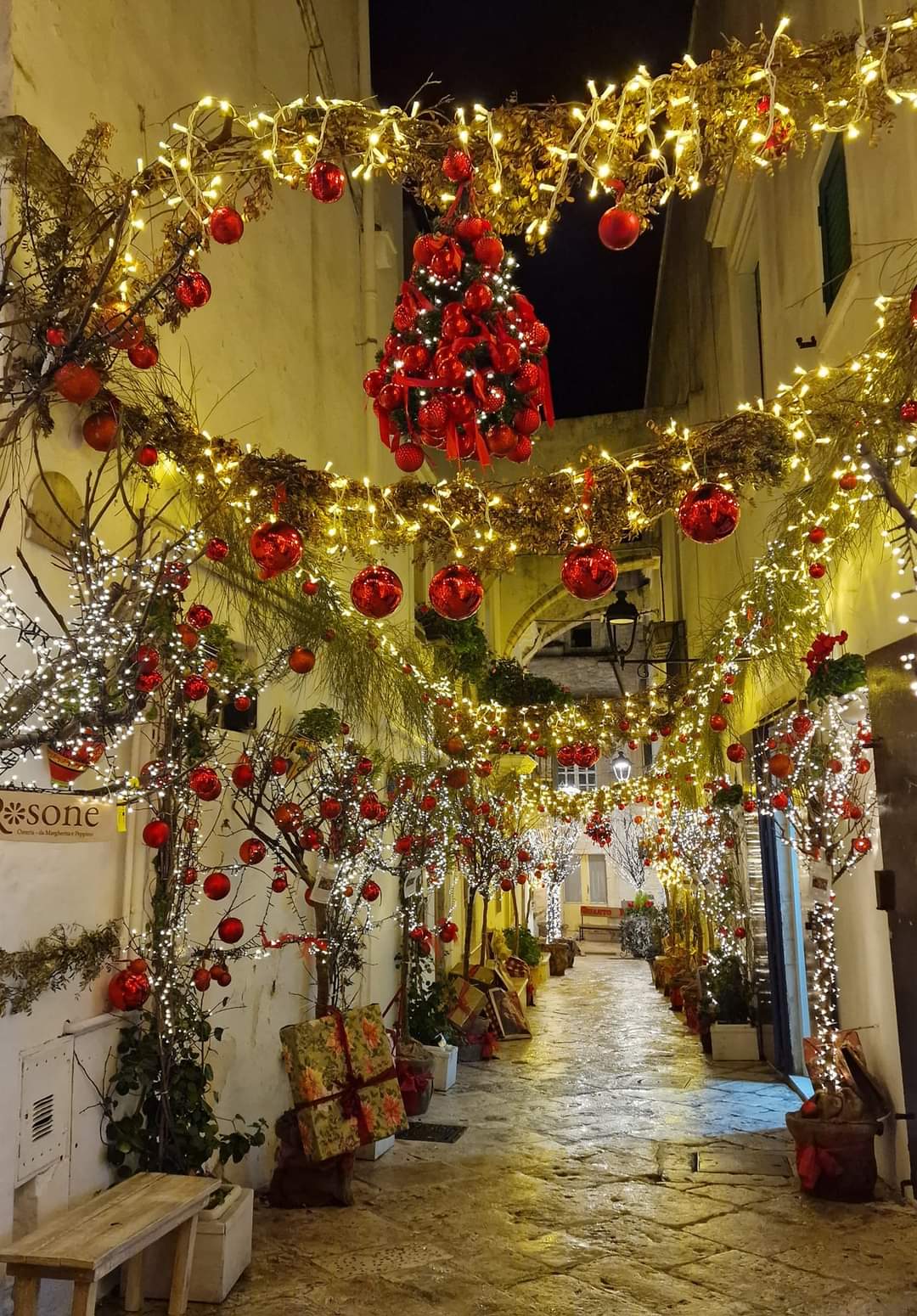 It is famous all over Italy for these, it looks magical. I had to see them and I was enchanted.

Where to stay
I stayed at the wonderful Trullo Sereno Angelo
It was in the perfect spot with beautiful gardens and fabulous views of the countryside. As with everywhere in Puglia the owner was extremely hospitable. Inside was a bottle of wine from his friend's vineyard and lots of tasty treats. On my last morning he arrived to see if I needed a lift anywhere and to present me with another bottle of wine.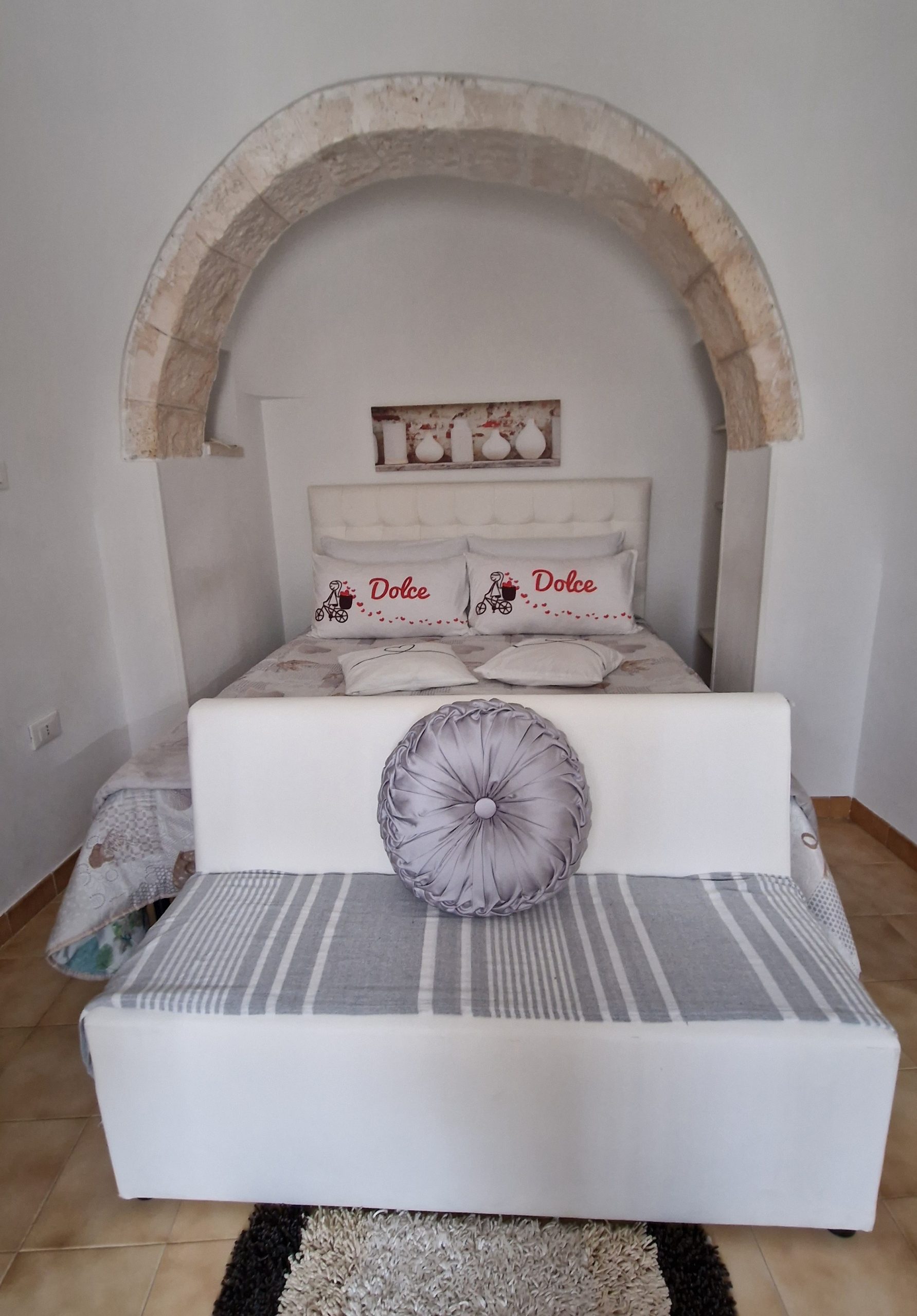 Matera
Not strictly in Puglia, being just over the border but a must to visit. It is one of the most interesting places I have visited. It is the 3rd oldest city in the world and is a UNESCO world heritage site.
It used to be known as 'The Shame of Italy'. It is the town of cave houses. Even in the 1950s there was no electricity, running water or sewage system. Extended families lived in their cave houses along with their animals. It was cold, damp and full of disease.

In 1950s new apartment blocks were built for the 15,000 residents of the old town, who were relocated there, some forcibly. In the 1980s the clean up operation began and soon the 1st renovated cave houses became holiday lettings, restaurants and shops.
I stayed in a cave house and it was wonderful. I was lucky to be there when filming for the new James Bond film was well underway. This will put Matera on the tourist map.

Where to Stay
I stayed in a cave house, Casa del Trombetiere – La Corte del Cavalalieri. My bathroom was incredible. Funny to think that previously it was the room the animals stayed in. It was a fantastic experience and one of the best and most interesting places I have stayed
Lecce
Lecce is known as 'The Florence of the South' due to its beautiful architecture, lovely Duomo and magnificent Baroque churches. Most of the buildings in the old town are built from Lecce stone giving them a unique and warm hue.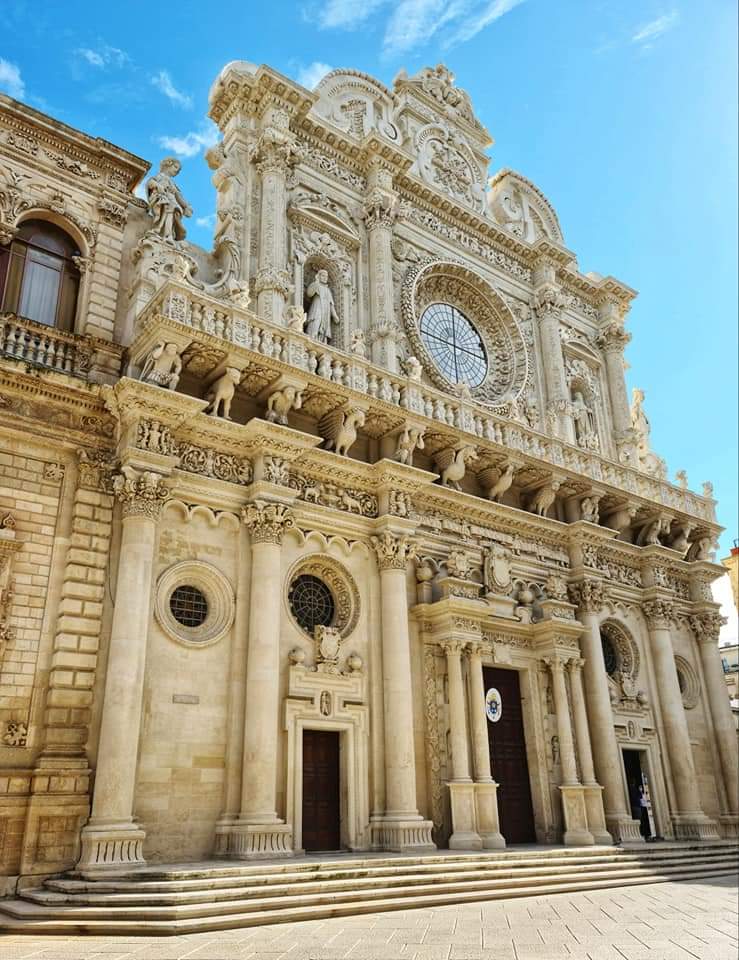 The old town is a joy to wander around and lose yourself in, soaking up the history, beauty and wonderful aromas.
The best value is to buy a €9 Euro ticket which allows entrance to the cathedral, crypt and many other churches and museums.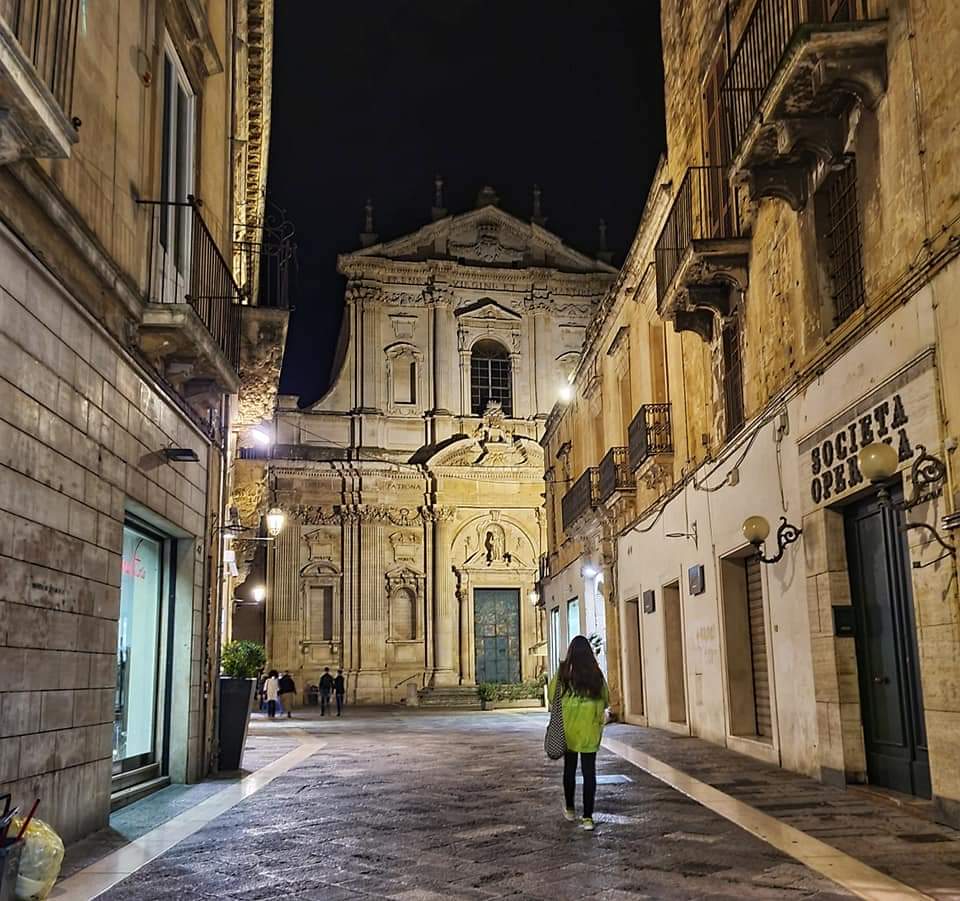 Another must to see is the Norman Theatre, which previously held gladitorial competitions. It was discovered by accident early in the 20th century by workers laying pipework for the construction of a bank.

Where to Stay
I stayed at Sui Tette luxury rooms. Fabulous place, in an ideal spot in a quiet street in the old town, yet minutes walk from the major sights.  I also made use of the roof top jacuzzi. It all came with a very reasonable price tag.
Monopoli
Monopoli is situated between Bari and Brindisi and is only a short drive or train journey from either.
It is often overlooked in favour of its more famous neighbours. I completely fell in love with it. With it's beautiful old town, colourful little harbour and secluded beaches and coves, it is one of my favourite places in Puglia.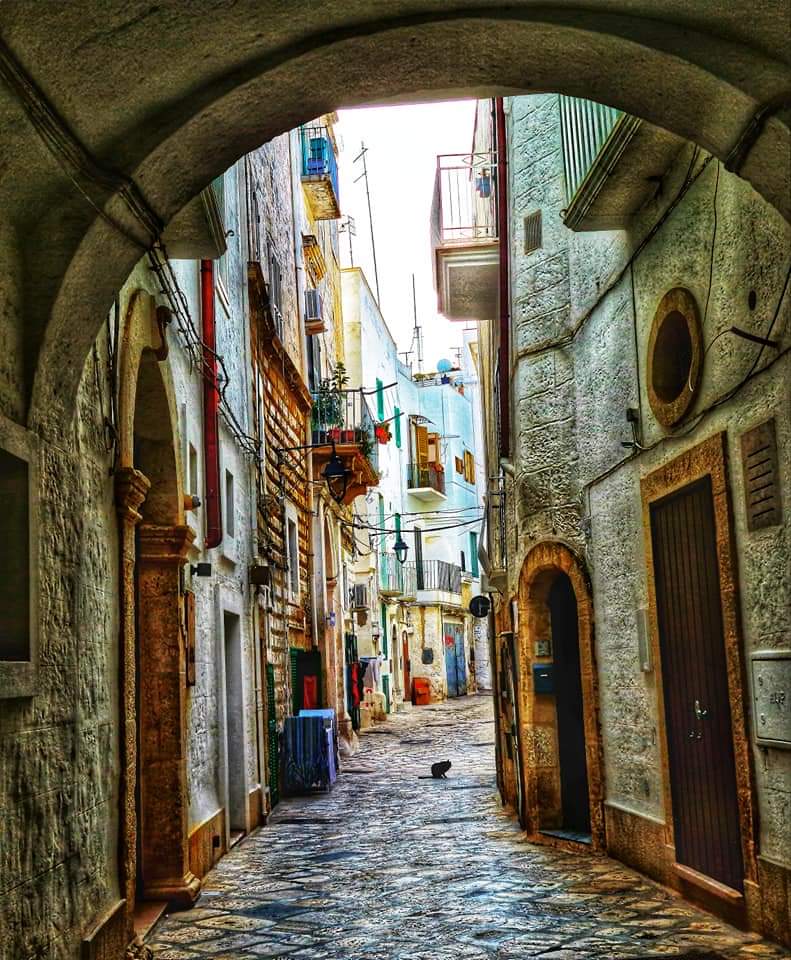 Where to stay
Excellent value, in an excellent spot with a great breakfast and friendly staff is the B & B e Case Vacanza Carpe Diem.
Gallipoli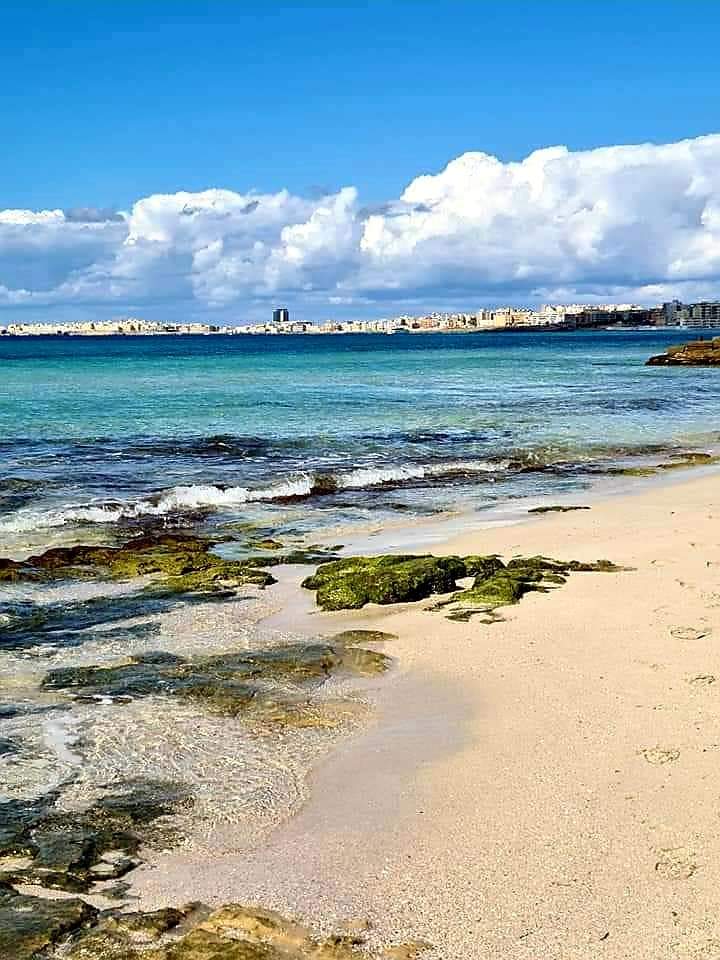 Gallipoli is a coastal town in the southwest of Puglia. It's name means 'beautiful city' in Greek. Also known as the 'Pearl of the Ionian Coast'. It is surrounded by the sea and has centuries of maritime history. It has a lovely seaside feel with beautiful beaches and delicious seafood.
The old town sits on an island, protected by city walls and an imposing castle and is connected to the mainland by a 17th century bridge.
The city walls are also the best places to view Gallipoli's famous sunsets.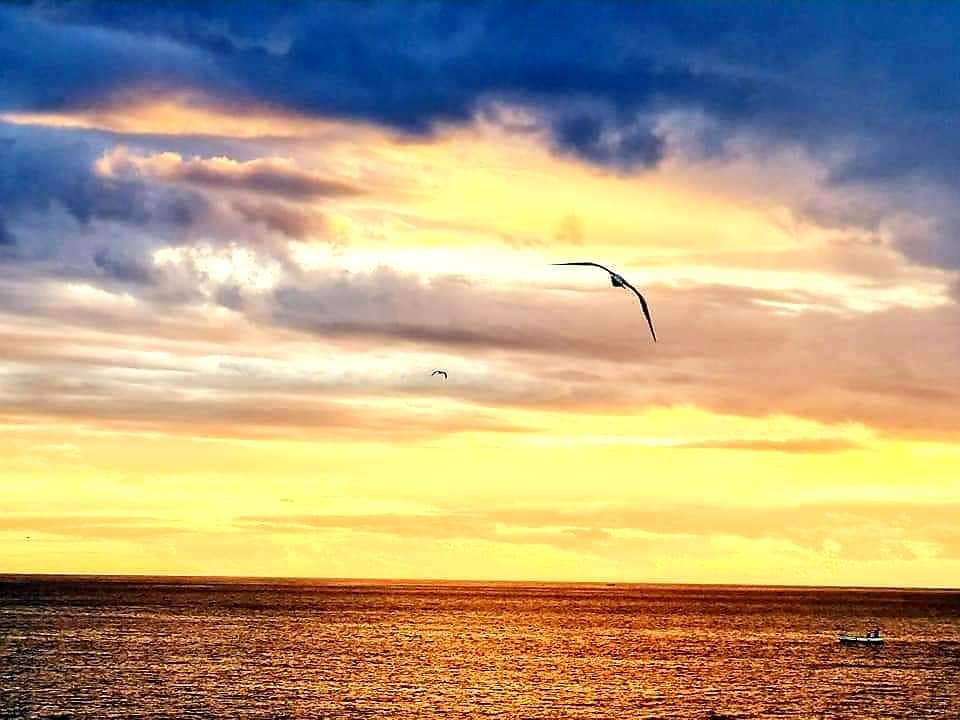 Where to stay
I stayed in the new town just off Corso Roma at b & b Palazzo Grassi. It was in a wonderful old house, like a living museum with so much history. My carved wooden bed was incredible.
The host was so hospitable and helpful and always contactable. There is a lovely outdoor area too.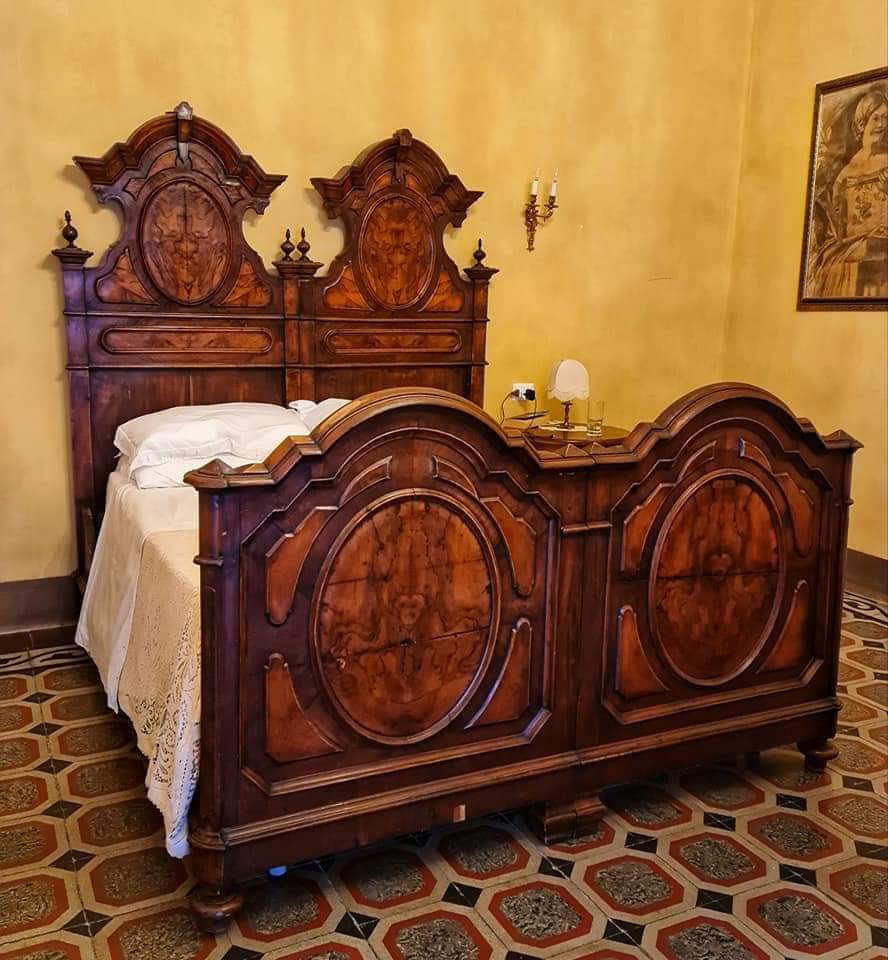 Ostuni
The whitewashed town perched on the top of a hill is Ostuni. In its centre sits a 15th century Gothic cathedral. Walk the walls looking out to sea and then head downwards.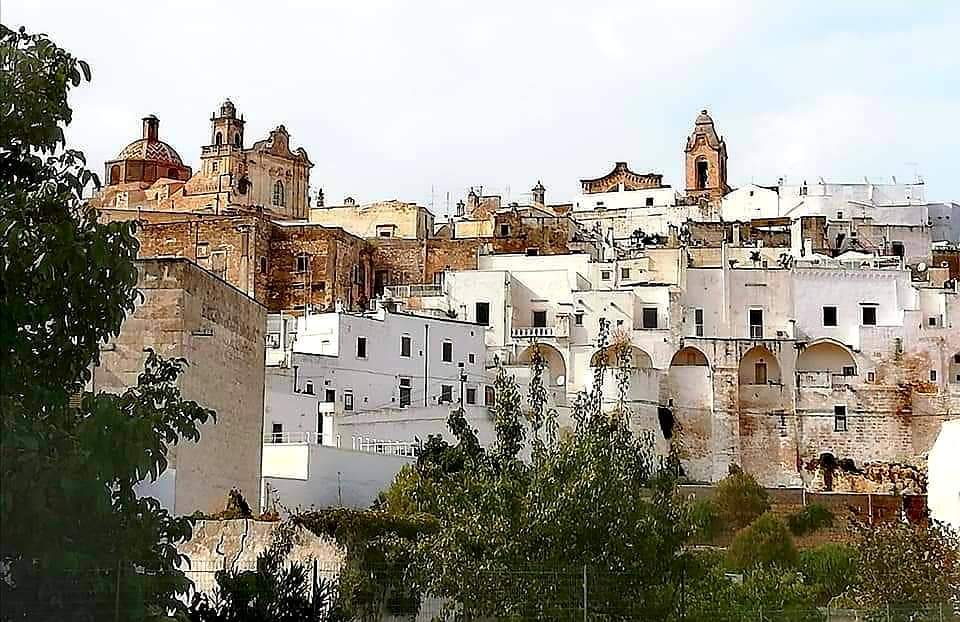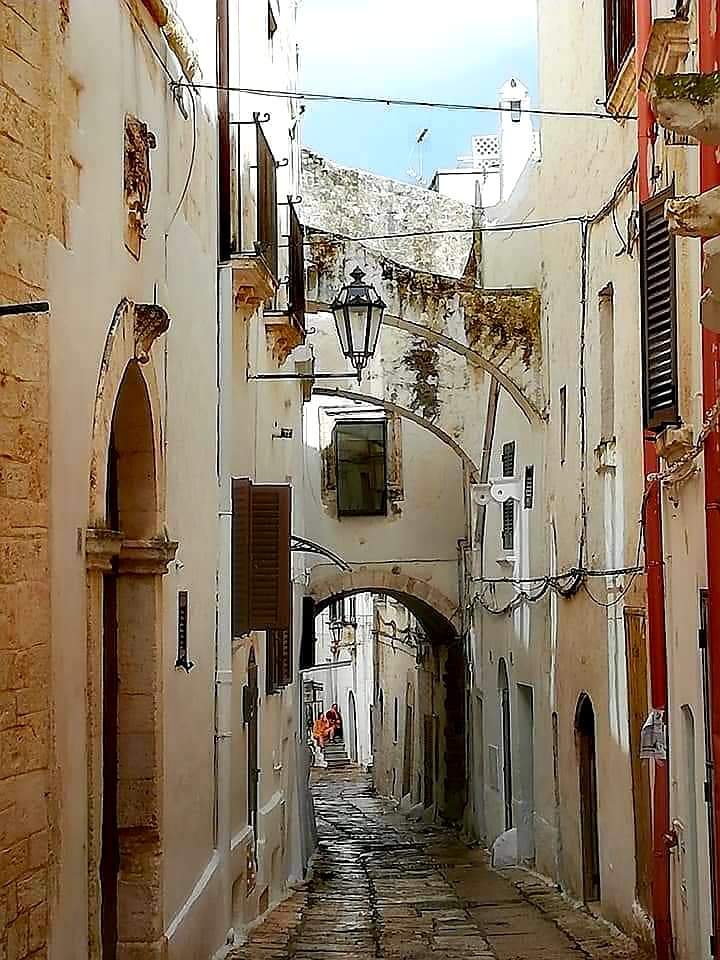 The best views are looking up to the town with its beautiful vista.
---
Ostuni is the best place to try one of the local delicacies – Panini con Polpo – a sandwich of octopus and cheese.
Where to Stay
I stayed at Luis House . Luisiana my host was just lovely. She arranged my transport from Alberobello and met me on arrival. She gave me so much help, information and recommendations. She messaged me the following morning to see if I had slept well and if everything was okay. It is in a perfect quiet spot less than 10 mins walk to the historic centre and will a supermarket round the corner. There was a great breakfast tray for of treats and a fruit bowl, yoghurt and drinks in the fridge. It was a lovely stone house.
Brindisi
The 2nd international airport is at Brindisi, a port town with beautiful avenues lined with palm trees and a seafront promenade. There are also some wonderful restaurants. This was the base for part of my 2nd visit to Puglia.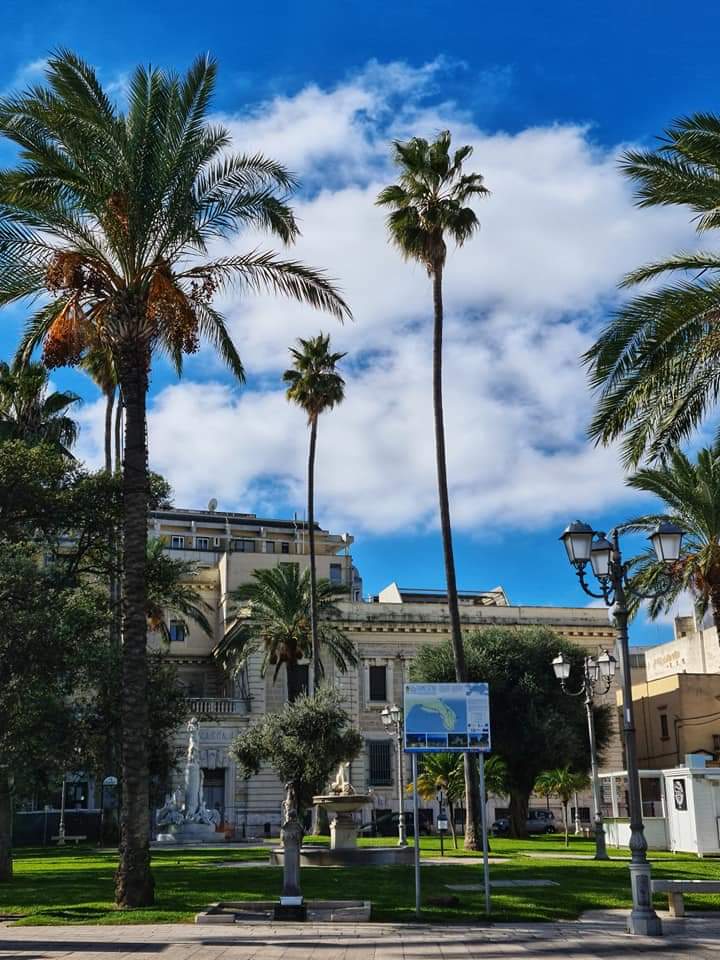 The church of Santa Maria del Castel is next to the airport, which is built around it. Constructed in the 14th century it hasn't been renovated so still contains all the original artwork and murals. It is very special. This was also the church the Knights Templar visited before going to Palestine.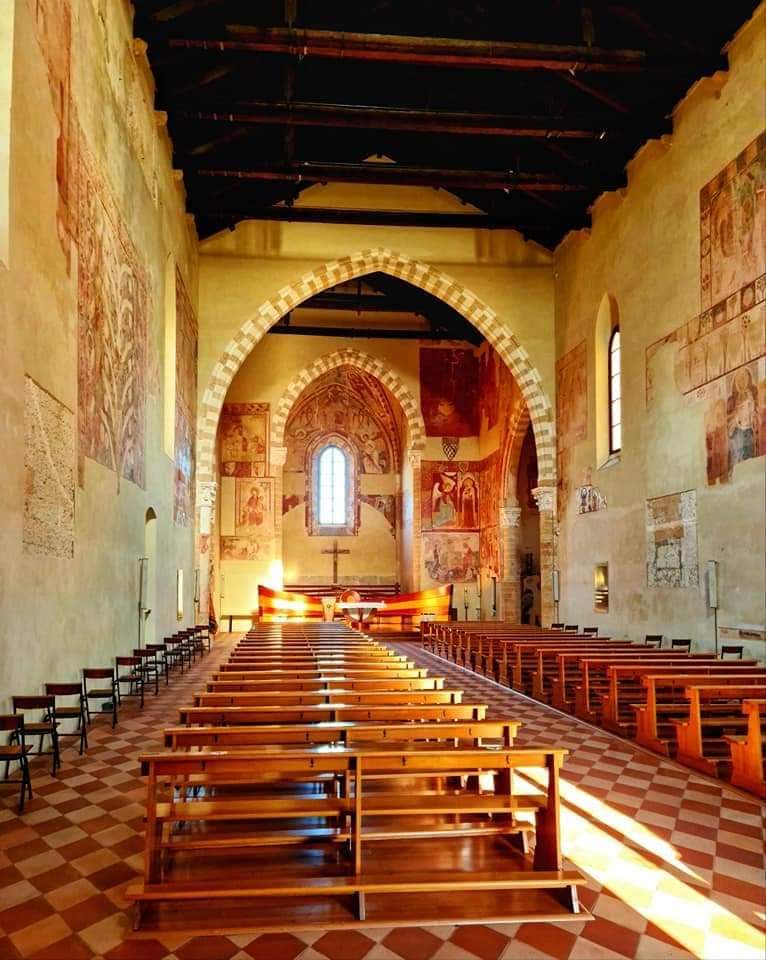 Across the water and accessed by a small ferry stands the Monument to Italian Sailors. There are lovely views of Brindisi from the top.
Where to Stay
The hosts of Benvenuti al Sud made my last trip to Puglia so special. The hospitality was overwhelming. Every day when I returned there would be a tasty treat awaiting me, homemade tiramisu, tasty treats from the bakery, a bottle of sparkling wine. The owner recommended lovely places to visit, wonderful restaurants and sent me maps and timetables to make sure I was okay. There was even a free lift to the airport when I was leaving. I look back on my stay so fondly and can't recommend this place enough. There is also a lovely lounge/kitchen and coffee maker.


Cisternino
A pretty, charming hilltop town with whitewashed houses, piazzas and a 14th century church.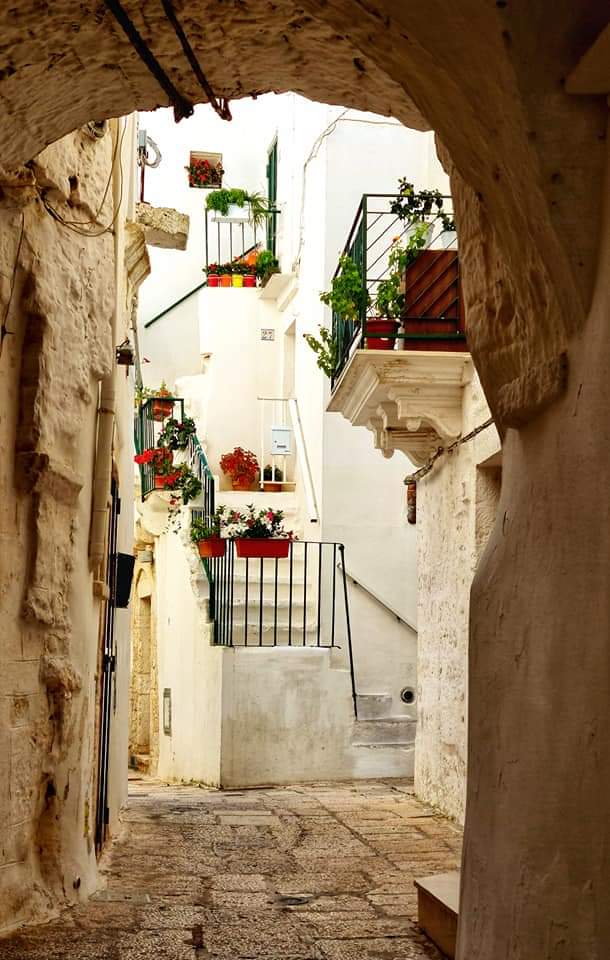 There are also lovely spots for panoramic views over the countryside with green fields and conical shaped trulli houses.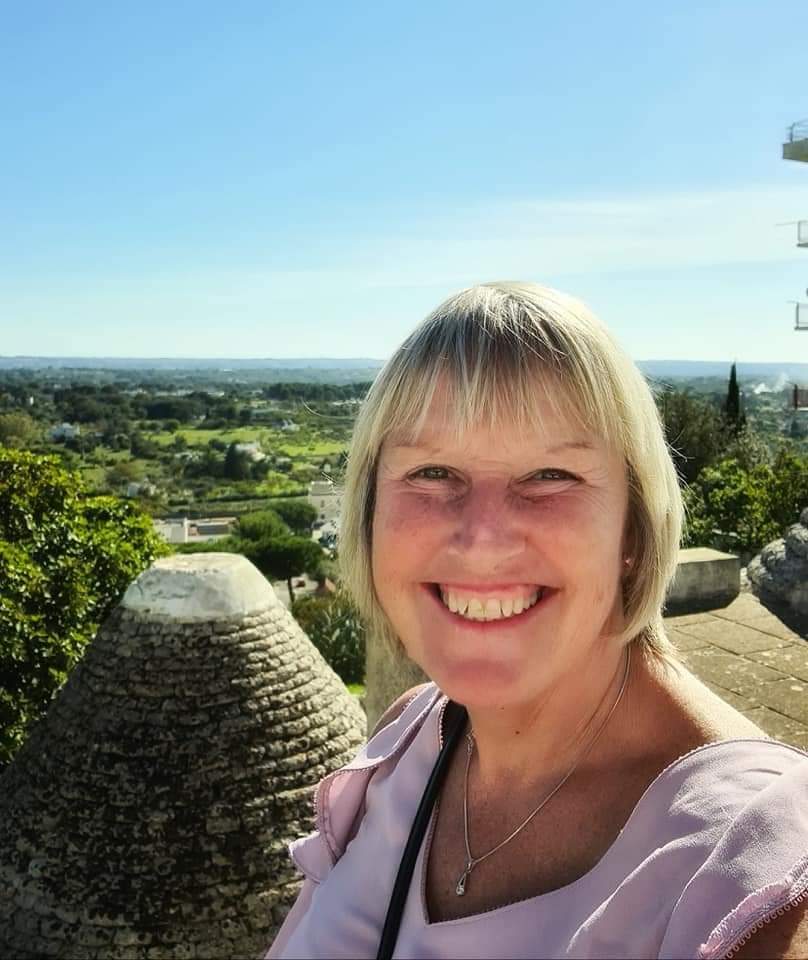 Where to Stay
Dimora Laporta has beautiful views with balconies and al a carte breakfasts.
Oria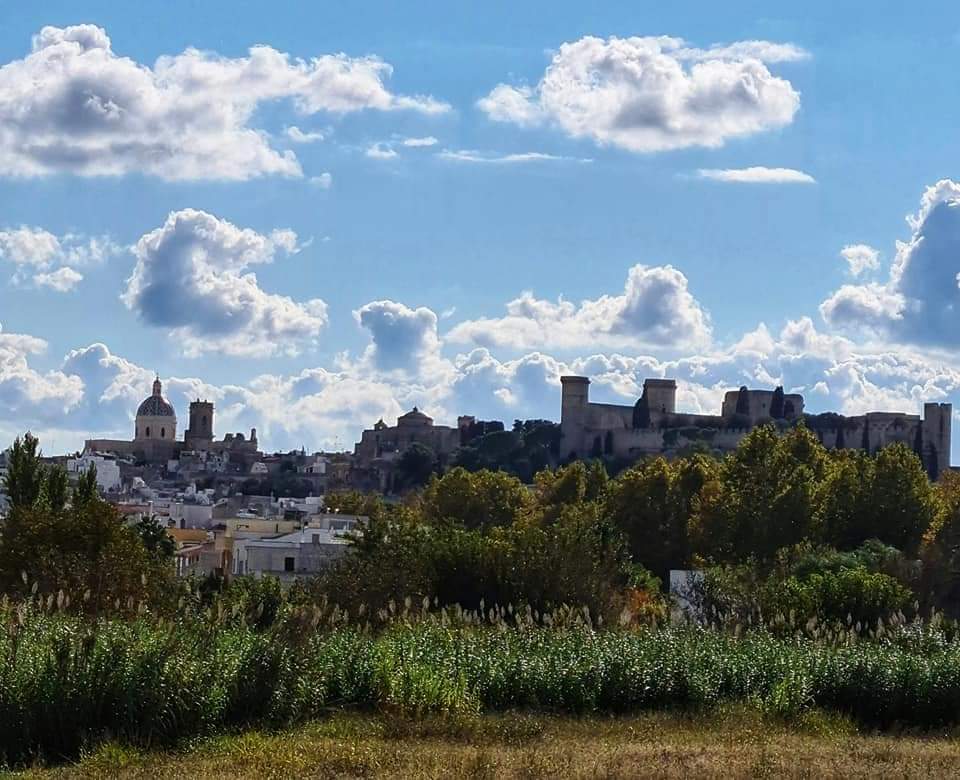 Dominating the surrounding landscape, sitting on a hill with its imposing castle and cathedral lies Oria.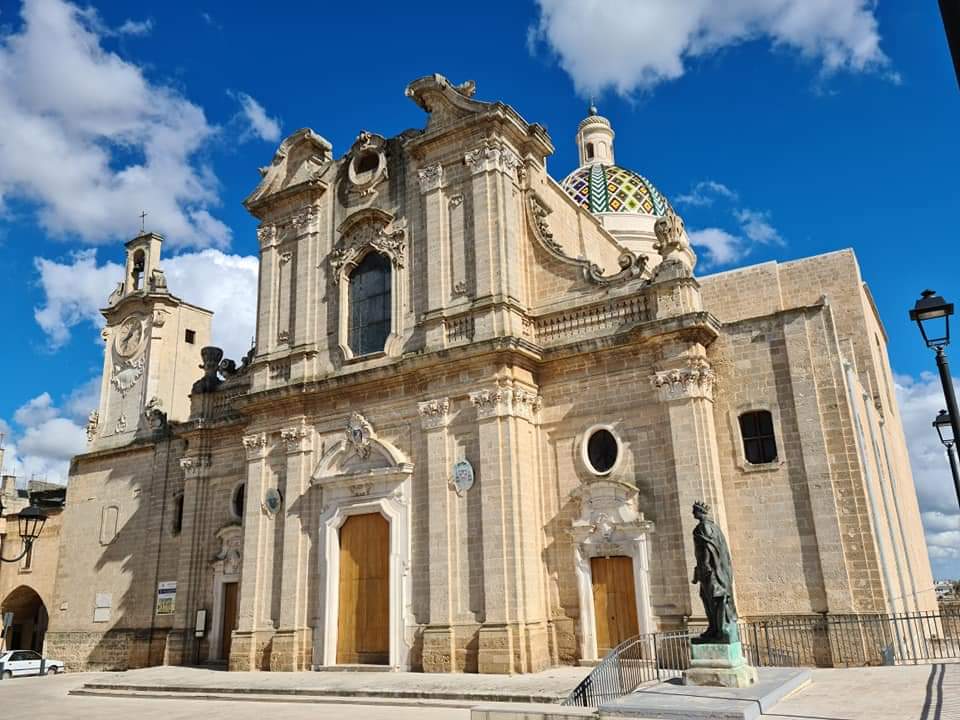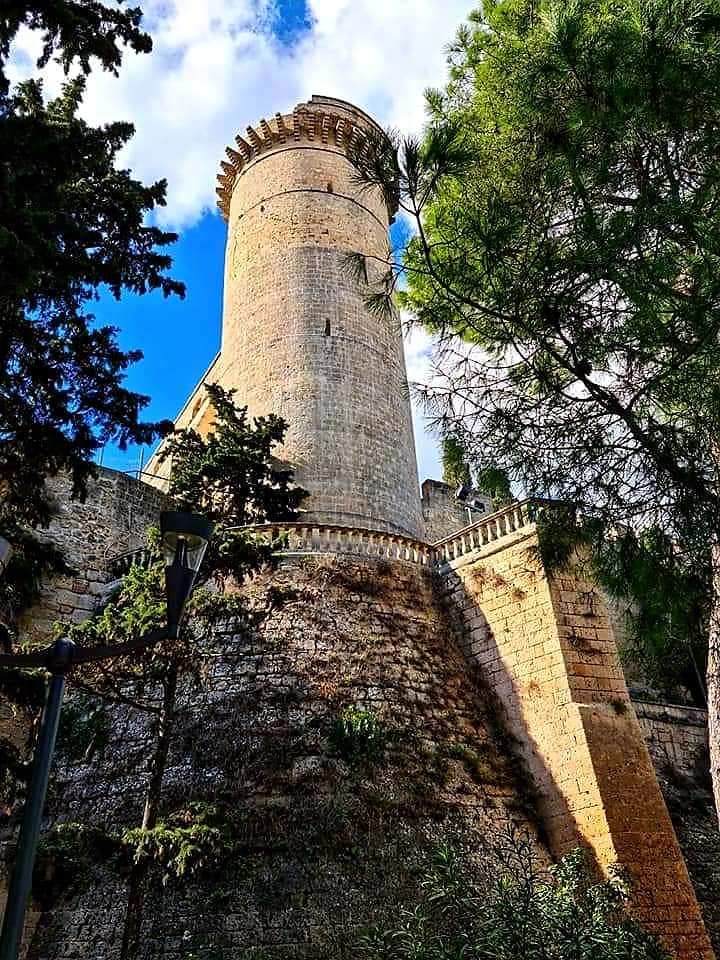 Legend has it that the town was built by shipwrecked Cretan sailors. In August the 4 districts of the town compete in a horse race accompanied by a big party with lots of food and wine and parades in medieval dress.
Where to Stay
With a lovely host, a cracking location and a great breakfast Casa Destradis is a a great choice for a stay in Oria.
Food and Drink
Puglia is an agricultural area, which means an abundance of fresh vegetables. It also produces 40% of Italy's olive oil. It is famous for the Orecchiette pasta, the 'little eats' made by nonnas in the old towns.
It is most known for its robust, full-bodied red wines. The most famous is Primitivo – I like it a lot. Verdeca is a white grape grown in Puglia and is found in the wines of Locorotondo. There are also some good sparkling wines made by the traditional method.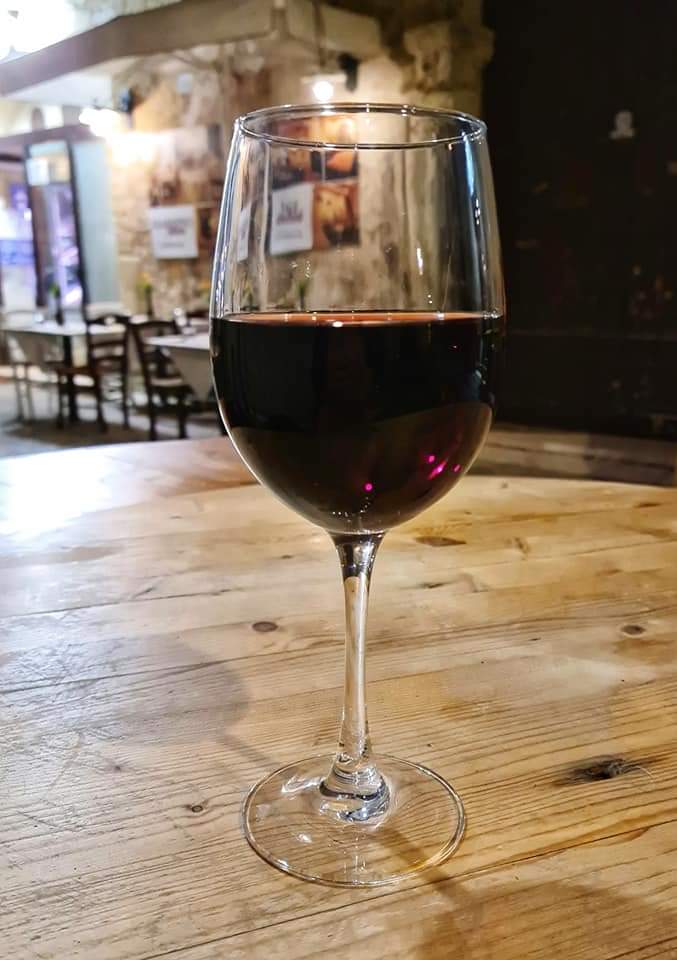 Puglia has the longest coast in Italy. Everyday brightly coloured fishing boats set sail and return with wonderful, fresh seafood. I ate so much of it. It is also very affordable. My favourite was a trio of pasta with lobster, scorpion fish and prawns. Other specialities include stuffed sardines, linguine with seafood, sea urchins and mussels in tomato sauce.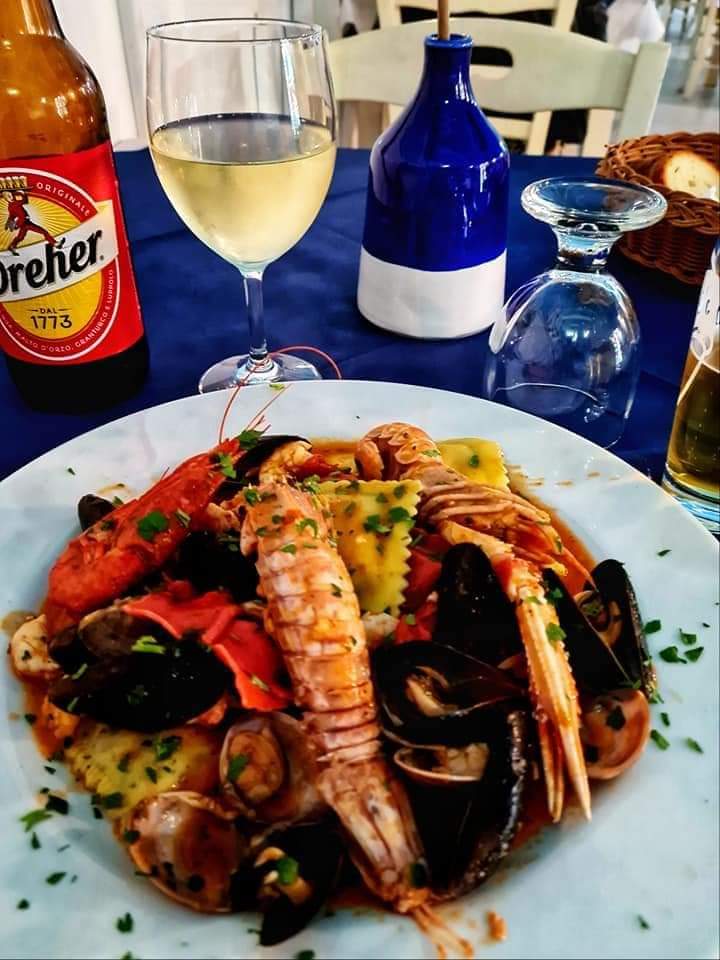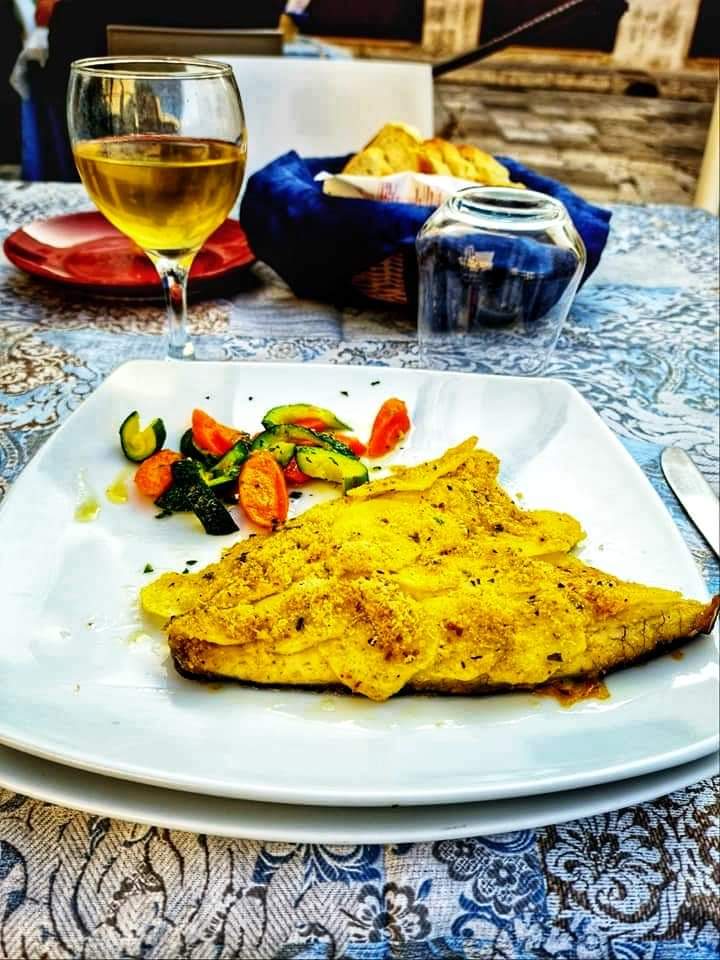 Puglia have there own version of Mozzarella. It is called Burrata. On the outside it is Mozzarella but cut it open and inside is cream. The bakeries in each town have their own tasty treats. I tried to try all of them.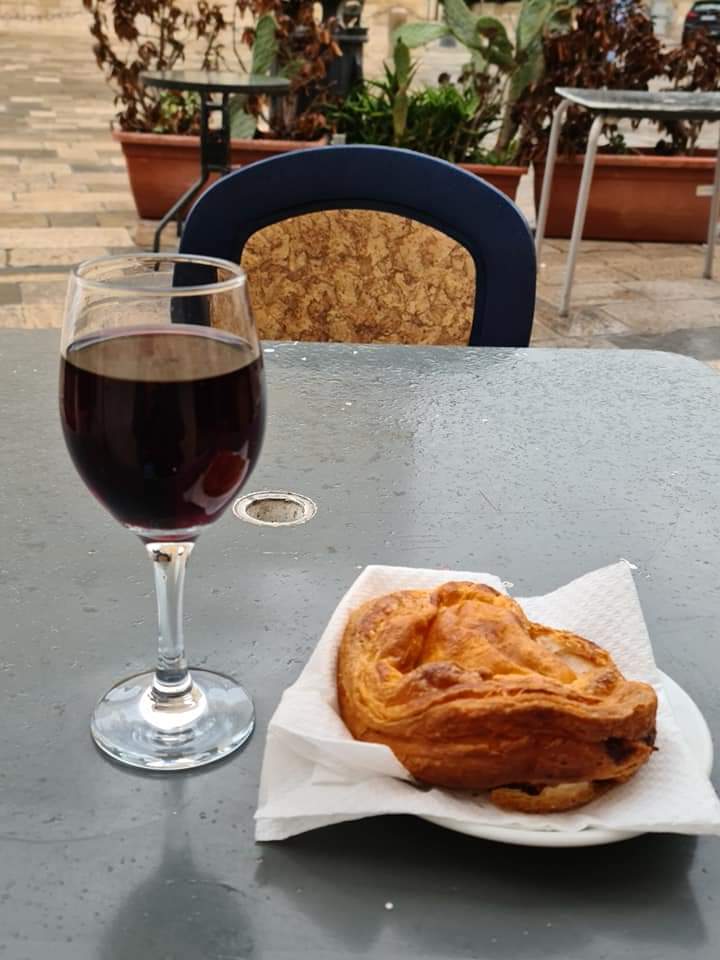 In Puglia there are so many types of bread. The Roman poet Horace called Pane do Altamura 'the best bread in the world.' Friselle is also popular and Taralli can be dunked in wine. We haven't mentioned pizza yet, as well as Pizzette, little mini pizzas with all kinds of fillings. Then there's the ice cream!
I could write a whole post on the food and drink of Puglia but my suggestion would be to go and try it for yourself.
More information
I've written more detailed blogs on most of the places in this guide. They can be found here: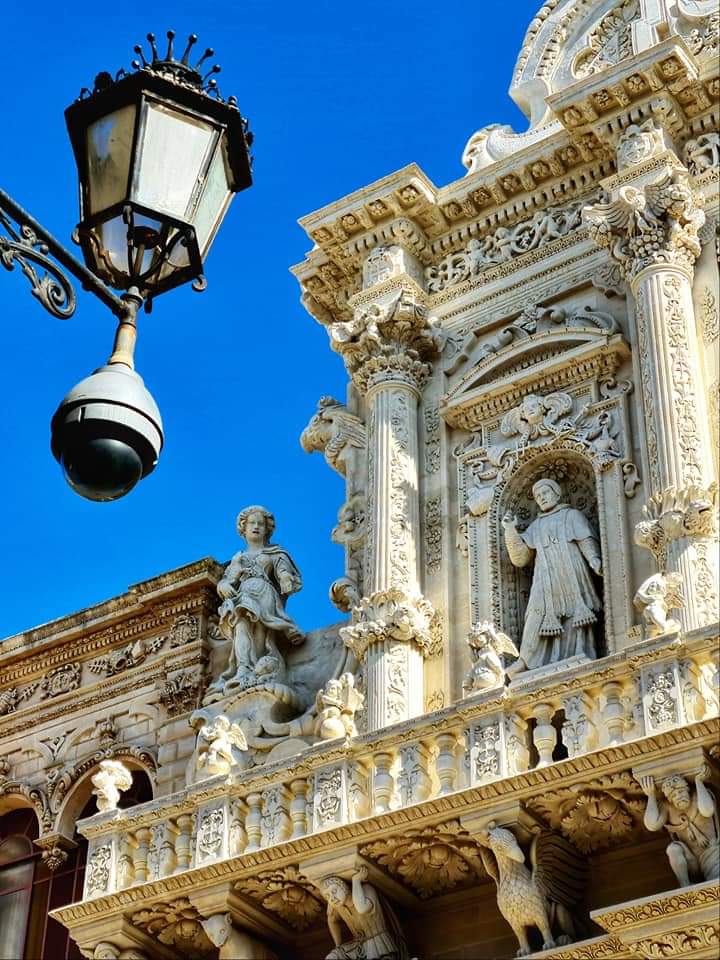 Highlights of Puglia – Top Tips
1. It is possible to hire a car but the region is also covered by an extensive and very cheap rail system, a lovely way to see the area.
2. There are also local buses but Flixbus also operates direct and very cheap bus services between some of the major towns, such as Bari-Matera.
3. Free walking tours are an excellent way to orientate yourself and learn more about the history and culture of the area.
4. There is no separation between tourist and local restaurants so inexpensive very tasty food can be food easily. As my host in Mater a said 'We have good food everywhere here, it's only the price that's different.  Visit the many bakeries for take away tasty treats.
Cheers to your trip to Puglia