A Guide to Montenegro
Montenegro sits on the Adriatic Sea and borders Croatia, Bosnia and Hercegovina, Serbia, Kosovo and Albania, making it the ideal base to explore the Balkans. It is also a small country with a population of 633,000 and an area of 5,333 miles, almost half of which is forest. With its huge national parks and lovely Bay of Kotor, it is very beautiful and picturesque. Montenegro means black mountain.
In this Guide to Montenegro, I show you the most beautiful places to see and amazing places to go to based on my own travels in the country.
Montenegro History
Montenegro was part of the Holy Roman Empire and later fought a long war with the Ottoman Turks and was also partly under the control of the Austro-Hungarian empire. For a time it was ruled by the bishops until the significant rule of Petar the first and second and their successor Danilo. It was during this time that Montenegro began to be officially recognised. In 1918 Serbia annexed Montenegro. During World War 2 it was occupied by the Italians before being liberated by Communist partisans. After this is became one of the 6 republics of the Yugoslav federation.
The Time of Tito
Many especially of the older generation say this was the 'golden time'. It was certainly quite a prosperous time for Yugoslavia, there was lots of employment and workers were given 6 weeks holiday a year. He also managed a balancing act between eastern and western Europe, without fully aligning with either.
Stalin thought he should side with the East. He sent many assassins to murder Tito, every time they were caught. Finally he sent a note to Stalin explaining that his assassin had been caught, like all the others and if he sent another, then one would be sent in return.
As well as standing up to Russia, Tito also stood up to the U.S. At a meeting with President Nixon and others at the Whitehouse, where it is forbidden to smoke, he famously lit up a cigar. Everyone also knew that cigar had been given to him by Fidel Castro.
A Darker Side
There was also a dark side. On my boat trip I passed the island that was once a concentration camp for dissidents, a sort of Montenegran Alcatraz. No one was allowed to disagree with Tito. There has been a lot of dissent lately as this island has been sold to a Canadian company to build a luxury resort and work has already started, the locals are very unhappy about this.
Tito certainly kept the Yugoslav federation together. His death led to a fight for power between rival factions, which led to the break up of Yugoslavia and the Balkan war. This is a subject very dear to my heart as I went to Bosnia with an aid convoy at the height of the war.
Montenegro and Serbia formed a union which ended in May 2006 when Montenegro became independent. There is widespread condemnation of the level of corruption within the current government and many hope for a change at the elections to be held shortly. Montenegro wish to join the EU but changes must be made before this will be allowed.
Guide to Montenegro – Kotor
Kotor is dominated by the beautiful bay on which it sits. The small old town contained within the city walls in full of beautiful buildings heavily influenced by Kotor's strong ties with the Venetians who ruled Kotor for over 400 years. This is reflected in the architecture and the food.
The City Gate
You can enter the old town through 3 gates. The main one is the Sea Gate, the others being the River Gate and the South Gate. When communist partisans took over Kotor after the war they removed some of the old Italian insignia and decoration around the city. This included some above the old gate above which is now the Communist star. Many locals now refer to this as 'the new gate'.
Through the Gate
Coming through the gate on the right there are images of Our Lady of Christ, St Tryphon, the patron saint of the city and St Bernard. There are many myths and rumours about the oblong hole below these images, the truth is a lot less exciting, the building behind it used to be a post office. Elsewhere in the city the Italian influence remains, houses, apartments and museums have their homes in beautiful villas and palaces with beautiful courtyards. You could live here for years and still be surprised by some intricate detail.
Next to the gate, outside the walls are stall where local women sell cheese, prosciutto, home made jams and pomegranate wine.
The Square of Arms
Next you come to the largest square in Kotor, Piazza of Arms. Here the Venetian influences are also evident. There are several palaces including the Prince's Palace, almost lining one wall of the square. There are a couple of smaller palaces and the old arsenal. What immediately draws the attention though is the majestic clock tower. It leans slightly to one side caused by one of Kotor's many earthquakes. Under the clock tower is the Pillar of Shame. People were tied to this as a punishment for committing a crime. The shame of this was great and some families fled Kotor in disgrace after a member of their clan suffered this punishment.
St Tryphon Cathedral
The centrepiece of Kotor is its cathedral, dedicated to the patron saint of the town, St Tryphon and located in the square bearing his name. Originally completed in 1166 it now has many styles. It has been restored several times over the centuries due to damage from earthquakes. One of the towers is different to the other having been damaged in the last major earthquake. It was supposed to be restored to match the other but, as yet, this has not happened and is looking increasingly unlikely. It stores the bones of St Tryphon which were originally brought to Kotor from Constantinople in 809 by Venetian merchants.
The Church of St. Nicholas and the Church of St Luke
The Church of St Nicholas is a relatively new Orthodox church built in 1909. Most churches are now Orthodox but the small Church of St Luke is probably the most important. Built in 1195 and was originally a Catholic church. It has 2 alters, one for Catholic services and one for Orthodox. It's floor is made up of tombstones as up until the 1930s burials took place in the church.
Kotor is also known as the Place of Gossips. Originally there was one local well, which still stands today. Everyone gathered round it to chat and gossip. Certainly everyone knows everyone else here.
Where to Stay in Kotor
Antika Guesthouse
I stayed at the Antika Guesthouse in a beautiful spot in the old town, with a lovely view of the bay I spent lots of time looking at. There is also use of a large shared kitchen. It is in a beautiful house and very quiet, I slept so well.
http://www.booking.com/Share-tmHZes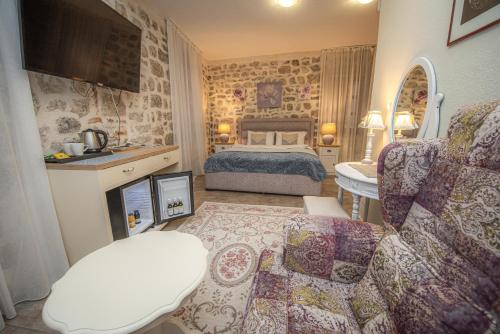 Montenegro Hostel
For a budget option the Montenegro hostel is the original hostel of Kotor. It also has an excellent travel agency which arranges excellent tours and transfers. I had a wonderful day tour with them, a walking tour and they also arranged my transfer to Budva and to the Albanian border.
Kotor Bars & Restaurants
There are some lovely restaurants and funky bars in Kotor.
My favourite was Scala Santa, the oldest restaurant in Kotor, it has been in the same family for over 1,00 years. It guarantees freshly caught seafood everyday and it was delicious. There is a lovely outdoor area and inside is like a living museum, full of artefacts the family have passed down or collected on their travels.
Everyone here is very friendly and helpful. Fortunately, it was only 2 doors from my apartment! It was also when I had my morning coffee. It is a popular meeting spot for locals, who you soon get to know.
https://www.tripadvisor.co.uk/Restaurant_Review-g295381-d1914703-Reviews-Konoba_Scala_Santa-Kotor_Kotor_Municipality.html
Klapa Incanto
One morning I was woken to the sound of beautiful music. I went to the square, sat at my favourite restaurant and listened. It was a group called Klapa Incanto who play local music around the town. What a lovely way to start a Wednesday.
The bar with the umbrellas is situated next to the original water pump where everyone met to gossip.
The Art Bar
The Art Bar is another quirky bar, which becomes very popular in the evening.
Things to do around Kotor
San Giovanni Fortress
It is possible to hike up to the medieval fortress on the hill, up 1350 steps. It is not too steep. I hiked up twice, once in late afternoon and again for sunrise. The vistas over the bay and old town of Kotor are spectacular. Halfway up is a small church and the fortress walls and church are lit up at night.
Boat Trips
One of the best ways to see the sights of the bay is by boat.
https://www.tripadvisor.co.uk/Attractions-g295381-Activities-c55-Kotor_Kotor_Municipality.html
All trips first make a stop of at:
Our Lady of the Rocks Church
There are 2 islands in the lake. Gospa which is a private island and Skrpjela which contains a Catholic church and which is an artificial island. The legend says that after a shipwreck, local fishermen saw a light and found an icon of the Mother of God on a rock. They vowed to build a church there. After that every time a boat sailed past the island they dropped a stone in the sea by the rock, to pray for a safe return.
Fishermen today carry on the tradition and on 22nd July they bring stones and rocks which they deposit so the church does not sink.
Ancient Fortifications
We also past a couple of islands on which stood ancient fortifications. We could also see Croatia with its own fortifications. One of the fortified islands has been sold to a Canadian company who are going to build a luxury resort. This has caused lots of protest and ill-feeling amongst the locals. They believe the island is part of their history and should be preserved. This was also once used as a prison, mainly for dissidents during Tito's time.
The Blue Caves
Next it was time for a swim in the turquoise waters of the Blue Cave.
When you swam every time you moved an arm or leg there was a flash of turquoise. Small boats can sail into the cave. It was the perfect spot for a swim. I'm glad I am visiting now, with very few boats. At the height of last season there would be 50 boats here and 400 people, not something I'd like to imagine.
This time last year people were queuing up for boat tours and supply couldn't keep up with demand. Our boatman said he worked long hours every day, back to back tours and he was very stressed. Now there are less people and less money but for him it is less stress and he can enjoy his job again.
Old Submarine Base
On the way back we stopped off at the old submarine base. This was where submarines were hidden during the war. It was a cave with a series of connecting tunnels. The entrance was disguised to look like rocks and blend in with the hillside. When the submarine entered this camouflage would be put in place.
Perast
A short drive or bus journey around, the bay brings you to Perast. It sits across from the Lady of the Rocks church and it was fishermen from Perast who found the icon. It is a town where only 360 locals live. It is a UNESCO protected site with its lovely waterfront and Venetian influences. There are lovely waterfront restaurants to enjoy a seafood lunch – the stuffed squid was wonderful.
Swimming Spots
There is no beach but there are still some lovely swimming spots. It was at one of these that I whiled away the afternoon. Just as I was getting ready to pack up, the sky darkened and became very dramatic. Then came the thunder and lightening, giving quite a display over the bay. I was enjoying it immensely until the heavens opened with a deluge of rain. I quickly found shelter. It had stopped by the time I got back to Kotor, the sun was shining and I was soon dry again, only my shoes remaining a little squelchy.
Guide to Montenegro – Day trip to Ostrog Monastery, Shkoder Lake and Lovcen National Park
Ostrog Monastery
Carved into a cliff high above the valley, the Ostrog monastery is an imposing sight It is among the 3 most visited Christian sites in the world and is visited by hundreds of thousands who come to pay pilgrimage every year. It contains the relics of St Basil.
St Basil was a Bosnian monk who travelled to Montenegro. He was known for being in possession of great energy which led him to become a healer and to perform miracles. Now many go and lay their hands on his coffin to receive the energy.
Normally there would be 5,000 – 10,000 pilgrims here everyday. They sleep in dorms and outside on the floor. During my visit there were less than a dozen people
In the side of the monastery is a hole, courtesy of a shell fired by Nazi troops. The shell failed to explode and is still in the wall on the inside of the monastery. The trainee priest took it out to show me. It was only afterwards when I thought about it I realised it was still an unexploded bomb.
Apparently when they uncovered St Basil's bones they were a yellow colour and fragrant smelling like flowers or perfume, the sign of a saint. So, although not officially canonised, he is recognised as a saint.
I don't really hold any religious beliefs and have come across so many different religions on my travels. For me heaven and hell is inside you and you make your own choices about the kind of person you are going to be. I don't judge anyone on their race, religion, sexuality or anything else, just whether they are a good person who treats me with the same respect. I will always respect other people's beliefs and religions.
What I admired in Montenegro and also in Macedonia was that Catholic churches, Orthodox churches and Mosques all co-existed together in harmony and they were very proud of this fact. Rightly so, shouldn't all religion be about kindness and tolerance?
https://www.tripadvisor.com/AttractionToursAndTickets-g19175973-d2310704-Ostrog_Monastery-Dabojevici_Danilovgrad_Municipality.html
Skadar Lake
When I first saw Shkoder Lake the incredible beauty took my breath away. It is the largest lake in the Balkans. Two thirds of the lake are in Montenegro whilst the remaining third is in Albania where its name changes to Lake Skoder or Skodra. I was lucky enough to see it from both sides. There is a little place where you can take boat trips on the lake.
Lovcen
Set in the Dinara Alps, Lovcen national park is a popular place for hiking in the summer and skiing in the winter. It is also very significant as it is from here the country gets its name 'Black Mountain'. The pinnacle is the monument to Petar the second. 461 steps will take you up to this and a walkout to a round viewing platform really feels like you are on top of the world!
It is set on the 2nd highest peak at Petar's request. He said that someone greater than him would come along and for them would be the highest peak.
https://www.tripadvisor.co.uk/AttractionToursAndTickets-g304076-d4578620-Lovcen_National_Park-Cetinje.html
Cetinje
Beneath the summit of Lovcen lies the old capital of Montenegro, Cetinje. Many believe it should have remained as the capital. Now all the beautiful embassy buildings have other uses.
It is a sleepy little place. There is a joke in Montenegro that it is the only place where you didn't notice the affect of Corona virus as there is no-one about anyway.
It is know for its good mountain air and being only 20 mins drive from Budva, it is a good escape from the intense heat of summer and the hustle and bustle. It can be visited easily and is worth combining with a trip to Lovcen. Wander the old streets, visit the Monastery of St. Peter, the National museum, Blue Palace and Vlaska Church.
Bar
Bar is a town in 2 parts, one is a port and beach town by the sea, overlooked by King Nikola's palace. On the other side of the road sits the gold topped orthodox cathedral, the Church of St. Jovan Vladimir. Finished in 2016, it is dedicated to Bar's patron saint. A new mosque and catholic church were also built and the residents of Bar are very proud that all 3 religions co-exist harmoniously.
The old town of Bar lies 4 kilometres uphill in the mountains. Stari Bar was controlled by the Venetians, Serbs, Austro-Hungarian and Ottoman empires. It was finally liberated from the Ottoman Turks after a siege, during which the locals bombed the aqueduct and cut off the water supply. An earthquake hit the town in 1979.
You can walk around the old fortress of Bar and a lovely main street is lined with shops, bars and restaurants. It is also possible to hike in Medjurecje canyon which I did inadvertently whilst looking for a view of the aqueduct.
Guide to Montenegro – Budva
This was the 2nd base for my trip. Budva has a mixture of everything, a historic old town, beautiful pebble and sand beaches and a new town with shopping malls and designer shops. It is known as the party town of Montenegro with happy locals who like to have fun. The seafront is known as the Budva Riviera.
There is also a friendly rivalry with Kotor. In Kotor everyone told me that Budva was not as beautiful as Kotor. In Budva people told me that people are not as happy in Kotor and it is boring.
The Old Town
Surrounded by medieval city walls with a labyrinth of narrow streets and alleyways and with a history stretching back over 2,500 years is Budva's old town. As well as historical buildings, it is filled with shops, bars and restaurants and really comes alive at night.
The Citadel
This Fortress of St. Mary dates from the 5th – 6th century B.C. From the Citadel are excellent views over the city and its beaches. There is also a fantastic, library, museum and restaurant with panoramic views. Normally it is also possible to walk along the tops of the city walls but due to Covid this and the restaurant were closed.
The Church of St John Sveti Ivan
This is the largest church and was used as a Catholic Cathedral until 1828.
Church of the Holy Trinity
This is a pretty little Orthodox church built in 1804 and situated close to the citadel.
The Church of Santa Maria in Punta
This is the oldest and smallest church in the old town. Built during the the 9th century it was established by Benedictine monks.
Beaches
There are many beaches in Budva to suit every taste. There are many sand beaches and also a few pebble and stone. There are small, quiet, secluded beaches as well as larger beaches with sunbeds, music, bars and restaurants.
I explored 3 beaches that are close together.
Old Town beach
This can be accessed through an arch from the old town. It has beautiful views of the Citadel. The waters are extremely clear and it is a great spot for swimming, as are all the beaches. You can just lay down your towel, or for a few Euros you can rent a subbed and umbrella.
There are bars and restaurants along the beach. At night the sunbeds are replaced by tables, chairs and candles and it is a lovely spot to dine. There is also a public outdoor swimming pool.
Mogren 1 and 2 beach
From the Old Town Beach a lovely coastal path brings you to Mogren 1 beach. En- route you will pass a statue of a ballerina. Local legend says that a girl waited for her fiance to return, sadly he never did and one day her body was found dead on the beach.
A walk through a small cave then brings you to Mogren 2 beach. This is a popular spot for locals, especially young people who like jumping off the rocks.
Where to Stay in Budva
I stayed in 2 places in Budva. Firstly I stayed with a local family with Marina and her 3 sons. They were incredibly warm, friendly and hospitable. It was like being part of a Montenegran family and was a wonderful experience. I was also given many tasty treats.
Marina's place can be found on Airbnb.
I also stayed for 1 night at the hotel Arka, a little boutique hotel in a lovely quiet spot but only 5 minutes walk to the old town There were lovely views from the balcony and bedroom windows and a lovely little church nearby.
http://www.booking.com/Share-tmHZes
Where to Eat in Budva
There are so many bars and restaurants in the old town. It was lovely to eat by the sea. A lovely place I was recommended was called Mozarts, very good food.
Sveti Stefan
A short drive from Budva by car or local bus is Sveti Stefan. This is a privately owned island and home to a 5 star resort complex. It is only possible to access the island if you have reservations at the hotel or the restaurant. There is a public beach and a few reataurants on the mainland.
Summary to My Guide to Montenegro
Montenegro is an incredibly beautiful country. It is full of lakes, mountains, forests, beaches, national parks and medieval old towns. It is also small enough that you can explore everything it has to offer. The locals are incredibly friendly and helpful. It is also an extremely safe country, especially for a solo woman traveller.