A Guide to Istanbul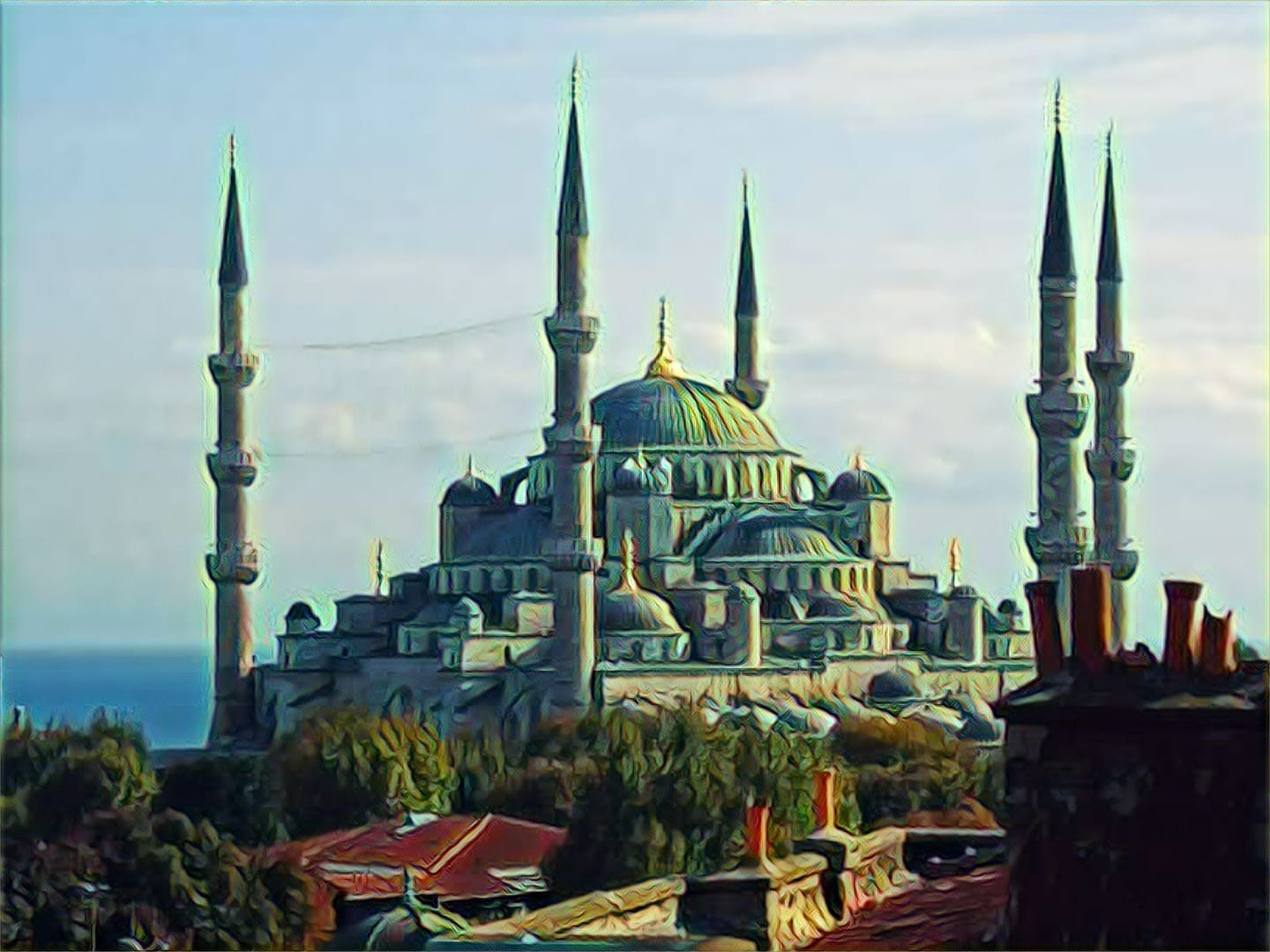 Istanbul is the city where East meets West, Asia meets Europe separated by a bridge over the Bosphorus. It's previous names Byzantium and Constantinople conjuring up visions of past, colourful empires, Greek, Roman, Venetian and Ottoman, they all left there mark on the city. It was also the last stop on the legendary Silk Road.
Walking around the old town is fascinating and a joy to the senses. There is so much to see, as your head whips from side to side and your neck aches from looking up. Your olfactory nerves are aroused by the wonderful aromas from the spices and street food stalls.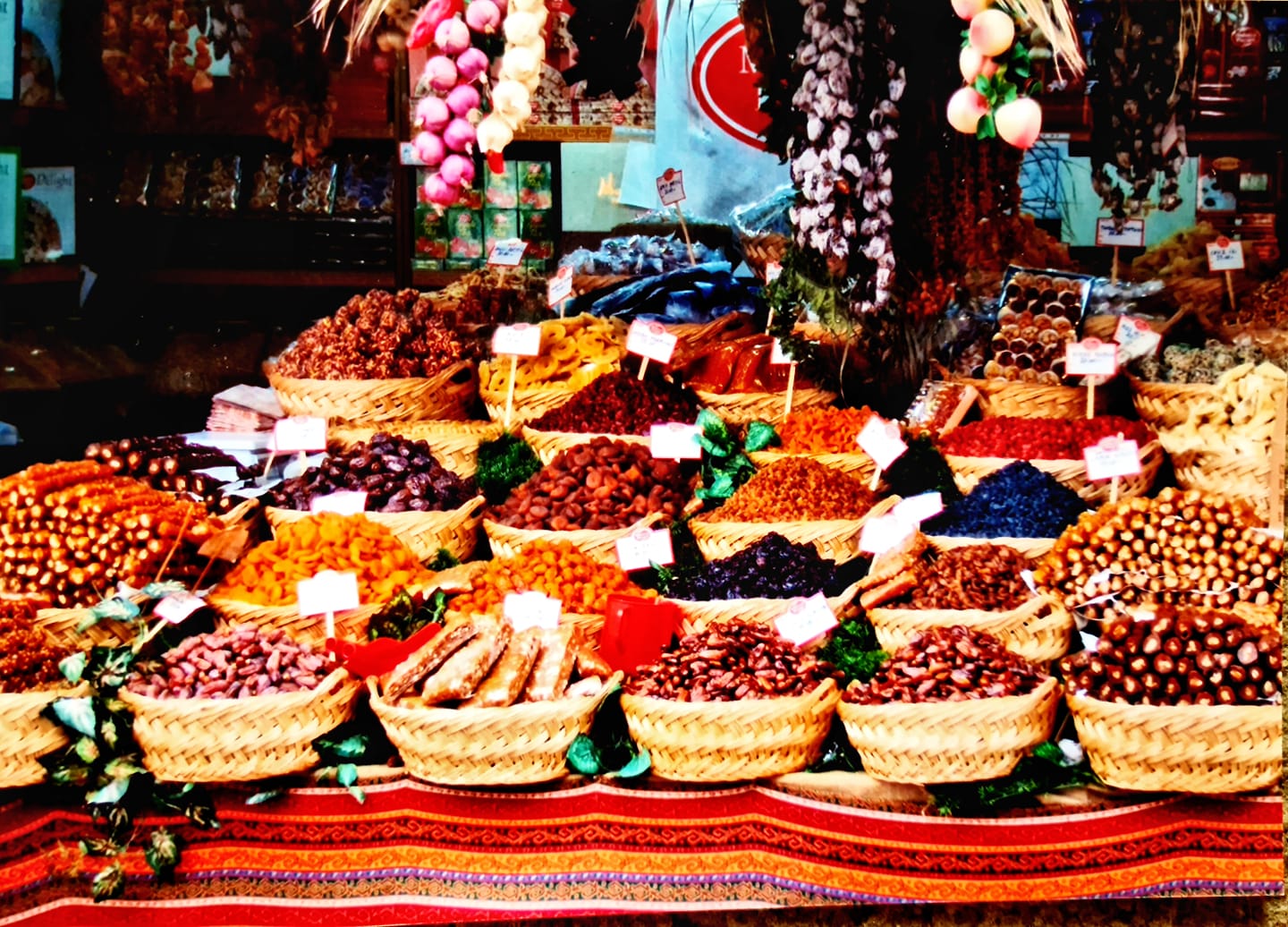 Things to See and Do
The Blue Mosque
The Sultanhmet Camii is commonly known as the Blue Mosque, due to the beautiful, blue, handmade tiles which adorn its interior, almost 20,000 of them. It was built between 1609 – 1616 during the reign of Sultan Ahmet 1st. His aim was to build a monument which would rival the Hagia Sophia. It is certainly a beautiful and imposing silhouette on the skyline, especially at night when it is floodlit.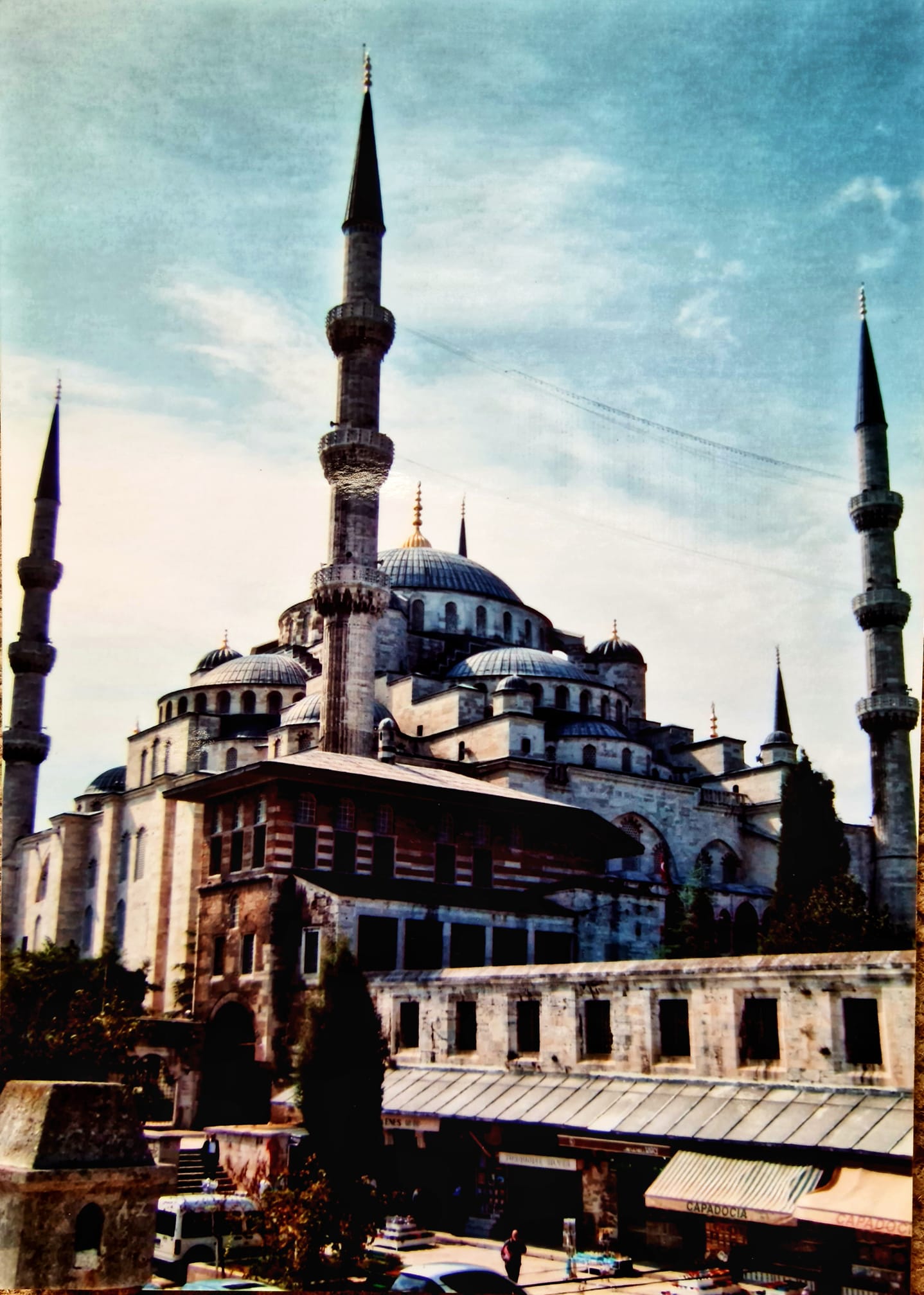 It is the only mosque in Istanbul to have 6 minarets. Inside are 200 stained glass windows. The chandeliers were once covered in gold and gemstones and ostrich eggs were placed on them to ward off spiders and prevent cobwebs.
It was made a UNESCO world heritage site in 1986. It is still used as a working mosque and is closed to visitors for a period of 90 minutes each prayer time. All shoes must be removed and women are required to cover their head, hair and shoulders. No shorts or short skirts are allowed. Quiet must be maintained and no flash photography is allowed. Admission is free.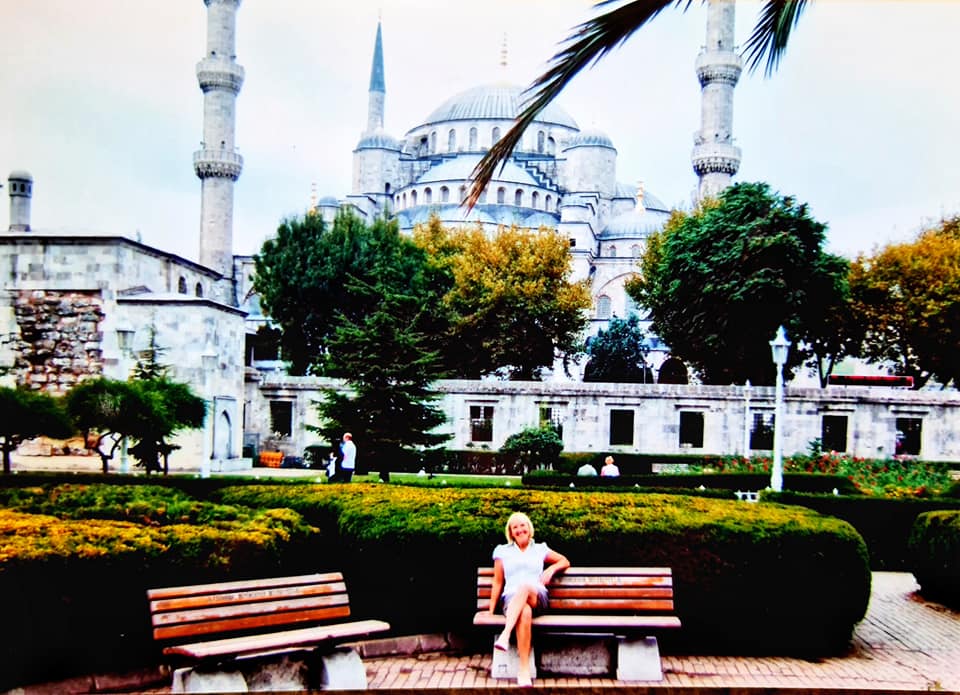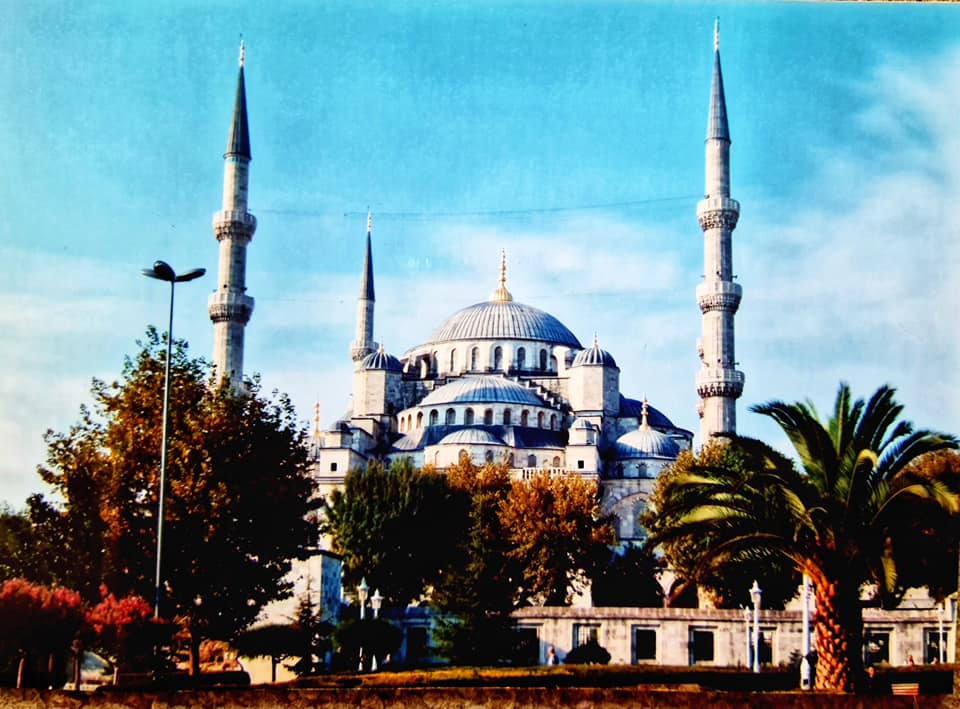 A Lynn grin in front of the Blue Mosque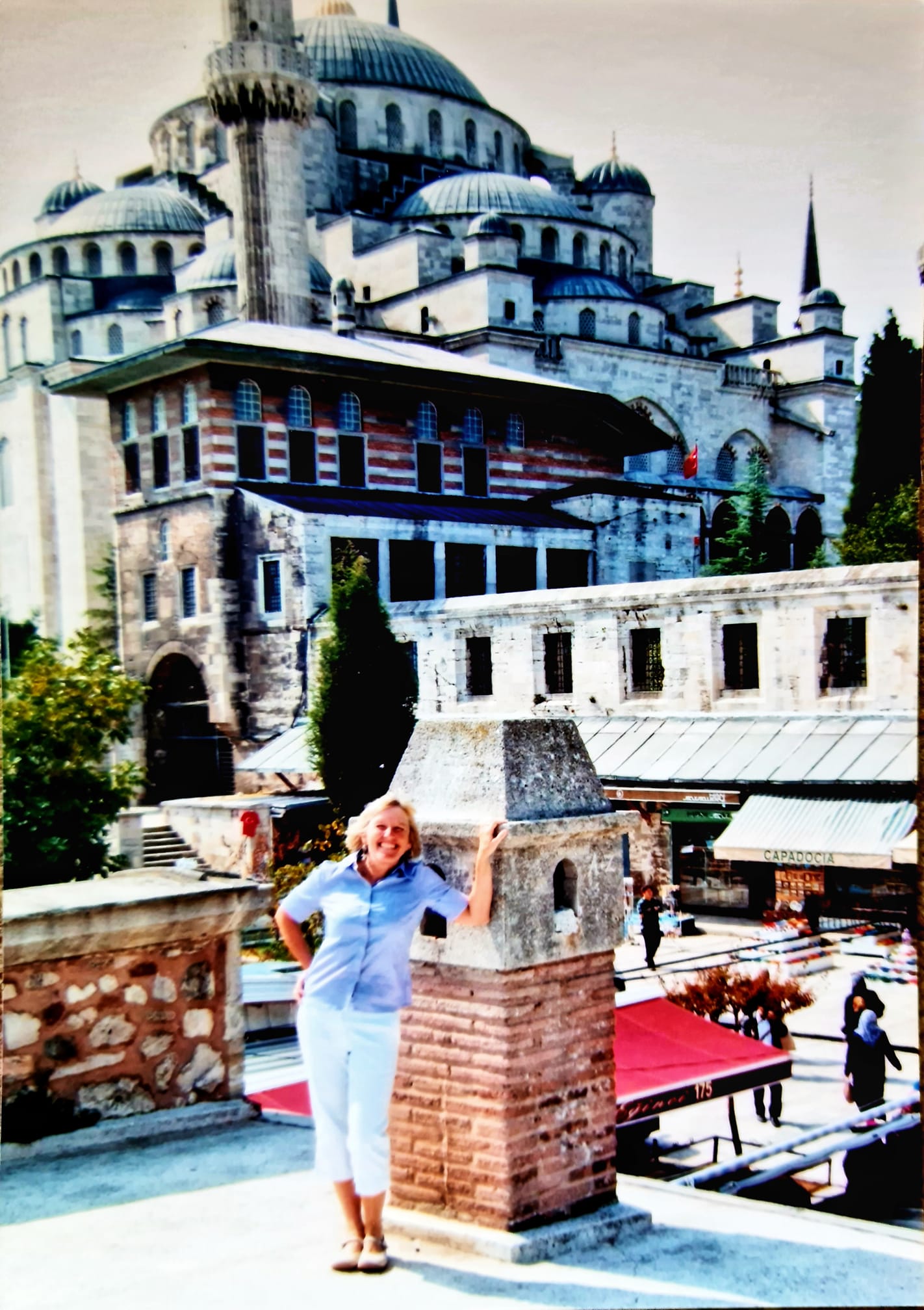 The Hagia Sophia
Originally erected on the site of a pagan temple, it was built as a church in the 6th century, during the Byzantine period. It later become a mosque, then a museum, then a mosque again. It documents the religious changes that have taken place with it's mixture of styles. It is also known by several different names. As well as Hagia Sophia, it is known as Ayasofya in Turkish, Sancta Sophia in Latin and the Church of Holy Wisdom or Divine Wisdom in English.
It took 6 years to build and the main dome is 105 feet high. Originally it was an Orthodox cathedral. After the Turkish conquest of Constantinople in 1453 Mehmed 2nd turned it into a mosque and added a minaret. In 1934 the 1st president of the Turkish Republic Kemal Ataturk took the controversial decision to turn it into a museum. It was made a UNESCO world heritage site in 1985. The current Turkish president Recep Tayyip Erdogan converted it back to a mosque in 2020, which also caused controversy.
Its architecture is awe-inspiring, its domestic look as though they are hanging in the air. It is a very beautiful building both inside and out, with 104 columns, lovely mosaics, some which are originals from the 6th century and a wonderful use of light and colour. It is also the resting place for 5 sultans and their families and contains their tombs. The Hagia Sophia remains open to visitors, the same requirements as for the Blue Mosque apply.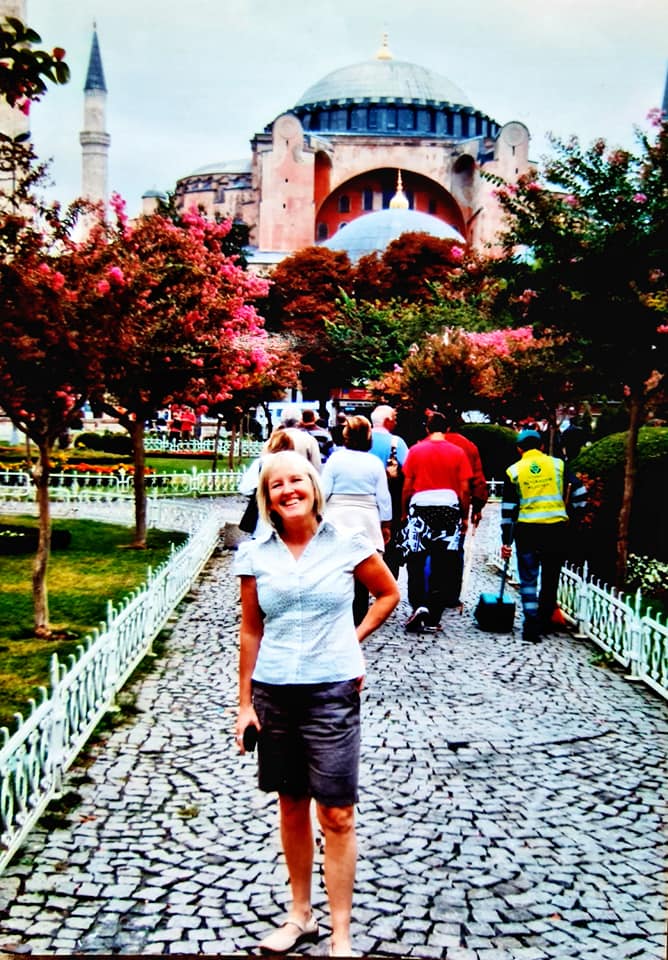 The Topkapi Palace
This is where for over 4 centuries sultans ruled over the Ottoman Empire. Mehmed 2nd began construction in 1459 and following sultans renovated and extended the palace. It once housed between 1,000 – 4,000 people, including up to 300 in the harem. The word harem actually means forbidden or secret. In the middle 19th century the imperial seat moved to a new palace and the Topkapi became a museum. There a series of lovely cortyards flanked beautiful buildings and connected by magnificent doors. There a 4 courts, a treasury, harem, pretty gardens and wonderful vistas over the Bosphorus.
A Cruise on the Bosphorus
Another of my highlights was a cruise on the Bosphorus, a wonderful way to view both the European and Asian sides of Istanbul and watch the world go by. The Bosphorus Strait connects the Black Sea to the Sea of Marmara and is 19 miles long.
There are various cruise options from a short, circular cruise lasting 2 hours to the full cruise lasting 6 hours. The longer cruise gives you a chance to disembark, visit the fortress and have a delicious lunch at one of the seafood restaurants. There are also night cruise and dinner cruises. Sehir Hatlari is Istanbul's official ferry company, private companies also offer options. When we were there Greenpeace's flagship the Rainbow Warrior was also visiting.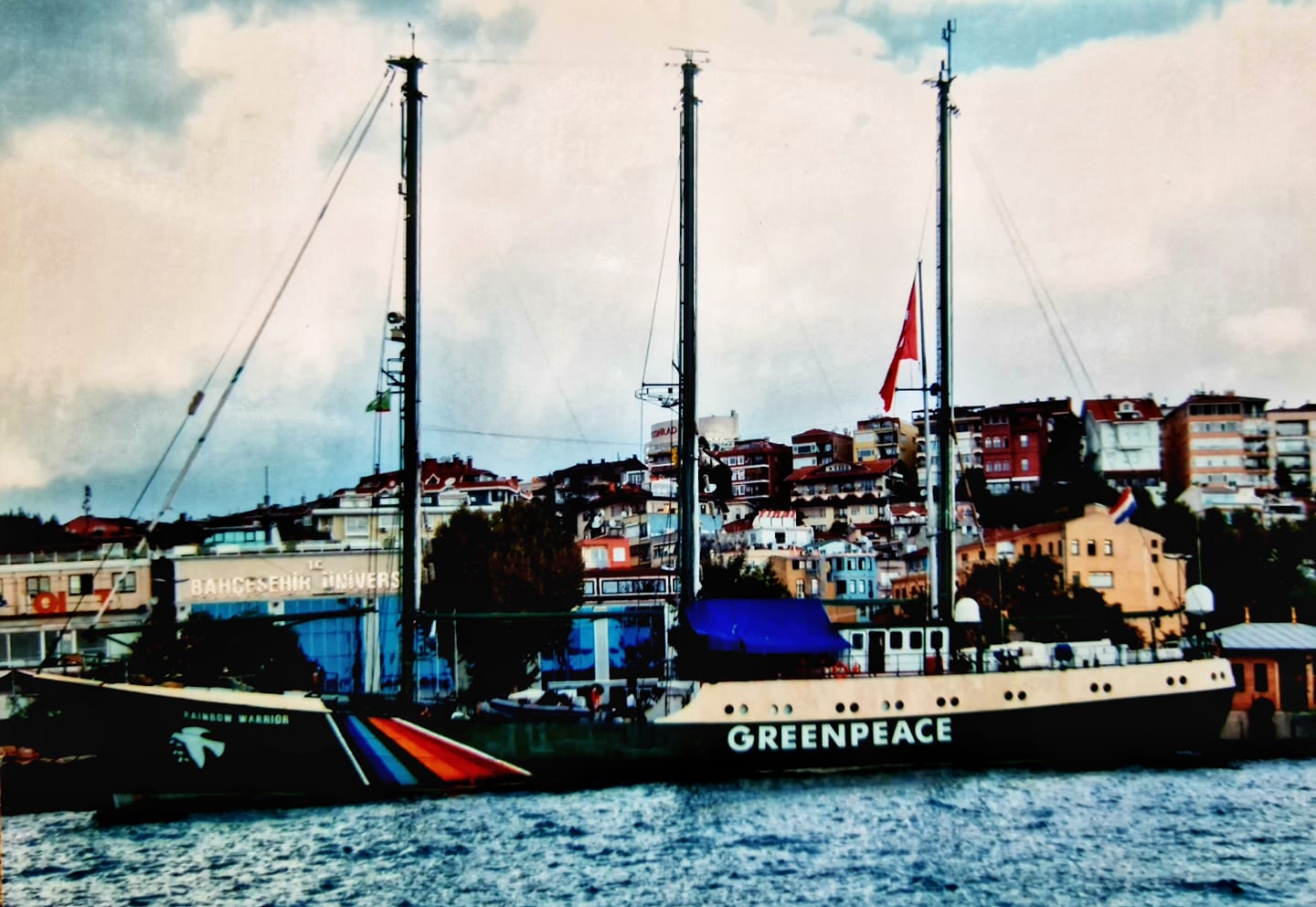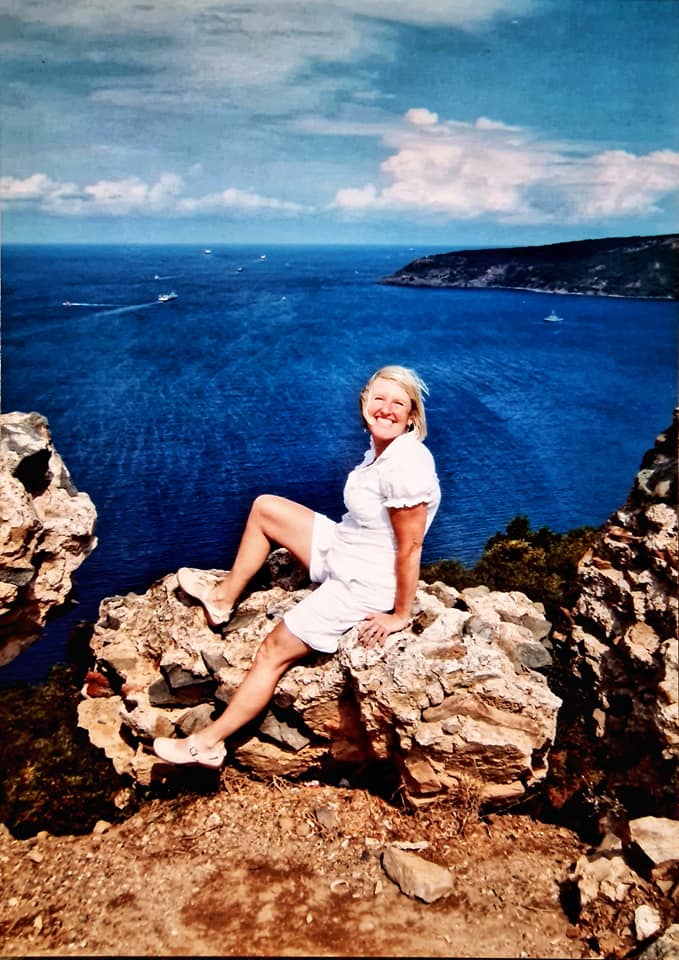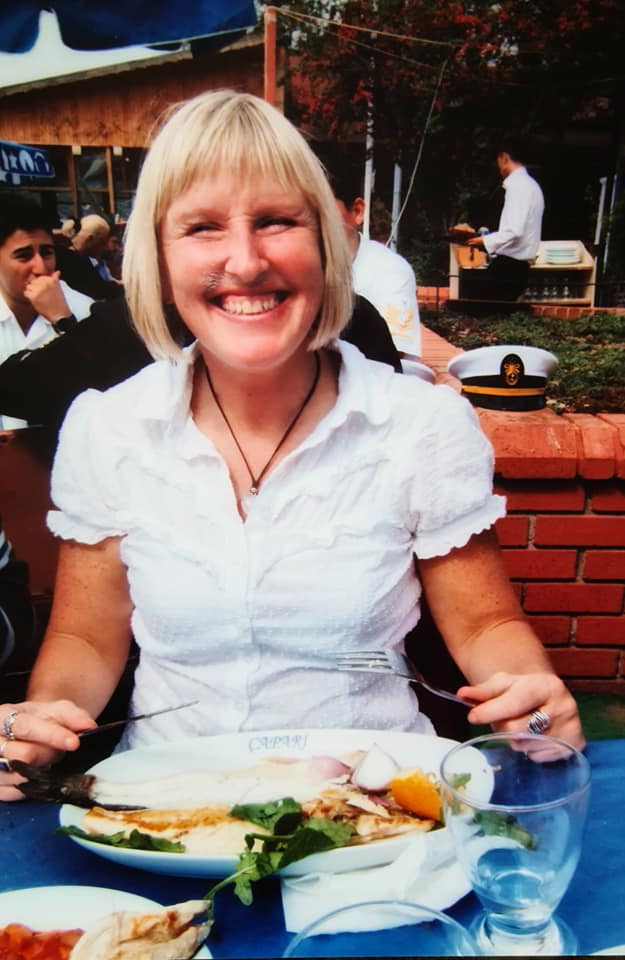 The Princes' Islands
These are a chain of 9 small islands in the Sea of Marmara. If you have the time this is a fantastic way to escape the hustle and bustle for a spot of peace and quiet. The big draw of these islands is the tranquility and the scenic views. Buyukada is the largest and most popular of the islands. A fast ferry or sea bus will take you there in under an hour. Regular ferries also sail the route, they take a little longer but are cheaper and more frequent.
All motor vehicles are banned from the islands. The only transport is foot, bicycle or horse drawn carriage. Although the largest island now offers electric bus tours. We hired bicycles and cycled around the whole island, scenic coastline, beautiful beaches and leafy lanes. We stopped at a place by the water for a lovely lunch of fresh fish. It was a perfect day.
Click here for things to do in the Prince's Islands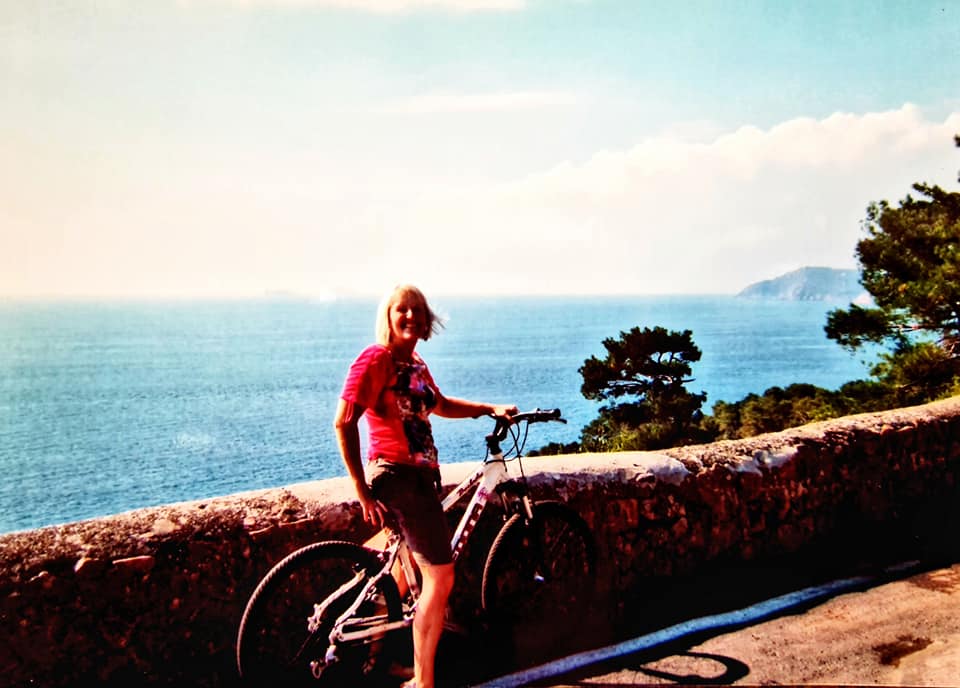 The Spice Market
The Spice Market is a treat for all the senses. It is certainly the most colourful of the bazaars and the most fragrant. As well as spices for sale are also herbs, honey, speciality teas, nuts and fruits, olive oil, Turkish delight, baklava and soaps.
It was built in 1644 as part of the New Mosque complex. The Turkish name of the market is Misir Carsisi means Egyptian market. This is because taxes used to be levied on goods imported from Egypt. It is also here where the camel caravans came to sell their goods after they had travelled the Silk Road. It is not as large as the Grand Bazaar but for me it was much more atmospheric.
Basilica Cistern
An unexpected find and pleasure was the Basilica Cistern. It is the largest of several hundred ancient, subterranean cisterns which lie beneath the city of Istanbul. Built during the reign of the Emperor Justinian in 532. It measures 453 x 212 feet and it can hold up to 80,000 cubit litres of water. It originally provided water for the Topkapi palace but closed when the palace relocated. It is held up by 336 marble columns, some taken from ruined temples.
It was rediscovered in 1545 by the Ottomans, when it was noticed that the locals could get water by lowering buckets through holes in their basement. Sometimes they even caught fish like this. It still wasn't really utilised and was used as a dumping ground for all kinds of things, including corpses. In 1985 it was cleaned up and renovated and it opened to the public in 1987.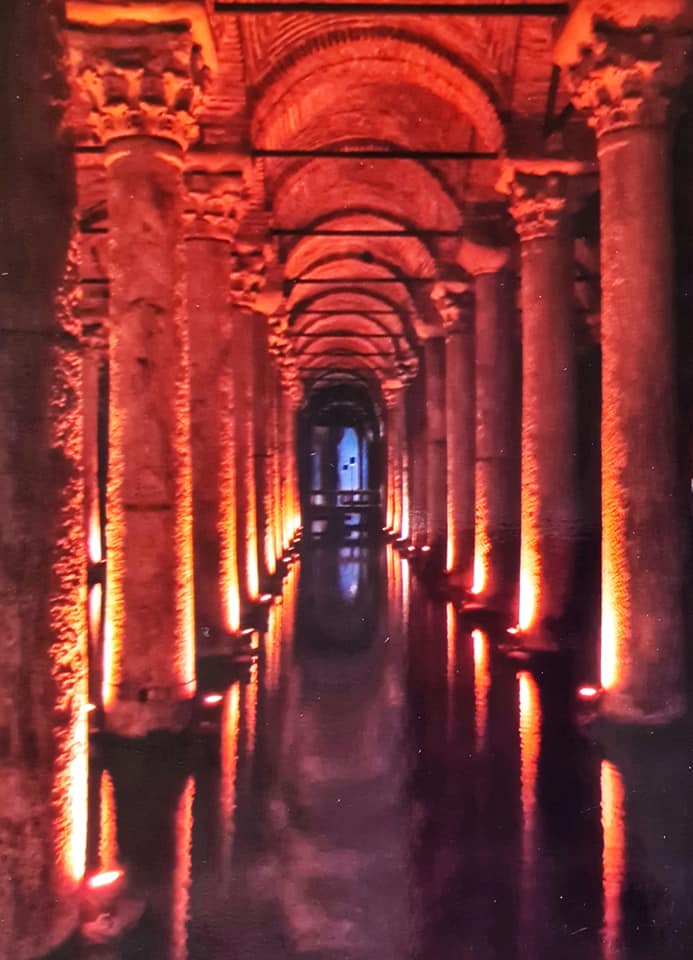 It also recognisable from some of the books and films set and filmed there. This includes Inferno by Dan Brown, made into a film directed by Ron Howard and starring Tom Hanks as Robert Langdon. Scenes for 2 James Bond films have also been shot there, From Russia with Love and Skyfall. It is certainly very atmospheric. Highlights in life the 2 Medusa heads used as column bases, it is not known why this is upside down. Concerts are now held here and that must be a very special experience.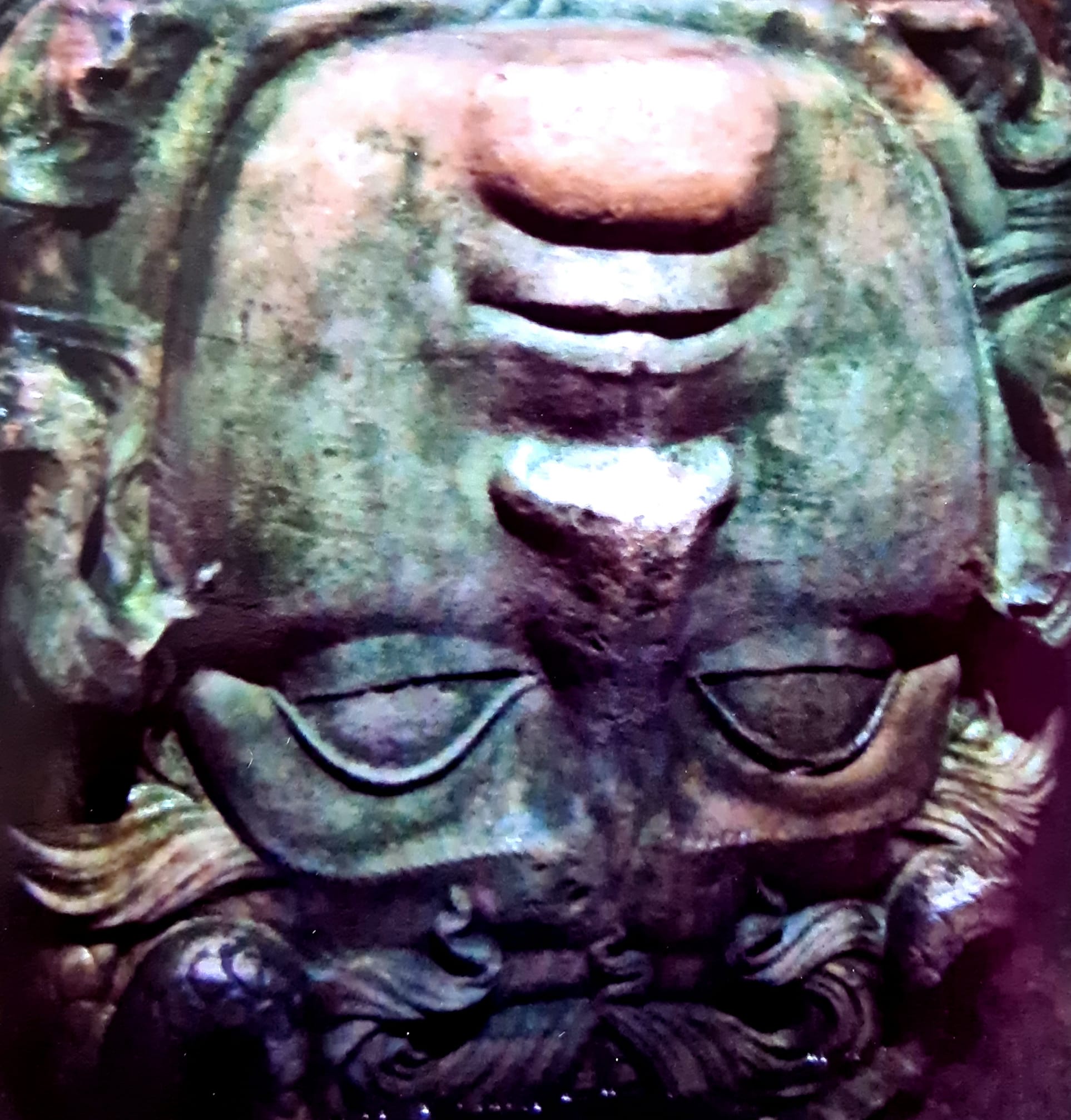 Visit a Hammam
A visit to a Hammam or Turkish bath should be a must for any visit to Istanbul. It is an extremely relaxing experience for your mind and body and very good for your skin too.
Hammams are split into separate sections for men and women. Women have an attendant called a natar and for men it is a tellak. The experience begins in the sicaklik or hot room. It is a large room set under a dome. Around the wall are set water basins and in the centre is a heated marble platform.
First you pour the water all over your body and then lay down on the marble platform, relax and enjoy your beautiful surroundings. After 10 – 15 minutes of heat and moisture your skin is ready for exfoliation. Your attendant will scrub your body with a special mitten to get rid of the dead cells and exfoliate the skin. Bowls of cold water are then pored over your head.
The next step is kopuk. The attendant will then use a special cloth lathered with soap to create lots of foam and bubbles whilst at the same time giving your body a gentle massage. It feels wonderful. Next there will be a quick shampoo and head massage followed by bowls of water to wash away the soap and bubbles. Finally the attendant will give you a clean towel to dry yourself.
The whole process normally takes around an hour but you can stay in the hammam as long as you desire and relax on the warm marble.
Things to remember:
1. Your bottom half should always be covered by underwear or swimwear. Take dry underwear to change into.
2. No photography inside the hammam.
3. Always wear the slippers, the marble floors can get very slippery.
4.It is possible to relax in the lounge afterwards and chat, drink tea, relax or read a book.
Some of the best and most historic hammams are:
1. Cagaluglu Hamami
2. Cukurcuma Hamani
3. Ayasofya Hurrem Sultan Hamami
Watch the local fishermen on the bridge over the Bosphorus.
Places to stay
There are places to stay in Instanbul to suit every budget, from hostels to luxury hotels. So many and so reasonably priced.
If you only visiting for a few days then my advice would be to stay in the Sultanahmet area. Here you will be in walking distance of the main attractions and soak up the atmosphere of the old town
The Byzantium Hotel and Suites is a good middle range option with double rooms at £38 including breakfast.  There are so many places though, I'd just say have a look and see what takes your fancy.
One hotel I would recommend to visit is the Nomade Hotel. Have a drink on their rooftop terrace where there are fantastic views of the Blue Mosque.
Food and Drink
There are lots of culinary delights to sample in restaurants and the local street food. Here are some of the top things to try:
1. Cay – strong black tea.
2. Kahvesi – Turkish coffee
3. Efes pilsner – Turkish lager
4. Balik Ekmet – a sandwich with grilled fish, onions and salad.
5. Manti – dumplings filled with minced meat, boiled and served with yogurt and a sauce of paprika, mint and garlic.
6 Donee Kebap – a vertical rotisserie of meat which is shaved off and put into a pitta with salad, chilli and various sauces
7. Lahmacun – sometimes called Turkish pizza. A flatbread topped with minced meat, vegetables and herbs.
8. Pide – a flat bread folded over into a boat shape and filled with Turkish cheese
9. Mezze – a selection of appertisers such as hummus, grilled aubergine and,ezme – a tomato and chilli dip.
10.Kofte – which means stuffed meatballs – bulgar wheat stuffed with minced meat, onion and spices.
Lastly you have to try the wonderful and enormous bread. As you can see I became quite attached.
You can also try a shisa or Turkish water pipe. The tobacco is prepared with fermented fruit flavours such as apple and mint.
Istanbul is a wonderful city to immerse yourself in for a few days and soak in the colours, scents and sights.